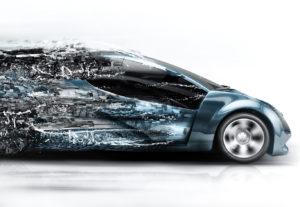 A couple of news reports over the past few days highlight the kinds of industries and technology being drawn into the automotive manufacturing process — sometimes at their own peril.
A Digital Trends piece Saturday deserves attention as it points out some subtler but no less important automotive developments repairers might have missed.
Among them:
Connectivity. "One third of US cellular subscriptions in Q1 of 2016 were for cars," Mentor Automotive automotive marketing director Andy MacLeod told Digital Trends. "Automotive connectivity is now a trillion dollar business in America."
And get this — new cars with 4G/LTE capability are projected to grow from 4 percent in 2014 to 57 percent by 2019 to 89 percent in 2024, Digital Trends reported.
Not only must this service be restored in a collision repair or the customer will be irritated, but such connectivity presumably helps the vehicle communicate with insurers and OEMs should an accident occur, dispensing damage, diagnostics, and accident data.
Electric cars. They'll be a bigger deal, reaching 35 percent of new cars by 2040, according to Digital Trends, citing industry experts.
For auto body purposes, such vehicles must also be lighter — meaning they'll move further away from mild or bake-hard steel and into more exotic metals.
Noise cancellation. OEMs would love to cut 50-100 pounds of insulation out of a car, and noise cancelling technology could help them do so, Digital Trends reports, citing Mentor Automotive sources.
This might be perhaps the most impactful on auto body shops depending on how soon the technology gets here. A faulty repair or out of tolerance panel might become more noticeable either because the vehicle has less insulation, the sensors to cancel out noise are "off" in some way or the noise cancellation is synched to a pre-loss car's specificatons The car will sound different, and expose the underlying issue.
Digital Trends reports that Mentor's technology can cancel not only the engine noise but even the random noise generated by the road.
"Noise is nothing but vibrations until it reaches our brains," Mentor senior product marketing manger Anil Khanna told the website. "So we actually mount sensors under the car so we can pick up vibrations as they travel through the chassis and the body into the cabin, and that becomes our reference source, which we want to cancel out. Those sensors, unfortunately, are very expensive and cost-prohibitive to install in a production vehicle. But as technology gets better it becomes cheaper, so it's coming."
Bloomberg: Apple issues
And sometimes, the tech is less of a problem than internal company management and the politics and hard-nosed business of traditional manufacturing.
That's what Bloomberg reports seemed to have happened at Apple, which it says might give up on its plan to become a car company and instead just build self-driving technology to install in someone else's car.
The piece, which cites unnamed insiders, is a fascinating read, both for its Harvard Business School-esque case study lessons but also a juicy depiction of a high-profile stumble at the high-flying post-iMac Apple.
As noted above, it's also interesting because what tripped up Apple doesn't seem to be the actual self-driving car technology itself — though it's scaled back the concept from a more grandiose vision.
As Bloomberg reported:
Remaining software engineers are working on autonomous programs, vision sensors, and simulators for testing the platform in real-world environments. The team also has regulatory specialists to navigate the heavily regulated auto industry, one of the people said. …
Apple executives had imagined an electric car that could recognize its driver by fingerprint and autonomously navigate with the press of a button. One plan sought a partially autonomous car that still had a steering wheel and pedals, while later plans migrated toward a fully autonomous vehicle.
Regardless of Apple's struggles, established carmakers have recognized the threat posed by new entrants and have embarked on a hiring and acquisition splurge to beef up their software capabilities. …
Apple meanwhile struggled to tackle complex automotive supply chains, according to another person familiar with the situation. In smartphones, Apple wields extensive influence and often secures exclusive rights to certain parts from suppliers. For cars, the heavy investment required to make automotive parts means suppliers are less willing to commit their products to a vehicle like Apple's which may have initially shipped in small quantities.
More information:
"How do engineers design today's astronomically complicated cars? Using these tools"
Digital Trends, Oct. 15, 2016
"How Apple Scaled Back Its Titanic Plan to Take on Detroit"
Bloomberg, Oct. 17, 2016
Featured image: But what happens to the rear-seat passengers in disintegrating stock art future cars? (cosmin4000/iStock)
Share This: