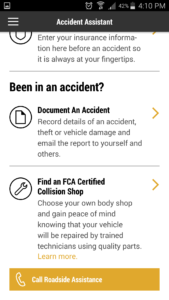 One of the questions as mainstream OEMs begin to develop their own certified collision repair networks remains whether customers even know of these programs' existence.
It is very likely — and even possible today — that an OEM representative or a dashboard screen will in the future suggest OEM-certified collision repairers through an in-vehicle accident assistance system, should the driver have either option installed. Some cars already have the capability to know they've been in an accident and already detect and transmit their own diagnostic trouble codes, and triage physical damage predictive analytics have hit the market already from Mitchell/Tractable and CCC.
Given all of these trends and vehicle complexity demanding qualified repairers and OEM parts, automakers will have a larger influence on collision repair, one expert argued.
But until then, OEMs seeking to promote their certified collision repair networks must rely on other low- to -high-tech options to get customers in those doors. These methods include the OEM's apps and website collision repair locators for consumers, marketing materials, YouTube videos; the shop's own self-promotion; and support from certification partners like Assured Performance.
But did any of this marketing reach the vehicle owner? And would a flustered driver think to use an OEM app following an accident? Or would they just skip it in the rush of post-crash emotions and just call the insurer, which then has an opportunity to suggest its own preferred auto body repair network?
According to some recent data from FCA, the OEM efforts might be connecting with drivers.
---
Attracting customers in age of 'virtual steering' topic at Repairer Driven Education
Find out how to market to customers and referrers like OEMs or insurers with "Marketing To Your Referral Sources: The Business of Acquiring Business Leads" taught by Frank LaViola of Collision Industry Marketing. And learn how to compete during a time where insurer and OEM technology notices a crash and can direct drivers to a network of shops automatically with "Competing with the Talking Car – Virtual Steering," taught by Steven Feltovich of Sherwin Williams. The two sessions are part of the Society of Collision Repair Specialists' Repairer Driven Education Series from Nov. 1-4 during SEMA. Register here.

---
The OEM estimated Tuesday that more than 1.3 million owners have downloaded FCA apps for the Chrysler, Dodge, Jeep, Ram, FIAT, Alfa Romeo and Mopar brands, and all of these apps have an Accident Assistant feature touting more than 1,500 certified collision repairers.
All the apps are functionally identical; customers basically pick whatever one they happen to recognize as appropriate for their situation. An FCA representative didn't know if owners were more inclined to download an app named after their vehicle make or just search for the overarching Mopar brand.
More than 87,000 owners have visited the Accident Assistant part of the app, 12,600 have used it to document an accident, and more than 13,000 looked at information about a FCA-certified auto body shop.
As all shops certified by FCA partner Assured Performance are eligible for certification with Nissan, Ford and Hyundai, users whose second car is one of those brands also are indirectly getting a bit of promotion — and vice versa.
The data was contained in an FCA news release Tuesday about a new campaign to promote new OEM Mopar parts in collision repair. A new video announced Tuesday as part of that "Right to Request" adverting push also promotes certified FCA auto body shops.
"See the experts at your FCA certified collision centers," the video concludes, displaying a copy of an FCA certification plaque. An overhauled Mopar website promotes the shops and the app.
Asked about the app usage data, FCA senior collision manager Bryan Wayne said the FCA family of apps are intended to give different brand owners a "one-stop-shop" for their particular vehicles, and the Accident Assistant is a piece of that.
The apps allow users to prepopulate accident information like their insurance and vehicle information and email details and photos from the accident scene to insurers and body shops. Notably, it carries a locator for certified OEM shops and touts OEM parts and the certified shops' recognition as "having the right tools, equipment, training and facility to repair Chrysler, Jeep, Dodge or Ram vehicles.
Wayne said he didn't know whether dealers were recommending the app — "Boy, I sure hope so" — but joked that the last thing a buyer wants to do after a lengthy purchasing and financing offer is to hear about an app. However, he said FCA dealers might be able to promote the app at a new car clinic or regular service/maintenance visit.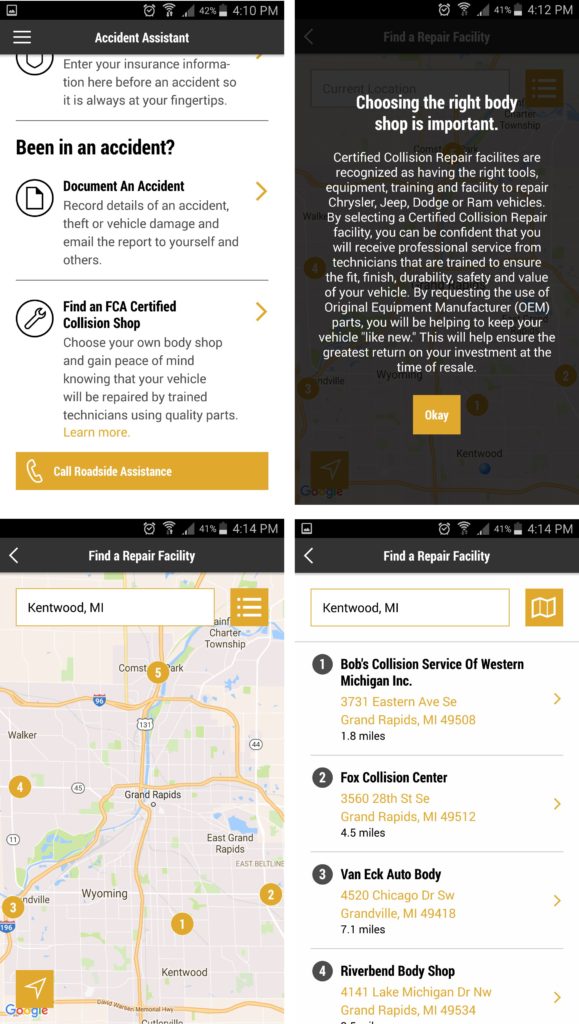 Wayne said FCA was one of the first OEMs to develop such an app given its need for qualified body shops — less than 10 percent of its dealerships have collision repair capabilities. But he said similar software was likely from competitors.
"The others are working on (apps)," he said.
The app doesn't allow FCA to indicate certified shop capacity, and there's the chance that a selected shop might have a large backlog. "That's starting out on the wrong foot," Wayne said.
However, he said that FCA is working on a means of tracking certified shop capacity and repair times to ensure a customer isn't so inconvenienced.
Insurers, certified shops and customers in the field
The idea of a customer selecting a certified shop and getting a brand-protecting experience can run into snags in practice. Two customer stories on a recent Guild 21 call demonstrate this and offer lessons for the various industries involved.
One policyholder told the Guild 21 audience that she had expressed a preference for a VeriFacts-certified shop in her neighborhood, and named it to her insurance agent when her 18-year-old son was in an accident.
"'I can't find it listed in our listing,'" the agent said and "rattled some off" from a list (presumably DRP shops).
"I was stressed out," the policyholder said, and felt, "I just need this resolved."
The customer said she was on the side of the road and felt that if she made any wrong decision, "it would take longer." Though the insurer stressed repeatedly the choice of shop was up to her and a right under California law, she said she felt any other decision would mean, "I would somehow mess up the system, and I didn't want to do that."
She felt that the insurer was a "rock star" in terms of comforting her and handling things professionally. However, the insurer did dispatch a tow truck driver who not only tried to encourage her to switch to his own body shop — offering out loud to pay her deductible and recoup the costs through what was obviously dishonest means — but also for a while ignored or countermanded her requests to send it to the shop she and the insurer wanted.
But when the vehicle did reach the preferred shop, she said that facility kept her extremely well-informed about the repair status — which CCC research shows is more important to cutomers than the actual cycle time.
Another policyholder told the Guild 21 audience that following her accident, she picked her shop by compiling a list of shops appearing on both insurer and OEM networks and running that list by VeriFacts CEO Farzam Afshar for more input.
In this case, the repairer didn't communicate how the repair was progressing; she had to do the legwork of calling the shop herself, only to discover delays in obtaining a bumper from the parts manufacturer (presumably an OEM) for her late-model, sensor- and camera-laden vehicle.
The delays and lack of communication could have eventually meant going out-of-pocket on a rental car, she said. But as her vehicle was driveable, she could have simply waited to bring it in until the part was ready had the shop had the foresight to say so. This would have saved everyone time and money and avoided what she said was a minor go-round with the insurer over extending the rental.
"It wasn't (a) terrible experience," she said. "It wasn't a wonderful experience … It just didn't feel like a very smart experience."
She said she'd give the insurer a 10, the manufacturer a 6, and the shop a 6.5-7 out of 10.
More information:
Mopar customer-facing collision site
Mopar, 2016
"Know Your Rights: Mopar Introduces Awareness Campaign on 'Right to Request' O.E. Collision Parts"
FCA, Oct. 18, 2016
Mopar YouTube channel, Oct. 18, 2016
Featured image: Screenshots related to finding a certified collision shop from the FCA Mopar owners' app. (Screenshots from the Mopar Companion app)
Share This: