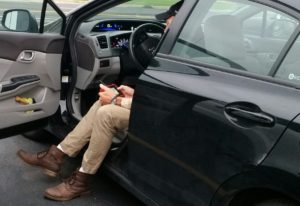 Vehicle scans have been an extremely hot topic this year as insurers and auto body shops try to wrap their brains around the idea of running a diagnostic — long seen as the domain of mechanics — before and after a collision repair.
Despite all the attention from both industries, the number of shops reporting insurers frequently or always paying for the work when asked has remained flat at 41 percent, down 0.8 percentage points from last year, according to the most recent "Who Pays for What?" survey from CRASH Network and Collision Advice. And more than a third of shops report they've never asked the Top 8 insurers to be reimbursed for the work, according to the survey, which studied frame and mechanical labor.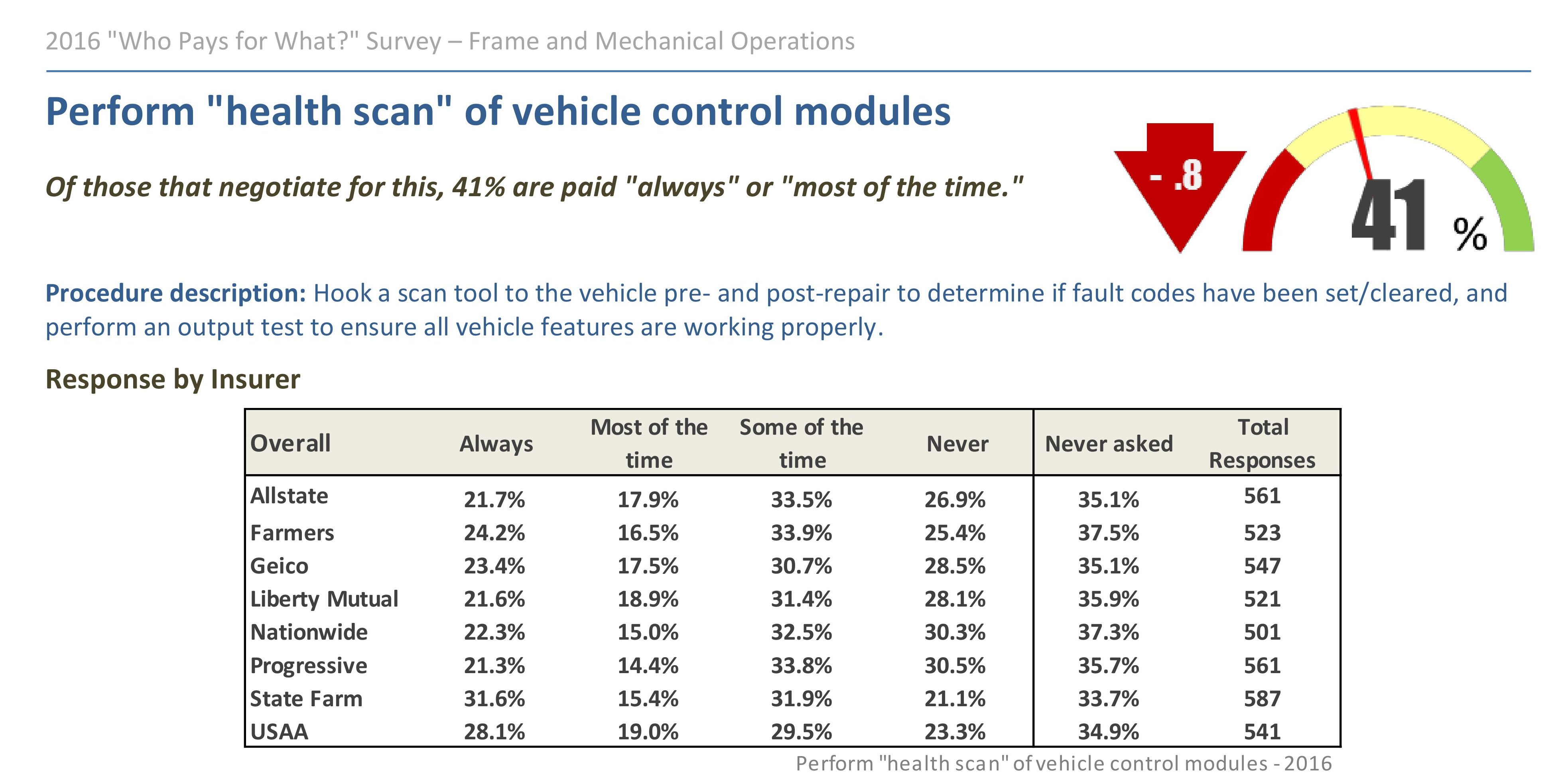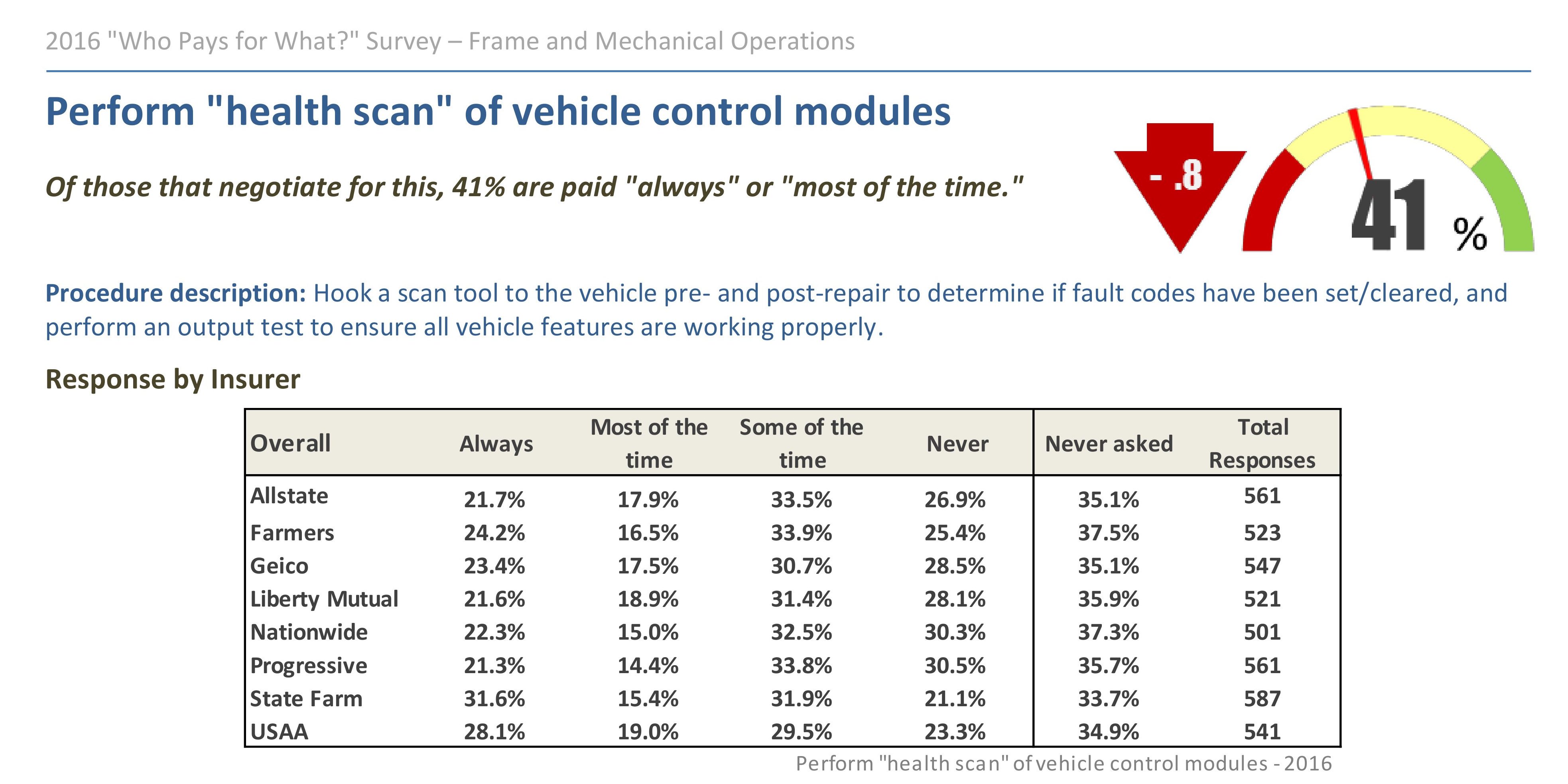 This is probably because of the timing of the survey; it was carried out in July 2016 (and released this fall). The scanning issue really touched off in June when FCA woke everybody up to the procedure with a position statement declaring shops must scan every vehicle pre- and post-repair. Nissan, Honda and Toyota followed suit with similar statements in June (Nissan) and July (Honda and Toyota). Shops and insurers were still trying to figure this all out as of NACE in August and are still doing so to some degree today.
But the need for scans actually has been in some OEMs' repair procedures for a while (Audi and VW, who lack position statements, for example), according to survey researcher Mike Anderson of Collision Advice. (Unfortunately, the number of shops referencing OEM procedures needs improvement, according to the same "Who Pays?" survey.) It's also been discussed by high-profile players, including I-CAR, and mechanics have known about this stuff for years.
So it's a shame the data is as flat as it is, though considering some shops' reports of insurer resistance, it's better than some might expect.
---
Learn more about "Who Pays for What?" and how to use it
Collision repair professionals seeking advice on pricing auto body shop work should next month attend "Who Pays For What? Interpreting the results for your business" with Michael Anderson of Collision Advice The session is part of the Society of Collision Repair Specialists' Repairer Driven Education Series from Nov. 1-4 during SEMA. Register here.

---
For the shops that did perform the procedure and think to ask for reimbursement, State Farm and USAA proved the most willing to pay. The "Who Pays for What?" surveys have consistently found those two to be the most receptive insurers in terms of compensating the auto body shops that ask.
Granted, they're still more likely to "never" or "some of the time" pay shops than "most of the time" or "always," but they're better than their competitors.
The survey question didn't differentiate between pre- and post-scans, defining the procedure as "Hook a scan tool to the vehicle pre- and post-repair to determine if fault codes have been set/cleared, and perform an output test to ensure all vehicle features are working properly." You're generally supposed to do both scans, but there might be instances where insurers were more receptive to one or the other, which may have affected shops' answers somewhat.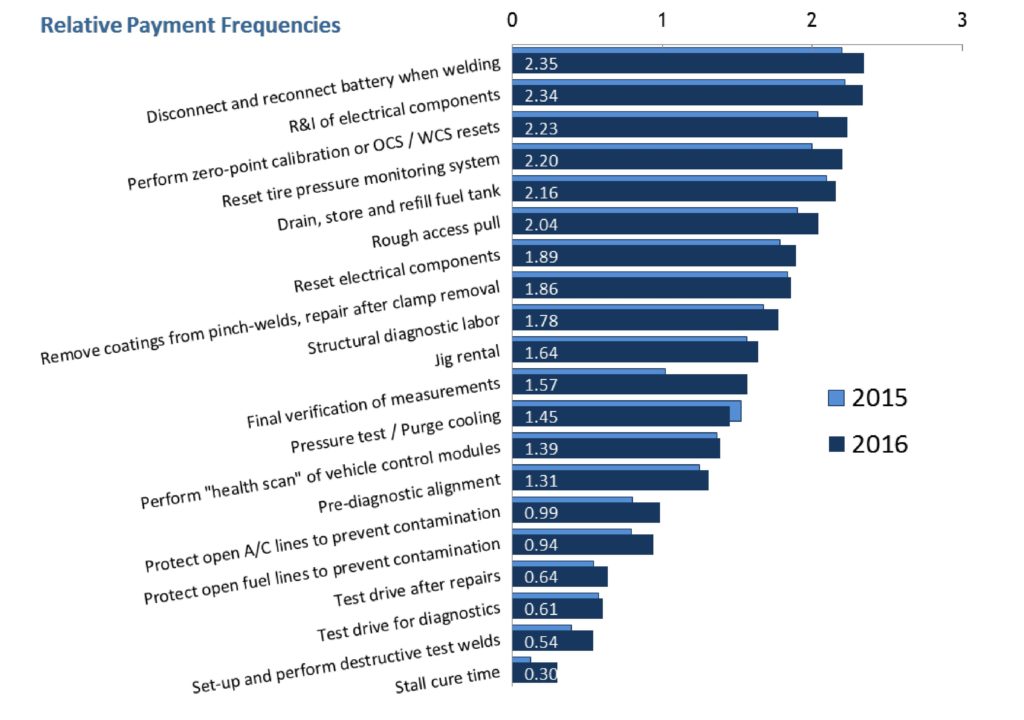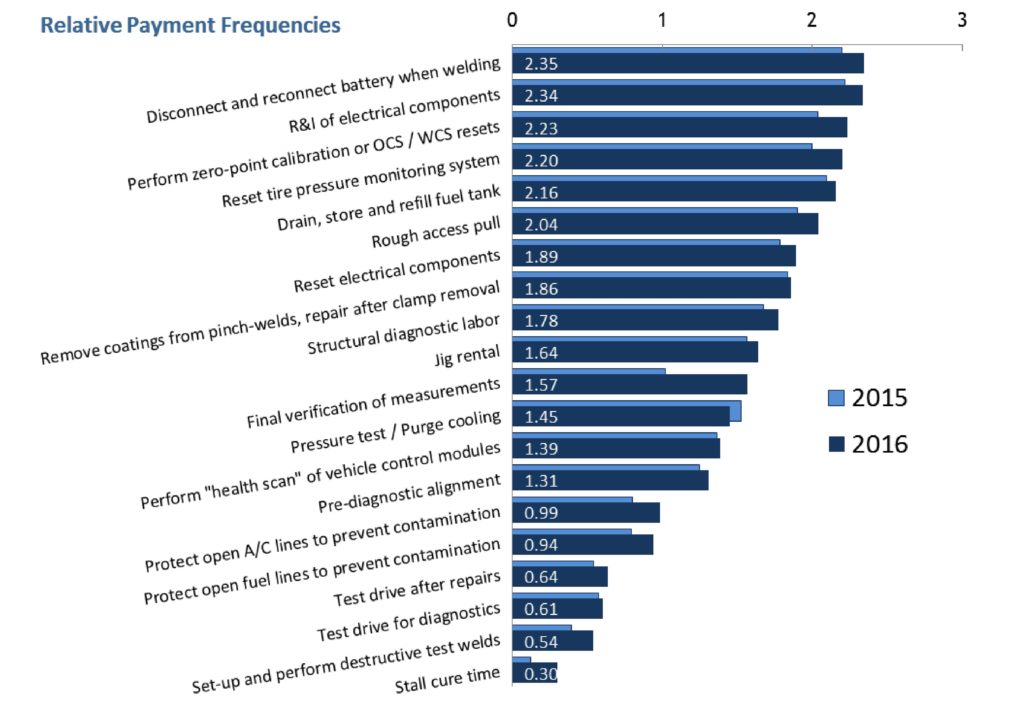 If you're being told you're the "only one," this is the data to cite. All regions reported major insurers paying for the work — again, the consistency isn't great, but it's certainly happening in your area.
And if you're a non-DRP shop being told you're the only one, that's also nonsense. All the insurers are paying DRP shops which ask more consistently than they do for non-DRP shops. GEICO and Progressive might be the exceptions, paying both with nearly the same consistency, particularly GEICO.


Anderson also suggested shops bring mechanical work like this — and particularly alignments — in-house rather than truck cars back and forth to dealerships.
"I'm shocked at how many people are still subletting their alignments out," Anderson wrote, referencing data that 61.7 percent of 522 respondents sublet the work. "To me, if you really want good cycle time, and improved profitability, you need to start looking at bringing mechanical work in-house. I think with all these accident avoidance systems and scans and recalibrations that need to be done, you just can't afford to be taking cars back and forth to sublet vendors. I just can't see a shop today being in business without the ability to do their alignments in-house. Also, for the shops that do their own alignments, it amazes me that most of them (73 percent) charge a flat fee vs. book time at mechanical labor. I would say that's probably because of DRP agreements."
CRASH Network and Collision Advice are currently seeking shops to participate in their final quarterly survey of the year. This study asks shops about their aluminum repair labor rates, and how frequently they're successfully reimbursed by eight of the country's largest insurers for a couple dozen of the most common shop supplies.
Shop managers, owners or estimators can take the survey here through Oct. 31. All individual answers are confidential, and the shop will receive a free copy of the subsequent 60-page report on the findings, which include regional, by-insurer, and DRP-vs.-non-DRP results.
FCA: Update on insurers-OEM scan talks
In other scanning news, we have a few new details from FCA, which touted its collision repair scanning leadership in a news release Tuesday. Senior collision manager Bryan Wayne said in an interview that the company is continuing to refine its high-profile position, possibly with some new changes soon.
Insurers at NACE had requested clarity on what scanning all vehicles truly meant, wondering about older models (the OBD-II port dates at least back to 1996) and minor damage, and automakers promised to meet with carriers. Asked about this Tuesday, Wayne said those interactions are indeed occurring with FCA — in fact, he'd spoken with insurers that day.
"We are talking," Wayne said. It's important for insurers to buy into whatever form of scanning OEMs demand from collision repairers, and "they seem open" during the talks, he said.
Wayne said insurers and OEMs were also working to address what a reasonable amount of time would be for a scan, based on OEM time studies regarding dealership scanning. For example, he said, what if Honda says it takes X minutes to scan a vehicle, and FCA says it's Y?
Carriers trying on trying to force conditions on the ground too closely to a particular time can be problematic for repairers, particularly if it's an unrealistic one; we explored that here. But insurers will need to have some idea of what a procedure typically costs and how long it's likely to take, or else they can't price premiums to account for the potential severity costs of both a shop doing it in-house and subletting the work.
FCA also restated its warning against using aftermarket scan tools Tuesday and described the scope of its Mopar tool's checks on an optioned-out car.
"The Mopar Scan tool uses software that aftermarket tools may not contain to assess whether the safety and security systems of an FCA US vehicle contain active or stored Diagnostic Trouble Codes (DTCs)," the OEM wrote Monday. "The tool performs up to 150 critical evaluations on maximum-optioned vehicles, including evaluations of air bag, air suspension, electronic limited slip differential and HVAC systems, among others."
More information:
Take the 4Q "Who Pays for What?" survey
Collision Advice/CRASH Network via SurveyMonkey, Oct. 1-31, 2016
Past "Who Pays for What?" surveys
Collision Advice/CRASH Network
MOPAR scan, airbag position statement
FCA, June 9, 2016
"Know Your Rights: Mopar Introduces Awareness Campaign on 'Right to Request' O.E. Collision Parts"
FCA, Oct. 18, 2016
Images:
A 2012 Honda Civic is scanned.  (John Huetter/Repairer Driven News)
Data from the third-quarter "Who Pays for What?" survey from Collision Advice and CRASH Network shows which insurers are reimbursing shops more consistently for scans. (Provided by Collision Advice and CRASH Network)
Share This: