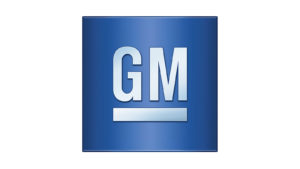 General Motors, the nation's No. 1 auto producer, on Friday issued a position statement requiring all collision repairers to scan vehicles before and after every repair.
GM customer care and aftersales general manager John Eck in August had signaled such a position was coming.
Mechanics have been scanning vehicle for years, and some OEM repair procedures note the procedure's necessity. However, it appears many in the collision repair industry and the insurance companies reimbursing them had relied on the presence of a dashboard "idiot light" to determine whether electrical systems were functioning properly.
"Technicians who follow proper pre- and post-repair scanning procedures have an edge when it comes to customer satisfaction because dashboard lights can't tell you everything that's going on with a vehicle's electronics," Eck said in a statement Friday. "With pre- and post-scans, techs will start with the right diagnosis and right parts out of the gate, they'll reduce repair cycle times and they should see fewer follow-up visits. More importantly, the scans will help ensure that the vehicle and its safety systems are returned to their pre-crash conditions."
To set the record straight, OEMs began to issue position statements this year. GM joins FCA, Nissan, Honda and Toyota with such statements. (Audi also says one is coming, but it's verbally confirmed that collision repairers must pre- and post-scan.)
General Motors declared Friday:
General Motors takes the position that all vehicles being assessed for collision damage repairs must be tested for Diagnostic Trouble Codes (DTCs) during the repair estimation in order to identify the required repairs. Additionally, the vehicle must be re-tested after all repairs are complete in order to verify that the faults have been repaired and new faults have not been introduced during the course of repairs.
Even minor body damage or glass replacement may result in damage to one or more safety-related systems on the vehicle. Any action that results in loss of battery-supplied voltage and disconnection of electrical circuits requires that the vehicle is subsequently tested to ensure proper electrical function.
Many safety and security-related components, sensors and Electronic Control Units (ECUs) require calibration and/or learns when replaced. These systems must be repaired according to the corresponding GM repair procedures in Service Information (GMSi).
See it and other GM statements as well as repair procedures on the company's collision repair website for professionals. Also, links are below.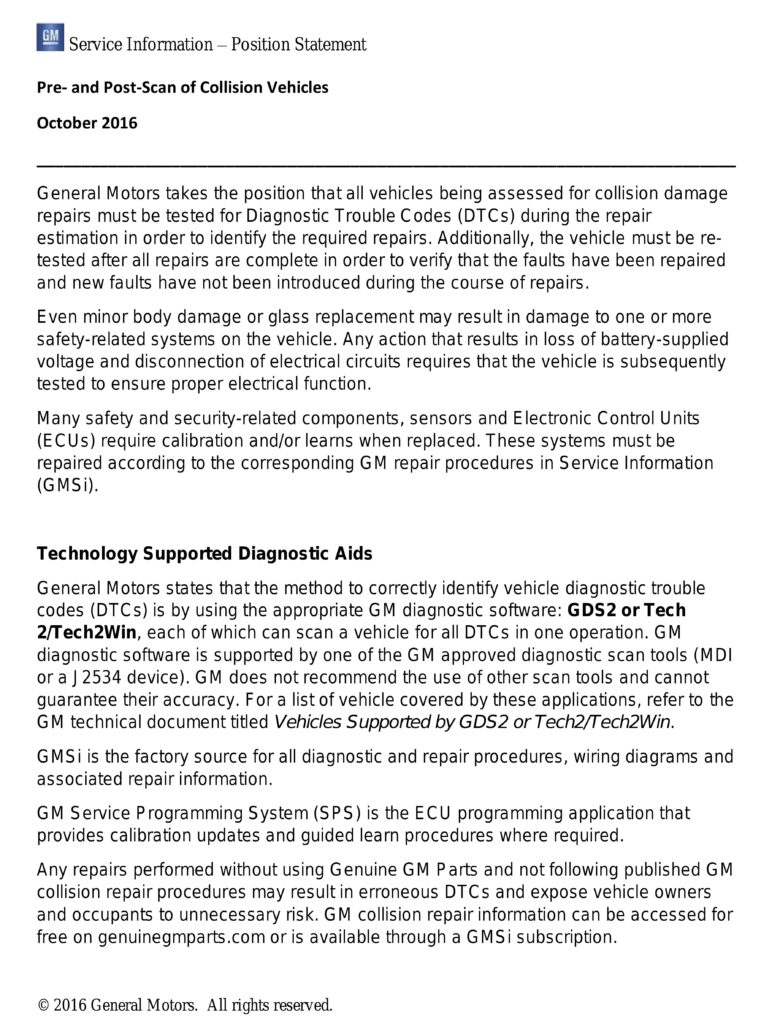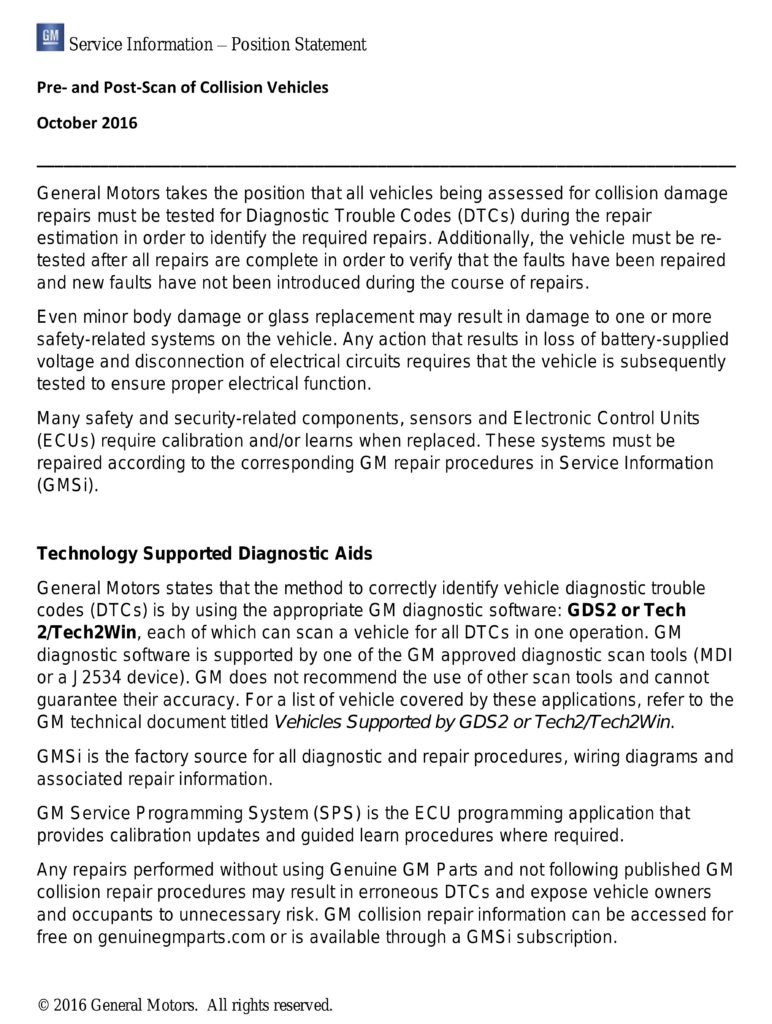 GM also warns shops against aftermarket scan tools and directs them to use a GM approved diagnostic scan tool paired with GDS2 or Tech2/Tech2Win. It released a spreadsheet Friday indicating what vehicles were supported by the pieces of diagnostic software.
"General Motors states that the method to correctly identify vehicle diagnostic trouble codes (DTCs) is by using the appropriate GM diagnostic software: GDS2 or Tech 2/Tech2Win, each of which can scan a vehicle for all DTCs in one operation," GM wrote. "GM diagnostic software is supported by one of the GM approved diagnostic scan tools (MDI or a J2534 device). GM does not recommend the use of other scan tools and cannot guarantee their accuracy. For a list of vehicle covered by these applications, refer to the GM technical document titled Vehicles Supported by GDS2 or Tech2/Tech2Win."
It directed users to GM Service information (GMSI), "the factory source for all diagnostic and repair procedures, wiring diagrams and associated repair information" and GM Service Programming System (SPS), the electronic control unit application which "provides calibration updates and guided learn procedures where required."
GM said shops can buy and research scanning tools at the GM Special Tools and Equipment site and GM diagnostic software on ACDelco Tech Connect.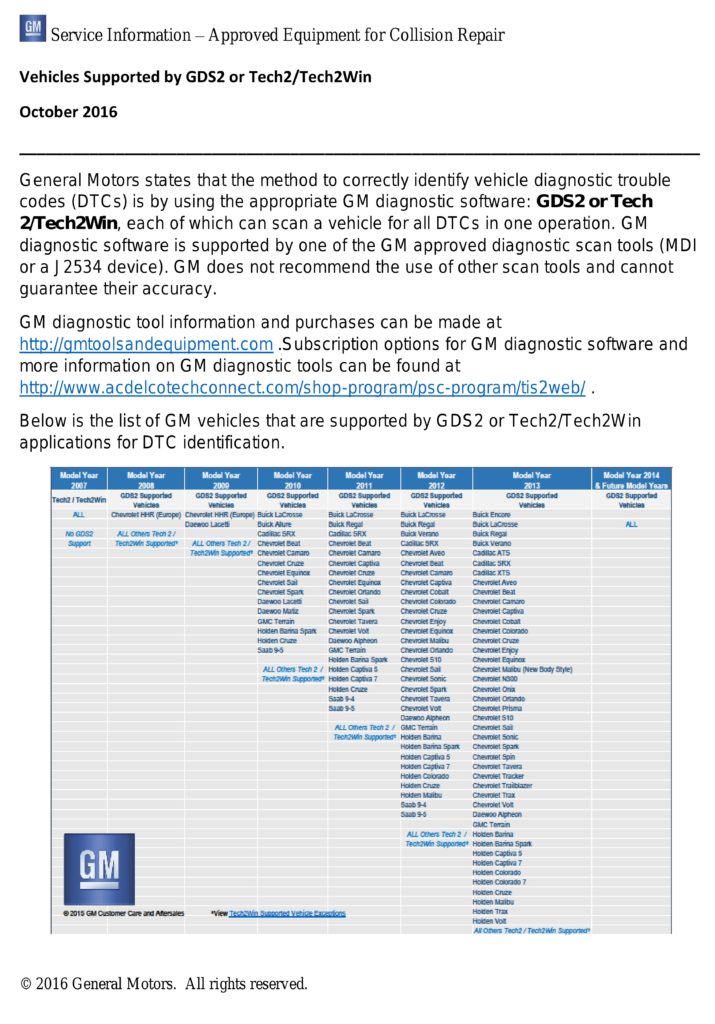 Scans and scope
Though insurers had requested more clarity on when vehicles must be scanned, such as OEMs defining model years and damage levels, automakers like Honda and Toyota have indicated that fault codes without dash lights present can be found dating back to at least 1996, when the OBD-II standard became law.
GM doesn't limit the model years either, and collision repair-related statistics seem to indicate that for all practical purposes, there's not going to be a lot of 1990s-era cars getting collision repairs.
The average repaired vehicle is between 6-7 year old, according to Mitchell and CCC data. The average vehicle on the road is 11.5 years, according to IHS Automotive. That'd be the 2009-10 model years for repaired vehicles and the 2004-05 model years for average vehicle. GM's scanning software extends back to at least every vehicle in the 2007 model year, based on the diagnostics spreadsheet released Friday.
As for damage, GM notes that "even minor body damage or glass replacement" following a collision risks damage without a scan. Any battery disconnect requires the vehicle be scanned after the repair, too.
Besides scanning, shops should also know that many electronic components require "calibration and/or learns" following GM repair procedures upon replacement, according to GM.
"Even minor body damage or glass replacement may result in damage to one or more safety-related systems on the vehicle," Eck said in a statement, quoting the document. "Any action that results in loss of battery-supplied voltage and disconnection of electrical circuits requires that the vehicle be tested post-repair to ensure proper electrical function."
More information:
General Motors  position statement on pre- and post-scans and collision repair
General Motors, Oct. 21, 2016
GM list of vehicles supported by GM scan tools
GM, Oct. 21, 2016
Genuine GM Parts, 2016
"GM Directs Body Shops to Scan for Pre- and Post-Repair DTCs"
GM, Oct. 21, 2016
Featured image: The General Motors logo. (Copyright General Motors)
Share This: