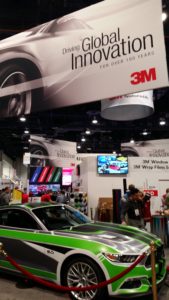 Some simple attention to detail up front — just minutes, sometimes even seconds — can keep a vehicle from coming back weeks or years down the road.
Or worse, according to 3M applications specialist Dennis Keicher: "Maybe it never comes back, and the customer doesn't either."
Keicher and colleague Shawn Collins, 3M senior technical service engineer, gave us an overview of quality control ahead of their presentation on the topic next week at SEMA.
Collins will teach "Maximize Quality Control to Minimize Re-work and Liability" from 12:30 to 2:30 p.m. Tuesday, Nov. 1, during SCRS' Repairer Driven Education series. (Register here.)
As Keicher put it, "You don't know what you don't know," and repairers which neglect to check OEM recommendations or those from equipment and supply companies like 3M can miss an important step.
Besides the "comeback that you may never see," where a nice-looking car returns weeks or years later because of an issue, there's the fear the customer will "see it as an imperfection," never give you a chance to fix it — and disparage your shop's quality to their friends.
"Bad word travels fast," Keicher said.
Body filler, corrosion protection
The presentation will center on alleviating two common "pain points" — body filler and corrosion protection — offering some simple things that "literally take minutes, minutes to do" and backing them up with photographs of what happens if you don't do.
Keicher said body filler was "one of the most abused products in the industry," second only to glaze.
One oversight might involve a lack of preparation of the substrate receiving body filler, which "manifests itself in what appear to be paint issues later on," according to Collins. But you won't receive the feedback of an "immediate failure."
"They think everything's fine," he said.
Collins described body filler as "only as good as what it's over the top of." For example, overconfident technicians can spread it over blemishes like sand scratches, conclude "it's smooth when I'm done" and call it a day. Years later, the vehicle has inexplicable refinish issues.
This is the kind of thing that takes just "seconds or minutes" to get right the first time once you develop the mindset. Just "slow down a little bit in the beginning," Collins said — it "really hardly costs you anything."
Corrosion protection if not done correctly can result in an unsightly vehicle or even a safety concern.
"You don't see the corrosion right away," Collins said, painting a picture of shop owners who "lay awake" at night thinking of what time bombs their technicians have wrought.
"They own that repair for years to come," he said, and  "it might be 5 years later" when a customer returns a car with a problem. Asked if that actually happens, both Collins and Keicher immediately said yes. "Oh, absolutely," Collins said.
The average vehicle on the road is 11.5 years old, and while many owners might have sold the car before that point, Keicher gave the example of a family member handing down a vehicle to a relative.
Even 8-9 years later, you could get a bring-back, according to Keicher. The shop might think it's a product failure, but it really was a quality control failure nearly a decade ago.
But how would you know it was on the shop, instead of environmental conditions? Wouldn't the customer simply chalk it up as inconclusive? Asked this, Keicher said that it was a dead giveaway when one quarter panel has formed corrosion while its twin on the other side of the car "looks perfect."
Warranty
The shop likely has a contractual obligation (to say nothing of an ethical one) to address the problem; reputable shops typically warranty their work, and probably would have been compelled to do so under insurance or OEM repair network agreements.
"They have a lifetime warranty hanging over their head out there," Collins said.
It'd be even worse if a structural element, such as a frame rail corroded.
"Now it's a big problem," Keicher said. "… It's not just the value of the car that's gone down, its potentially a litigation issue."
Fortunately, Collins said he hadn't seen any incidents involving structural corrosion, though he had seen it on "regular body panels."
"The shop is often times surprised by that," he said.
Keicher said that even without litigation for loss of use (or worse), a shop with an 8-10 percent net profit can't afford too many comebacks sucking staff time and materials away from paying customers. (Redos, which Keicher defined as catching and fixing a mistake while the car's still in the shop, are going to be less expensive but likely still not great for a bottom line.)
Even a quality shop can get tripped up by a "rogue tech," Collins noted.
This type of corner-cutting individual "kind of travels from shop to shop," and if not watched, "a year later, you might have a rash of comebacks," Collins said. He said he'd seen this during his time in the collision repair industry.
'A process'
Asked about a best time to perform quality control work, both men described it as a "process."
"It's a process, it's not a fire drill," Collins said. It's not the kind of thing best done by someone ticking boxes off a checklist, he said. It's best to monitor the work throughout the repair, according to Keicher.
Some shops might have a defined production manager, while others might have the estimator vet that the work they've written is being done.
But it'd be silly to only have one person responsible for quality, and Keicher indicated that instilling everyone with a mindset of repairing a car like it was their own parent's car works well.
If you put that kind of care into the product, he said, "you'd never have a problem with QC."
And unfortunately, too many shops just define quality control as walking around the finished car at the curb, Collins said.
"It's very common – very common," he said.
Featured image: The 3M booth at SEMA 2015. (John Huetter/Repairer Driven News)
Share This: