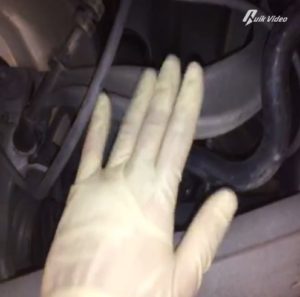 A simple, relatively inexpensive video marketing technique used by some dealerships has potential to build trust and customer satisfaction as well for body shops.
Using Quik Video's methodology, client dealerships email and text their customers a link to a page containing only a video and the dealership's logo. The customer watches a brief film — too long and they lose interest — of a dealership employee giving them a video tour of what he or she has noticed on the car.
This avoids what Jack Gardner, CEO of Quincy, Mass.-based Quik Video describes as the status quo where a service adviser rattles off a list of things your car needs, and the customer thinks the dealership will "nickle-and-dime me to death."
Across all brands, only 32 percent of recommended repairs are completed, and customers typically give three reasons why not, according to Gardner.
"I don't have the time."
"I don't have the money."
"Let me think about it."
Quik Video surveyed customers on why they declined, and it was surprised to find that it wasn't that the customer didn't believe the adviser, according to Gardner. Instead, it's "'I didn't understand what they were talking about,'" he said.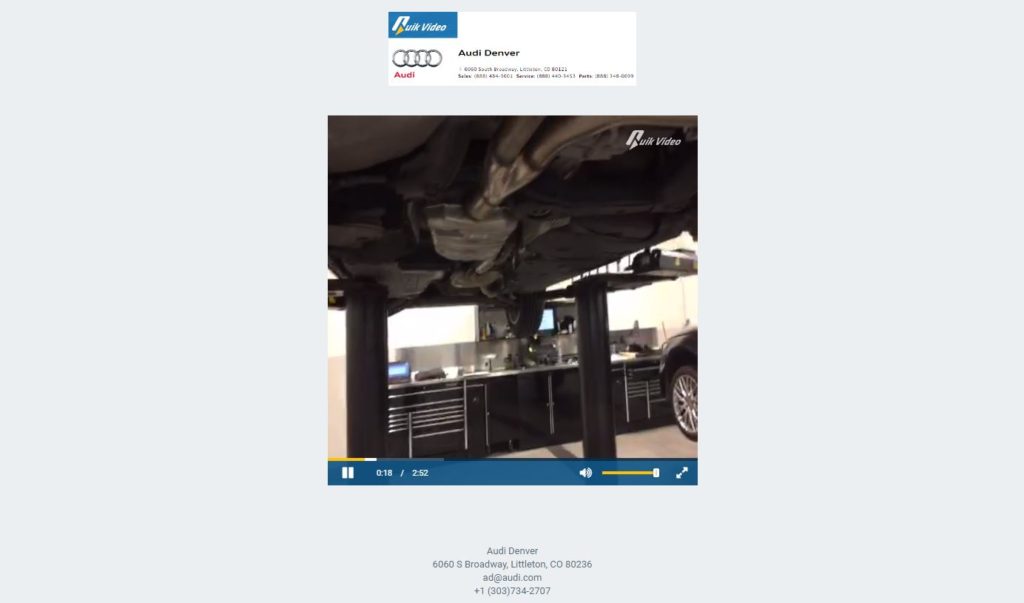 But by shooting a video explaining what ought to be done on a car and why, "it empowers the consumer to make an informed decision" as well as build trust. ("'You wouldn't lie to me on video,'" as Gardner summarized it.)
The videos are done in a single take and begin and end on the customer's license plate, reassuring the customer that there's no funny business where a technician cut to a different vehicle that needed work. No special lighting is required, and the camera is a simple hand-held model — "it's like a smart-phone, if you will," Gardner said.
Technicians are trained to shoot the cars and explain the issue in layman's terms.
"Our training is very, very in-depth," Gardner said.
The videos average 57 seconds and can only hold 4 minutes. That sounds short, but it's actually not. (Time yourself talking and see.) Viewers don't want to watch for too long, anyway, according to Gardner.
Here's an example from Audi Denver provided by customer Lisa Simonyi. To protect her privacy, we've cut the license plates and a brief segment showing a document of vehicle information; the original was indeed a single uncut piece of footage beginning and ending on the license plate as described above. The power of the video as a marketing tool still should be evident, however;
Body shops?
Gardner said that Quik Video marketed to dealerships, but "we're working on it" regarding the auto body industry.
However, he said that given the nature of auto body shop transactions — more than two-thirds are ultimately paid by an insurer as part of the claims process — he was focusing more on insurers, which in that case tend to be the ones needing greater detail on why a repair is necessary.
Gardner's plan was for body shops to produce a "tentative estimate" while giving the insurer the same kind of video walkthrough. The idea was to educate insurers.
"That's how we're attacking this," he said.
However, he said he wasn't opposed to selling the system to body shops, just as he did with dealerships. He said his price depends on the size of the shop and wouldn't disclose exact amounts, but "you're talking hundreds of dollars a month" for an average dealership client with 10 technicians.
He said he'd be up to negotiating that price with body shops, which only have an average of around 6 technicians.
This could wow body shop customers, who list being kept informed up there with quality repairs as one of their top priorities. It also could be useful for explaining to a vehicle owner as well as an insurer why you need to do a particular repair item for which an insurer is reluctant to pay.
---
Learn other customer service techniques at Repairer Driven Education
Collision repairers seeking more ways to wow customers should check out "Optimizing the Consumer Experience" with Michael Callahan and Will Shen of CCC. The session is part of the Society of Collision Repair Specialists' Repairer Driven Education Series from Nov. 1-4 during SEMA. Register here.

---
Video receipt and impact
Videos are provided to the service adviser and via links in an email and text message to the customer customer, according to Gardner. That way, "they both watched the same movie," he said.
Videos are stored remotely with Quik Video for 36 months (though they can be downloaded locally), which Gardner said can be useful for instances where a customer wants to perform some repairs now and postpone others until later.
Because of the video, a customer's "attitude has done a 180," Gardner said.
"They weren't sold anything," he said. "They made a purchasing decision."
Quik Video doesn't have specific data on how customers feel — they're not the ones interacting with the vehicle owners, after all — but they have learned through CSI data provided to vehicle manufacturers that vehicle owners are pleased with the video education. Dealers also send them success stories from time to time.
However, the company can track metrics related to the videos themselves, and "our view rate is 94 percent," which is as Gardner says an "astronomical" number.
"We're very proud of that," Gardner said.
Gardner said the company experimented with different strategies before achieving that number — which also carries a marketing lesson for shops. First, it just sent links to customers solely via email, achieving a 50 percent watch rate. A developer suggested sending it solely by text message instead, yielding a 66 percent watch rate. Then Quik Video thought it'd try sending it in both format — and achieved their 94 percent.
The company also has found that an average dealership has a 212 percent upsell rate. Gardner said that when a dealership owner asks what their return on investment for the videos would be, his answer is "What time do you open at? … Your ROI's 8:30 (a.m.)."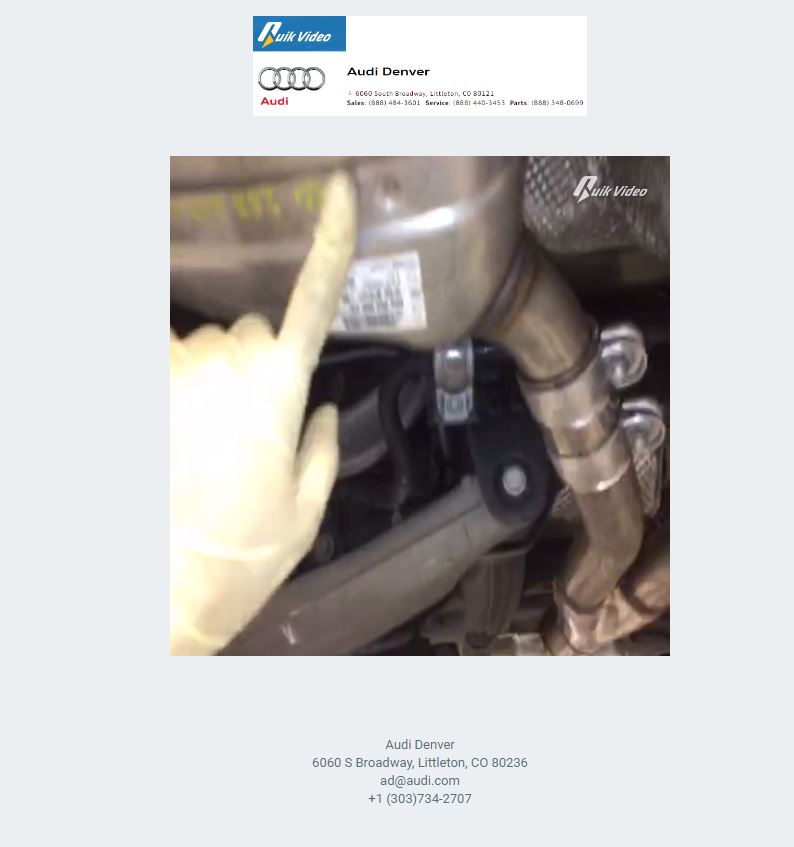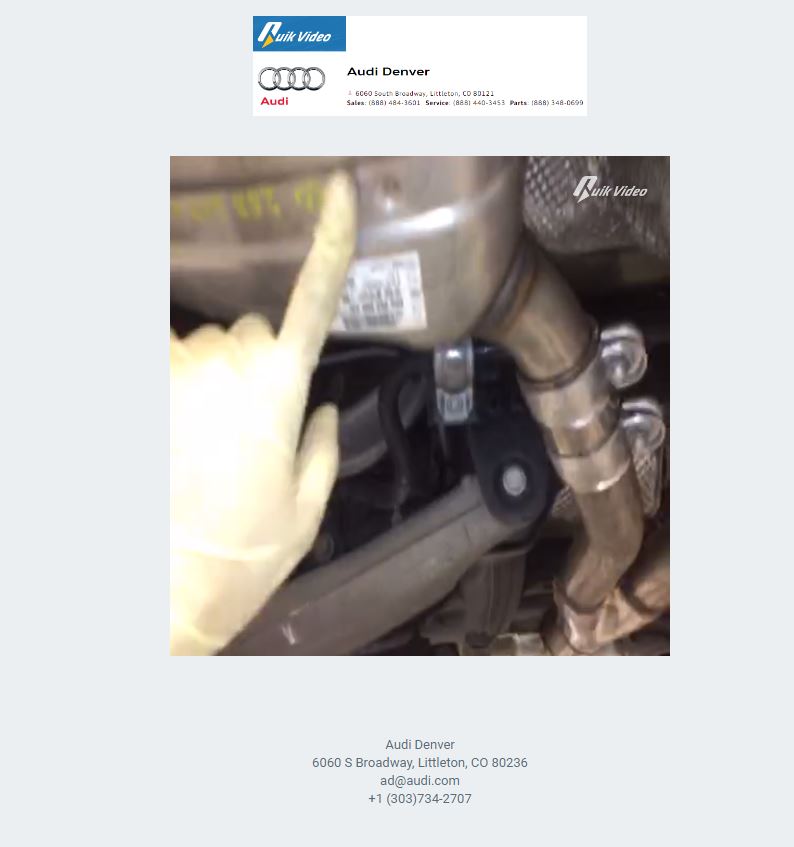 'That was really great'
"That was really great," Colorado resident Lisa Simonyi said of the Quik Video footage, seen above, she'd received from Audi Denver.
"I was kind of surprised to get it," she said, but she was pleased.
"Audi Denver is my favorite place. They're amazing," Simonyi said, but noted that as a vehicle owner, you can't help but wonder what work is actually being done on a vehicle. The video silences such back-of-the-mind doubts and reinforced her high regard for the dealership.
She said the dealership video went over elements she hadn't even considered and helped reassure her a little about keeping her Audi, which had been rear-ended and fixed in the past (a fact noted by the technician in the video).
Simonyi recalled a past incident in which a different company had ruined a vehicle by failing to change the oil, something that might have been prevented through the transparency offered by the video.
"It was really reassuring," she said.
She said she had opted to use Audi Denver — located 45 minutes away — rather than a local dealership because of poor service from the Audi dealership in her own town. The video was "another added reason to drive that 45 minutes," she said.
Simonyi said she still wasn't sure if she would keep her Audi following the rear-ending, and a video proving "this is the same or better than new" might be helpful. She said she "definitely" would recommend the videos for auto body shops, and she wondered why no one in auto repair had thought to create such videos before.
"I wish every shop had this," she said. "… It makes them accountable."
More information:
Images:
This screenshot shows a unique webpage sent to Audi Denver customer Lisa Simonyi. It features a video of a technician explaining what he has seen on her video. (Provided by Lisa Simonyi)
This screenshot shows a video sent to Audi Denver customer Lisa Simonyi. It features a technician explaining what he has seen on her video. (Audi Denver Quik Video footage provided by Lisa Simonyi)
Share This: