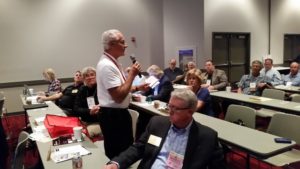 The Collision Industry Conference on Friday urged anyone with an interest in the auto body repair industry to take an online survey and help guide the next two years of stakeholder discussions.
CIC gathers everyone involved in an auto body repair — from shops themselves to companies as diverse as OEMs, insurers, suppliers, rental agencies and paint manufacturers — together in a room four times a year to network and to address controversies in the industry. That way, the diverse parties can clear the air and hear each other's perspective on such topics in a way that isn't always possible in the various companies' day-to-day interactions.
The CIC itself isn't a formal organization per se; it's a loose network of repairers and other individuals dedicated to fostering such communication in gatherings similar to the historic Italian and French salons. New CIC Chairman Guy Bargnes wants input on what kinds of challenges and issues deserve such discussion over his two-year term, which began Wednesday.
"The Conference provides the industry with a forum where all collision industry stakeholders can come together to discuss pressing issues, build understanding across segments and seek consensus on potential solutions to communicate to the industry at-large," Bargnes said in a statement. "This survey is the opportunity for the industry to provide direct input to the Collision Industry Conference and help shape its agenda."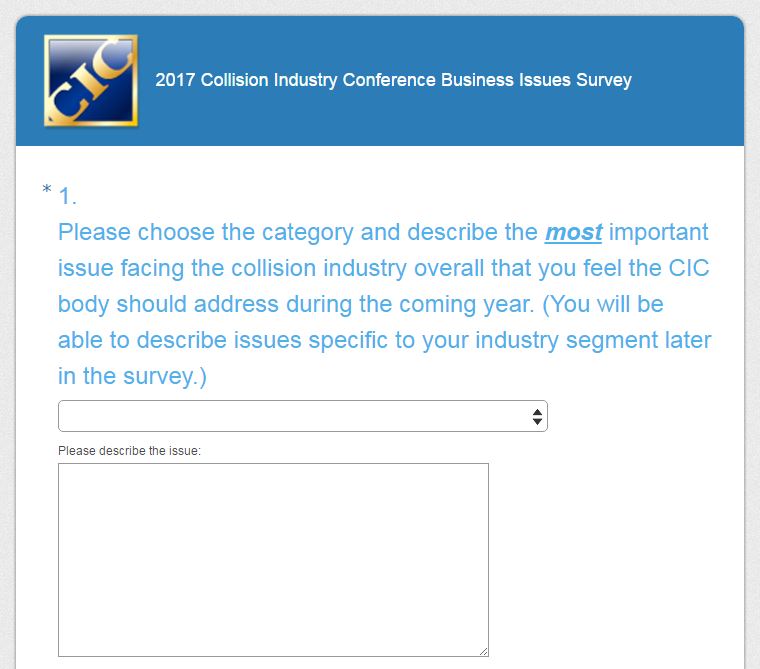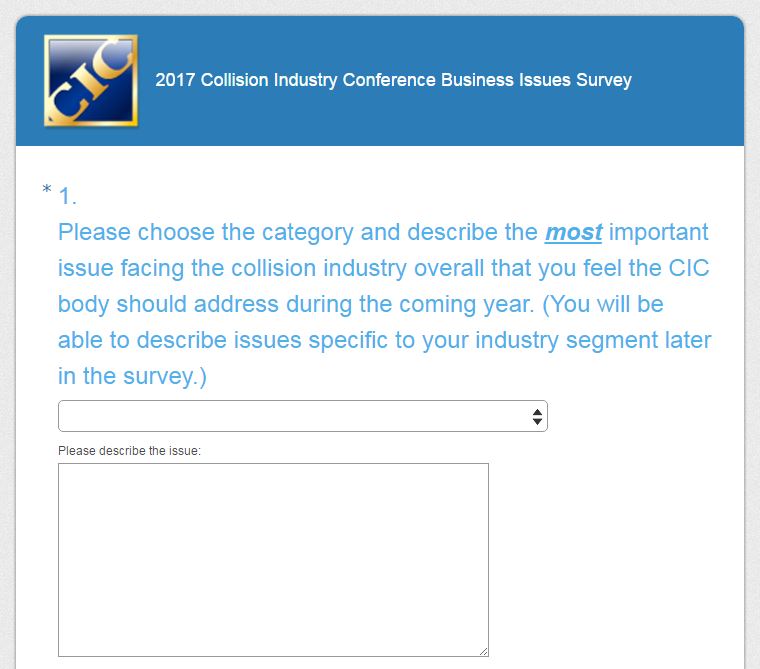 Answers stakeholders leave at www.ciclink.com/2017-planning-meeting-survey will help CIC organizers at a Jan. 12, 2017, planning session plot the next two years of agendas and committees. Survey questions involve the top three issues of concern to the entire collision repair ecosystem as well as the top three issues affecting one's specific industry.
"All segments of the collision industry are undergoing dramatic change," Bargnes said in a statement. "I ask that stakeholders from the collision industry take a few minutes to complete the survey to assist the conference and its many volunteer committee members and participants."
More information:
Collision Industry Conference survey
Images:
Joe Lubrano of J&E Auto Body talks during the open mic of the November 2016 Collision Industry Conference. (John Huetter/Repairer Driven News)
A screenshot from the Collision Industry Conference planning meeting survey website. (Screenshot from www.ciclink.com)
Share This: