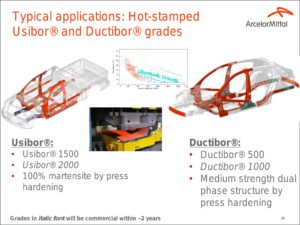 ArcelorMittal on Tuesday announced it'd bring new grades of ultra-high-strength steels to automakers in 2017, further expanding OEMs' portfolio of light, strong auto body parts with limits on sectioning and welding.
The steel company said its press-hardenable Ductibor 1000 and Usibor 2000 steels could be tested by European OEMs now, and North American OEMs had access to Ductibor 1000 but wouldn't get Usibor 2000 until "early 2017,  with commercial production expected in late summer 2017."
MartINsite M1700 and M2000 will be ready for sale in "early 2018" and available for OEMs in "mid-2017," and the High Formability (Fortiform, if you're in Europe) third-generation HF 980 and HF 1180 will be ready for North American production in "late 2017."
"The launch of these steels aligns with our Action 2020 program, a strategic roadmap that aims to achieve targeted financial improvements for the company by 2020," ArcelorMittal global automotive Executive Vice President Brian Aranha said in a statement Tuesday. "Action 2020 efforts include cost optimization and steel shipment volume increases, as well as an improved portfolio of high added value products. These products ensure ArcelorMittal is best positioned to meet customer requirements via a strong technical and product portfolio."
Steel applications for these grades were demonstrated in May in an ArcelorMittal presentation of its S-in Motion lightweighting concept during Great Designs in Steel.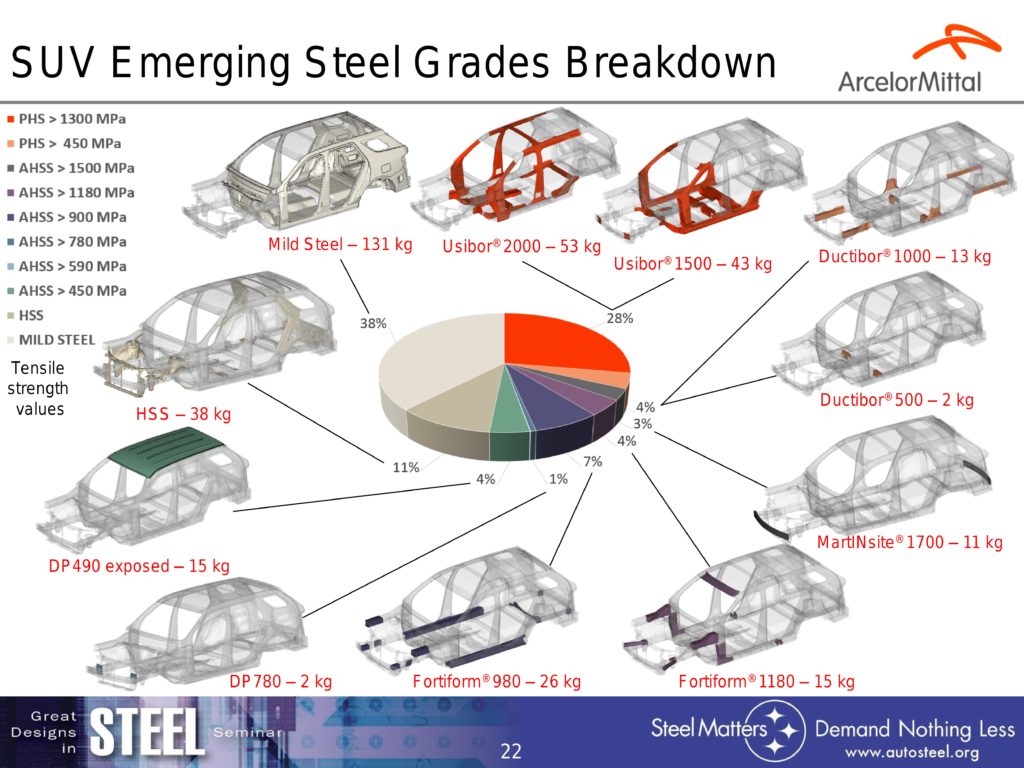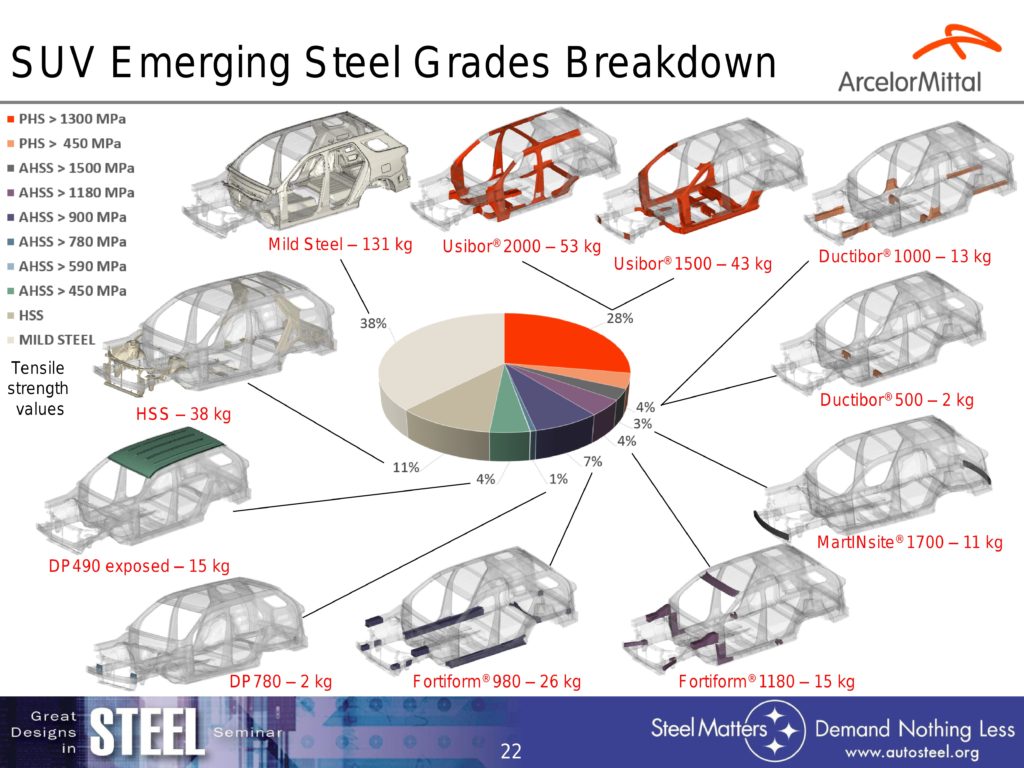 Essentially, these are all upgraded versions of cutting-edge steels ArcelorMittal automotive product applications director Dr. Blake Zuidema discussed last year at SEMA. He even predicted then these exact grades announced Tuesday would be ready within two years — which ought to give shops an idea of how fast auto body lightweighting is moving.
His SCRS Repairer Driven Education presentation at SEMA 2015 stressed the need to check OEM repair procedures to learn which steel a particular technician or welder was handling — you can't visually tell the difference between grades — and what procedures are forbidden for  it. Such adherence to OEM procedures will likely remain vital for these new versions based on his and ArcelorMittal's descriptions.
Extremely light, strong steels such as some of the company's new offerings typically comprise passenger cages — A- and B-pillars and roof and frame rails — and also bumper beams and cross-members. But while they can take a crash, they severely weaken under heat treatment, and even cold-working can compromise strength, Zuidema said then.
Thus, "back in the day" mild-steel collision repair techniques like straightening, welding and sectioning will seriously compromise some of the most important crash protection elements of a vehicle body on modern steels.
Tech skill doesn't alter this fact, Honda collision instructional designer Chris Tobie said during a Guild21 call in December 2015. "It has to do with physics and heat," he said.
Instead, shops must frequently replace such parts and use new methods of joining, as dictated by the OEM repair procedures. Shops should remember that even external panels can demand new procedures when connected to such an advanced steel. Improperly weld mild steel to ultra-high-strength steel, and you're still affecting the latter's integrity with heat.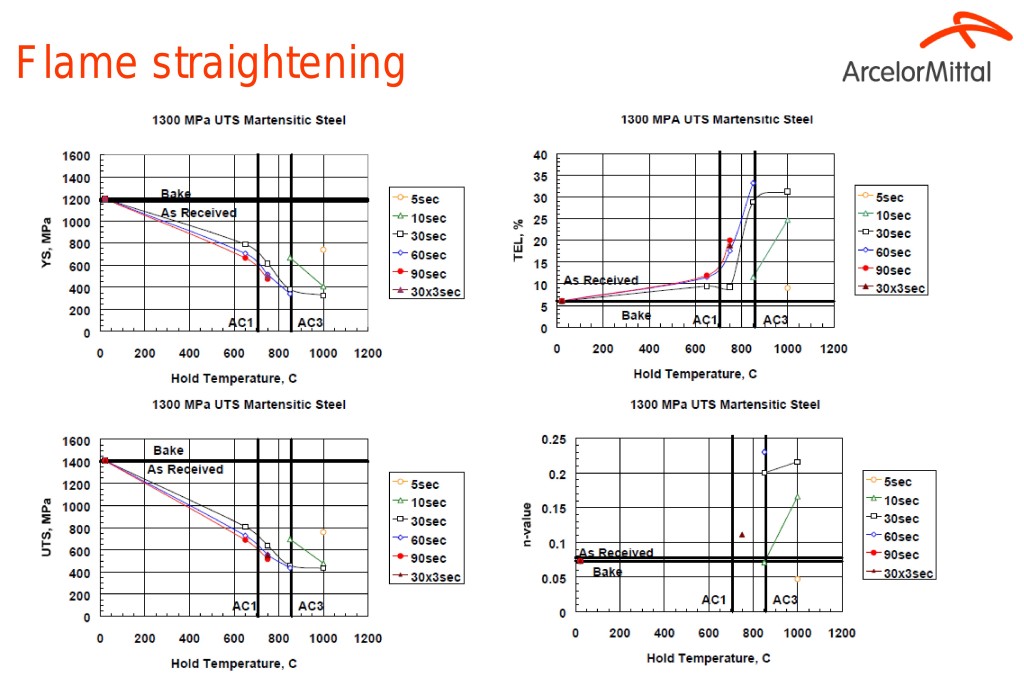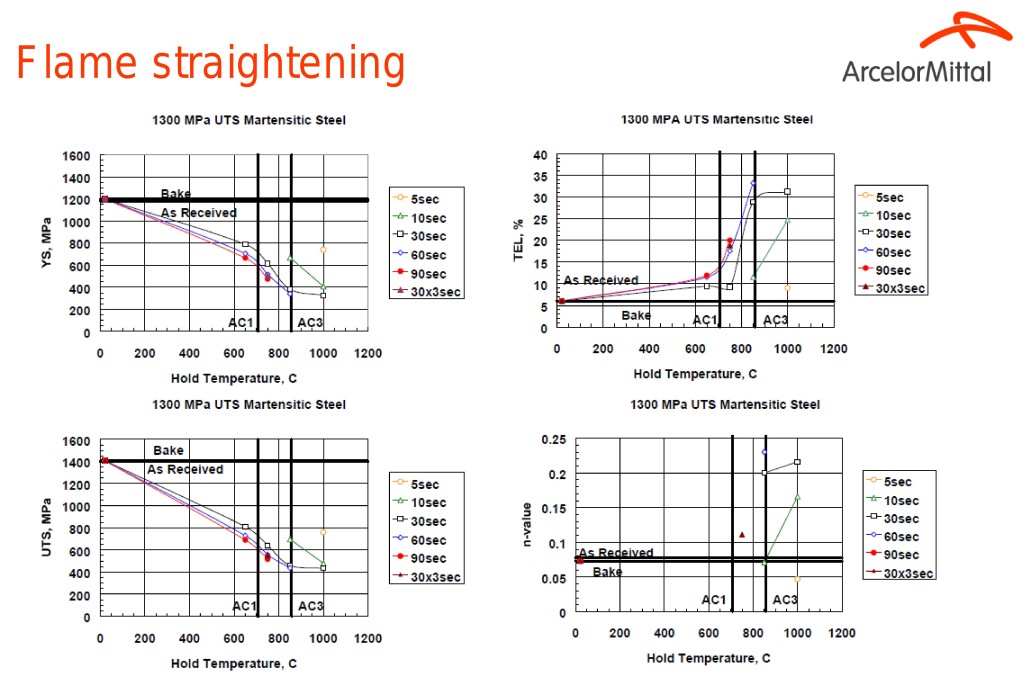 Calling the shot
Zuidema teased ArcelorMittal's new offerings in 2015 to the OEM Collision Repair Technology Summit, and he was proved correct Tuesday.
Ductibor steels offer higher formability, and "they're controlled precisely" by a laser weld, Zuidema said then. His presentation mentioned Ductibor 500 but said a Ductibor around 1,000 megapascals would be in the works within two years.
Right on time. ArcelorMittal described Ductibor 1000 Tuesday as "a high-strength press hardenable steel that offers good energy absorption capacity. Typical applications … include energy absorption parts such as front and rear rails and lower B-pillars." Zuidema in 2015 indicated it'd be good for crumple zones, and the lower B-pillar reference sounds kind of like what Honda did with its "soft zone" in the Civic — the pillar intrudes in a controllable fashion.
Usibor 2000 with a 1,800 MPa tensile strength was under development in 2015, an upgrade over what Zuidema said was  ArcelorMittal's 1,300-1,400 MPa Usibor 1500.
On Tuesday, ArcelorMittal announced the steel could work well for strength-critical passenger compartment parts such as rockers, pillars, roof rails and cross members."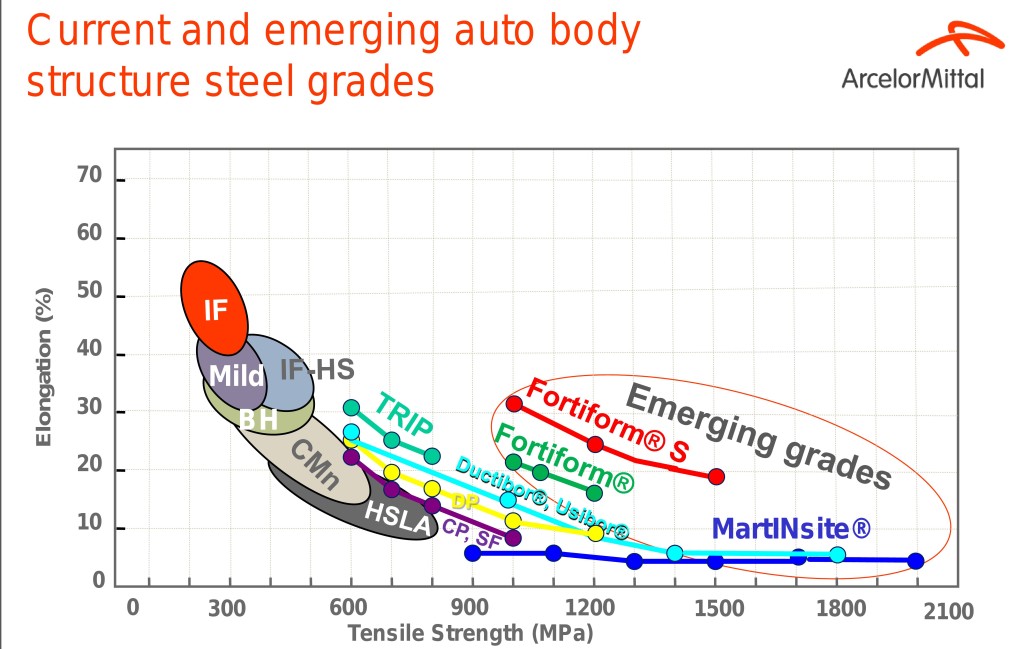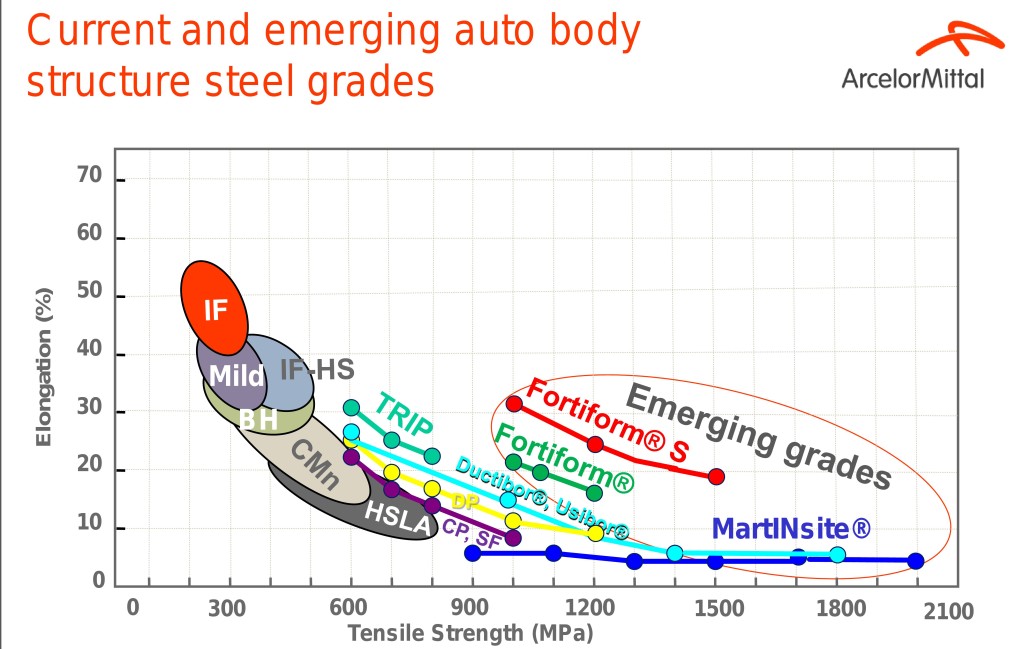 "Usibor® is our key product in hot stamping and has been a major commercial and technical success in the global automotive industry," ArcelorMittal automotive Executive Vice President Brian Aranha said in a statement. "Looking ahead, the scope of hot stamping products in vehicles will continue to increase with the release of more advanced products like Usibor® 2000, which offers 10 to 15% weight savings when compared to existing hot stamping solutions."
Not only can it generate the steel through regular press hardening, ArcelorMittal notes that an OEM could laser-weld it to Ductibor 1000 for a single-piece "blank" for "weight saving, improved crash behaviour and cost savings through material and manufacturing optimisation."
The MartINsite steel — already at 1,700 MPa in 2015 — could reach 2,000 MPa, according to Zuidema then. Enter M1700 and M2000 today. Stronger steels can be more difficult to shape, and OEMs use MartINsite for easily formed parts, he said then, showing images of linear frame rails and crossmembers.
"MartINsite® is a very strong family of steels which are perfect for anti-intrusion parts such as bumper and door beams," Aranha said in a statement Tuesday.
Fortiform/High Formability was valuable for its combination of strength and shapeability, Zuidema said, predicting the 980 and 1180 grades within two years. The company in 2015 had already begun to sell Fortiform 1050 in Europe.
"Thanks to their excellent mechanical properties, these HF grades are particularly suitable for components limited by energy absorption, such as front and rear rails and upper motor compartment rails," ArcelorMittal wrote Tuesday.

More on the future
As ArcelorMittal opens up even more lightweighting options for OEMs, it probably affects both ends of the collision repair spectrum. Luxury OEMs can get even stronger, stiffer and lighter for an even better, lower-mpg ride, and mass-market OEMs see what was advanced in 2015 become more affordable in 2017.
And as all the body engineers like to say, there's the right material for every part. Now, ArcelorMittal has more materials, which means perhaps even more parts outside of the traditional pillars-rails-crossmembers-bumpers present a business case for going stronger and lighter.
Aluminum and steel have both stepped up their game amid increased competition from the other metal, and so shops shouldn't be surprised to see ArcelorMittal and its rivals in both metallurgical segments announcing new developments.
The company spends about 30 percent, or $227 million, of its global research and development budget on automotive steel, and half of its 1,300 researchers are studying automotive.
"ArcelorMittal's current and emerging catalogue of automotive products and solutions supports carmakers in optimising vehicle weight and cost, while meeting stringent safety standards," Aranha said Tuesday. "We are also committed to manufacturing products that advance sustainable lifestyles. Steel helps cars to be lighter, which reduces carbon emissions, but it is also infinitely and easily recyclable. Additionally, compared to competing materials, steel has a significantly smaller environmental footprint."
More information:
"ArcelorMittal expanding global portfolio of automotive steels in support of Action 2020 goals"
ArcelorMittal, Nov. 8, 2016
"Lightweight Steel Mid-Size Sedan and SUV Bodies"
ArcelorMittal at Great Designs in Steel, May 2016
Images:
Usibor and Ductibor steels from ArcelorMittal are explained and predicted in this 2015 slide. (Provided by ArcelorMittal)
ArcelorMittal's S-in Motion project, presented here in this 2016 Great Designs in Steel slide, shows where some of the new steels announced Tuesday could go into an SUV and how much weight they could save an OEM. (Provided by ArcelorMittal via Great Designs in Steel)
Flame-straighten higher-strength steel and its strength plummets dramatically, eliminating its ability to protect vehicle occupants and distribute energy throughout a car. (Provided by ArcelorMittal)
Auto steels in 2015 and in development. (Provided by ArcelorMittal)
Share This: