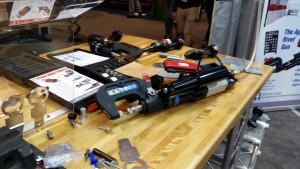 Last year at SEMA, equipment manufacturers explained the lengthy and expensive testing process they face in having OEMs approve their products for use in repairs — including such notorious brand-specific items as rivet guns.
This year, we heard about the process from an OEM's perspective. Trainers from Jaguar Land Rover, Porsche, Audi and Toyota explained Thursday during the SCRS OEM Collision Repair Technology Summit explained why their companies don't standardize repair tooling or allow alternative repair methods.
Shawn Hart of Audi said technicians he trains have the same question, and he knows a "because they told me to" answer won't satisfy them or ensure they perform the repair correctly when they leave his class.
But there's more to it than a corporate whim, according to Hart. He said he asked the same question when he visits the engineers in Germany, and they actually can show him they've crash-tested the repair procedure on an Audi and proven it works.
"I use the big word. Liability," Hart said.
He said he's also willing to educate insurers with questions about why Procedure X must be used, as they're just as as skeptical of a "because" answer as shops are. Perhaps more so — following OEM repair procedures can mean a shop makes more money from the insurer, according to Hart.
But as Audi has less skin in the game, insurers can be more willing to accept such an answer from Audi than the shop, Hart said. "'Yeah, we sold parts today'" is not Audi's top priority, he said.
Mike Kukavica of Porsche agreed with Hart on the idea of having a proven technique. As a shop can't recrash a repaired vehicle and prove an alternate theory of repair works, it needs to trust in Porsche's repair methodology.
"It's not that we're helpless" or incompetent in the U.S. aftermarket, Kukavica said, but "we don't know what that's (another repair method's) going to do." Nobody has truly vetted the Plan B with regard to crashworthiness.
"They (Porsche) made the decision that that's right," he said.
Moderator Barry Dorn of Dorn's Paint and Body noted that collision repair is an industry which historically had to improvise a great deal, particularly in the days before OEMs issued repair procedures. It's "very painful" to realize such independence won't work, and in fact is now "irrelevant" as a viable technique," he said.
"That's the growing pains, there," Dorn said.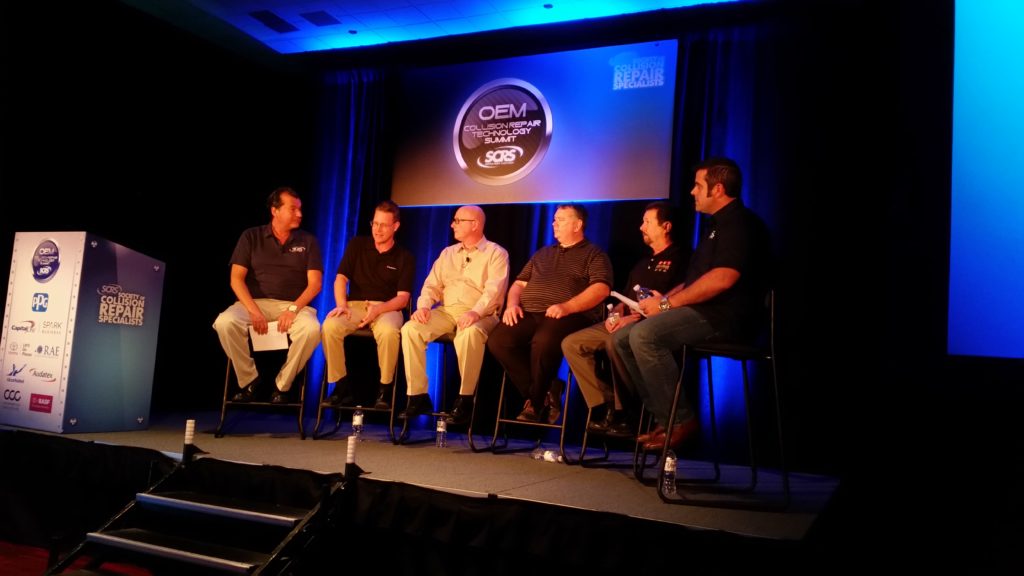 Why not tool specs?
It's a long, expensive process for the OEM to test a repair tool, representatives of joining manufacturers indicated last year. Once an automaker has confirmed it or a repair procedure works, why would they try to find another one — particularly if a tool supplier hasn't applied?
Rick Miller of Jaguar Land Rover observed that manufacturers of rivet guns weren't breaking down Porsche's door for approval.
Also in the OEM's defense: Miller said Jaguar Land Rover had the same gun for 13 years. But it concluded that shops using such pneumatic riveters have no method of determining if the rivet truly is seated correctly or had been affected by improper air pressure. JLR now wants a gun that will shut off if the pressure is wrong.
Besides that, he said, Jaguar Land Rover is a small company and must find solutions that will work worldwide. That restricts how much experimentation or flexibility it can offer.
Hart was sympathetic to the shops' fatigue and cost at having to buy multiple versions of a single product. If another tool manufacturer came to it for approval, it'd test their tool too, he said.
But like the repair procedures, "This equipment's been tested," Hart said. He said it might eventually share a riveter with Porsche.
Miller said that every other tool JLR requires is a specification rather than a particular brand — which might give shops a chance to buy a single product that works for multiple OEMs.
James Meyer said Toyota also cuts repairers a break in that regard.
"There's items, not brands," he said.
Correction: An earlier version of this story transposed the OEM affiliations of two trainers. Rick Miller is the network consultant for Jaguar Land Rover. Mike Kukavica is collision repair technology instructor for Porsche. The story has since been corrected.
Images:
The Wielander+Schill XPress 800 pneumatic-hydraulic universal rivet gun and some of its attachments are shown at the Reliable Automotive Equipment display at SEMA 2015. (John Huetter/Repairer Driven News)
From left, Gary Wano of G.W. and Sons, Shawn Hart of Audi, Mike Kukavica of Porsche, Rick Miller of Jaguar Land Rover, James Meyer of Toyota and Barry Dorn of Dorn's Body and Paint participate in an OEM trainer forum on Nov. 3, 2016, at SEMA. (John Huetter/Repairer Driven News)
Share This: