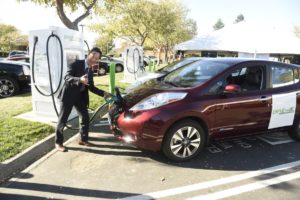 Adding a little severity and some new repair procedures, the NHTSA on Monday mandated that all new electric or hybrid vehicles make enough "noise" that the visually impaired can hear them.
The requirement applies to all new vehicles as of Sept. 1, 2019, but OEMs must get halfway to that point by Sept. 1, 2018.
Any vehicle weighing up to 10,000 pounds must make noise at speeds up to about 19 mph, the NHTSA says; anything moving faster makes enough tire or wind noise that a blind pedestrian could hear it anyway, according to the agency.
Some vehicles, like the Nissan Leaf and the Kia Soul, already have similar technology, CNET's Roadshow reported.
"Having raised concerns on behalf of blind Americans about the dangers posed by silent hybrid and electric vehicles, the National Federation of the Blind is extremely pleased that technical specifications for a safe level of sound to be emitted by such vehicles have now been issued," National Federation of the Blind President Mark Riccobono said in a statement Monday. "The full implementation of the Pedestrian Safety Enhancement Act of 2010 will protect all pedestrians, especially the blind, as well as cyclists. This regulation will ensure that blind Americans can continue to travel safely and independently as we work, learn, shop, and engage in all facets of community life."
The rule describes adding an "external sound generator" able to produce sounds of between 43 and 64 decibels, depending on vehicle speed. Automotive News reported that the OEMs would have to add an "external waterproof speaker," and NHSA describes something like a marine speaker in its final rule. However, we'd assume something like the cool Honda Ridgeline in-bed speaker would work as well.
Either way, it's a new piece of technology collision repairers — particularly those doing fleet work, as the Detroit Free Press pointed out — have to know how to R&I properly in wherever OEMs choose to install it. Some sort of scanning and calibration might be necessary — the rule describes technology that knows whether the car's in drive or reverse.
One interesting element: There's no requirement that the sounds resemble engine noise — and according to the New York Times, at least one artificial noise system today doesn't always sound like an engine:
The electric Nissan Leaf uses such a system, aptly named the Approaching Vehicle Sound for Pedestrians. It is set off automatically at speeds below 16 miles per hour, emitting a noise from a speaker in the front of the car that sounds like a muted version of a Harrier jet taking off.
At 19 m.p.h., the Leaf's wheels generate enough noise to turn pedestrians' heads, so the speaker shuts off. (In reverse, the Leaf sounds like something from a "Star Trek" fan's garage, emitting a phasers-on-stun sound effect.)
Instead, the sounds must be consistent for all those in the same model that year. Customers won't be allowed to customize them like ringtones, though.
"We note that the final rule does not contain the requirements for broadband sound, low frequency content, and tones proposed in the NPRM," the agency wrote.
NHTSA estimated that installing a speaker would cost consumers/OEMs $129.84 (counting the extra gas/electricity used because of the system's weight) on a hybrid and $54.99 on an electric car.
However, society as a whole still comes out ahead, with costs to OEMs around $39.29 million for the 2020 model year and benefits for preventing an estimated 2,400 injuries a year in the low hundred millions of dollars.
"We all depend on our senses to alert us to possible danger," Transportation Secretary Anthony Foxx said in a statement. "With more, quieter hybrid and electrical cars on the road, the ability for all pedestrians to hear as well as see the cars becomes an important factor of reducing the risk of possible crashes and improving safety."
And for a little extra perspective, here's an interesting video discussing the issue in London with a blind audio engineer.
More information:
"NHTSA sets 'Quiet Car' safety standard to protect pedestrians"
National Highway Traffic Safety Administration, Nov. 14, 2016
NHTSA, Nov. 14, 2016
"A Vehicle's Sound System Can Be a Matter of Life and Death"
New York Times, Nov. 10, 2016
Featured image: A Nissan Leaf is featured at the grand opening of the DRIVETHEARC network of fast chargers in California. (Provided by Nissan)
Share This: