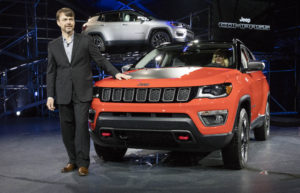 The 2017 Jeep Compass is more than 65 percent high-strength steel, FCA announced Thursday — yet another commonplace vehicle which demands auto body shops embrace OEM procedures and new repair and joining methods.
"Compass boasts a rigid foundation," the OEM wrote Thursday in a news release. "The upper body structure and frame are engineered as a single unit for a stiff and more mass-efficient structure, and it is designed and built with an extensive use of high-strength steel and liberal use of structural adhesives. More than 65 percent high-strength steel is used for maximizing vehicle dynamics and crash performance while optimizing weight efficiency."
FCA has said its entire 2017 lineup uses 53 percent more higher-strength steel compared to 2012.
FCA didn't elaborate further on the unibody body-in-white or joining in its news release Thursday. We've reached out to the OEM for more information. Continue to check Repairer Driven News for details.
Adhesives in the factory can easily translate to structural adhesives in the aftermarket — shifting more repairs from welding to alternate joining methods. Besides allowing some materials to be connected without ill effects like joining or loss of structural integrity, adhesives also help OEMs to save more weight than possible with welding.
As for steel, higher strengths generally make it more likely that shops will have to refrain from traditional welding, section in only specific places, and replace rather than repair damaged parts.
The 2017 Compass is probably going to be fairly different from a repair perspective than its predecessor, considering that the Mopar Repair Connection body repair manual for the existing Jeep Compass still contains references to "DaimlerChrysler."
However, the current-generation Compass, introduced in 2006 and redesigned in 2011, already uses some boron steel, including on the B-pillar, roof rail and A-pillar and involves structural adhesives during repairs, so it won't be completely alien for shops that've been keeping up.
Other elements worth noting by shops:
A ton of advanced driver safety features are offered standard or as options, including autobraking, automatic lane-keeping and rear cross-traffic checks.
Seven airbags standard.
What Jeep described as "intelligent 4×4 systems, each of which can send 100 percent of available torque to any one wheel." That probably means more sensors and more scanning and calibration of the technology.
LED taillights
A nine-speed transmission standard, which Jeep says is a first for the compact SUV segment. (We threw this one in more for the mechanics, but it's an interesting example of a growing fuel economy trend of adding more speeds to the powertrain.)
The Trailhawk trim has its own "unique fascias with 30-degree approach angle, 24-degree breakover angle and a 34-degree departure angle."
Shops might also benefit from checking out FCA's extensive description of all the safety technology possible on the company's 2017 models, some of which will no doubt appear on the Compass.
More information:
"2017 Jeep® Compass: An all-new global compact SUV delivering unsurpassed 4×4 capability, world-class on-road driving dynamics, advanced fuel-efficient powertrains and premium styling"
FCA, Nov. 17, 2016
Mopar Repair Connection
"FCA US Breaking Out the Strong Stuff, Gets Lit for 2017"
FCA, Sept. 1, 2016
Featured image: FCA Jeep head Mike Manley introduces the 2017 Jeep Compass at the Los Angeles Auto Show on Nov. 17, 2016. (Provided by FCA)
Share This: