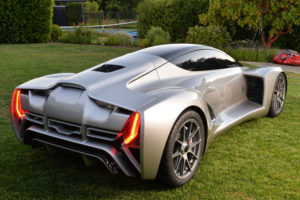 For a look at the perhaps not-too-distant future, check out the Divergent 3D Blade, a partially 3-D-printed supercar on display during the Los Angeles Auto Show festivities.
The chassis and structure in the prototype uses a combination of 61 pounds of 3-D-printed aluminum "Nodes" connecting 41 pounds of carbon-fiber tubing, which doesn't appear to be printed. Divergent 3D boasts that the final chassis weighs 100 pounds, compared to a regular chassis' 1,000 pounds, and can be assembled in 30 minutes — 15 minutes with automation. The entire Blade weighs 1,388 pounds.
"The Node solves the problem of time and space by cutting down on the actual amount of 3D printing required to build the chassis and can be assembled in just minute," Divergent 3D writes. "In addition to dramatically reducing materials and energy use, the weight of the Node-enabled chassis is up to 90% lighter than traditional cars, despite being much stronger and more durable. This results in better fuel economy and less wear on roads."
The body panels themselves don't appear to be printed — which 3-D car printer Local Motors does on its Strati. Popular Science in 2015 described the Blade panels as carbon-fiber shearing:
Czinger created the Blade's body from aerospace-grade carbon-fiber shearing. That allowed him to avoid the time- and energy-intense process of stamping metal body panels. Entrepreneurs, like the ones Czinger is trying to lure to his microfactory, could just as easily use Kevlar or Spandex, reducing weight even further. And, he says, body panels can be made for less than $1,000.
The company also projects that its node-and-tube method can cut 75 percent out of the parts out of the car, for obvious savings.
So while the Blade's not perhaps as truly 3-D printed as its billing suggests, it still suggests a pretty radical way of building and potentially repairing vehicles in the future. Divergent 3D describes a system where a centralized 3-D printing outfit produces all the Nodes in the node-and-tube method, and a series of $5 million microfactories assemble the cars. A microfactory able to 3-D print as well would cost only $20 million and generate 10,000 cars a year, the company hypothesizes.
It's possible that under such a system someday a collision repairer would license and print their own Nodes or have a stock of them and the carbon fiber tubes lying around for when a repair to the node-and-tube chassis was necessary. They'd simply discard whatever portion of the chassis was out of whack and rebuild that portion quickly — the prototype, remember, was assembled in 30 minutes.
Granted, at this point, it's all speculation — there's plenty of real-world considerations to be satisfied, such as international crash standards. But 3D printing seems like it's poised to make massive leaps over the next decade, and the kind of savings in time and money Divergent 3D describes might make such vehicles more attractive to OEMs, particularly for low-volume models.
3-D printing is also attractive because it can allow designers to design geometrically complicated parts — stuff that could never be stamped or produced under traditional means — which are able to get the structural job done despite what can be unusual designs and weight-saving holes. Additive manufacturing also could let parts be printed in a single completed shape, rather than having to cast and assemble multiple components.
Divergent 3D has powerful friends. The PSA Group, which controls the Peugeot, Citroën and DS auto brands, in September announced a strategic partnership letter of intent with the company.
"We are very impressed by the promising new opportunities in Divergent 3D's technology," PSA Group board Chairman Carlos Tavares said in a statement. "We're convinced that these spectacular advances in 3D printing will help position PSA Group as a leader in automobile manufacturing. This has the potential to dramatically scale down the size and scope of our manufacturing footprint, reduce overall vehicle weight and build complexity, while also giving us almost limitless flexibility in design output. We are talking about a radical change for our industry."
International R&D group Altran has invested in Divergent 3D and agreed to provide other support to the startup.
"By teaming up with Divergent, Altran takes a step to further develop its presence in the United States, which is a priority market for the Group, as part of the Altran 2020. Ignition strategic plan," Altran North America CEO Rob Vatter said in a statement Oct. 25. "Divergent is a like-minded critical thinker who is as focused as we are on addressing and managing complexity for clients. The dramatic transformation the auto industry is facing must take into consideration not only how to leverage disruptive innovation, but also how to reduce the capital required to bring connected and intelligent vehicles to market. This partnership will address both considerations by streamlining the process of creating and integrating complex systems that will make up the cars of the near and distant future. At the same time, Divergent 3D's platform will help us optimize our customers' value chains by lowering costs and speeding up development timelines."
Correction/Clarification: The company's proper name is Divergent 3D. Also, a 2015 article quoted referencing the Divergent 3D Blade was written by Popular Science, not Popular Mechanics. The article has since been updated for the sake of clarity and accuracy.
More information:
"PSA Group signs a Strategic Partnership Letter of Intent with Divergent 3D, charting a new future of dramatically more efficient automobile manufacturing"
Divergent 3D, Sept. 15, 2016
"Divergent 3D Partners with Altran to Deploy 3D Printing for Cars"
Divergent 3D, Oct. 25, 2016
"Divergent Microfactories Drives the Future of Car Manufacturing with Blade"
Divergent 3D, June 24, 2015
"Dematerialization and Democratization in Auto Manufacturing"
Divergent 3D
"3D-PRINTED SUPERCARS WILL CUT COSTS AND EMISSIONS"
Popular Science, Dec. 2, 2015
Featured image: A Divergent Blade is shown. (Provided by Divergent)
Share This: