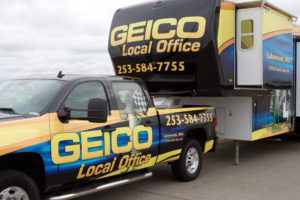 GEICO's parent company earlier this month reported that customers were up for the year, as is severity — but crash frequency has remained steady.
The insurer, owned by Warren Buffett's Nebraska conglomerate Berkshire Hathaway, reported $7 billion in total premiums written between July and September and $686 million worth of premium actually earned that quarter, both increases. (A customer might sign up for a policy but not cut the check immediately.)
Some of this gain was due to an increase in policyholders, but it also included 6.9 percent growth in the average premium caused by rate increases and a different mix of customer states, policyholder risk and coverages, according to Berkshire Hathaway.
Though GEICO's earnings report references upping rates in response to market conditions, it's unclear if the actual increase happened in Q3 or just sometime during the past year. (To use a hypothetical example, if the insurer received approval to raise rates X percent in January, customers would still be paying that X percent more in September.)
"Throughout 2015, we experienced increases in claims frequencies and severities across all of our major coverages. As a result, we implemented premium rate increases as necessary," Berkshire Hathaway wrote about its subsidiary Nov. 4.
As we've frequently pointed out, there's nothing wrong with GEICO having higher rates because conditions on the ground dictate it. But the insurer should remember its own logic and refrain from giving a collision repairer grief for the body shop's labor rates.
In GEICO's case, business demands included losses up $677 million (14.5 percent) in the quarter and $1.7 billion (12.1 percent) for January-September 2016. Loss ratios grew 2 percentage points for the quarter compared to 3Q 2015 but remained in the black at 82.4 percent of premium revenue; overhead, staff and ad expenses pushed the entire combined loss ratio to 97.9 percent of premiums for the quarter. For the first nine months of the year, that combined ratio was only up 0.3 percentage points.
Berkshire attributed the loss gains to higher storm losses (up from $5 million in 3Q 2015 to $90 million in 3Q 2016) and severity, noting they were "partly offset by the aforementioned premium rate increases." Severity rose 4-6 percent for physical damage and collision and 5-7 percent for bodily injury
However, property damage frequencies between January and September 2016 were "relatively unchanged" compared to that time in 2015, "as the decreases experienced in the first quarter were offset by subsequent increases," and bodily injury was also flat, Berkshire Hathaway wrote.
GEICO's report of frequency holding steady is interesting in the light of macro trends such as miles driven — which as of August had been 3.1 percent higher than in 2015, according to the Department of Transportation. More miles driven tends to translate into higher frequency, but that's not happening so far with the No. 2 insurer's clientele. Shop owners and staff (particularly piece-raters) should pay attention to how both statistics play out and correlate in the future and use the data to better predict one's own potential volume.
Here's a couple of miles driven charts from IHS Markit during an Auto Care Association webinar to show that trend.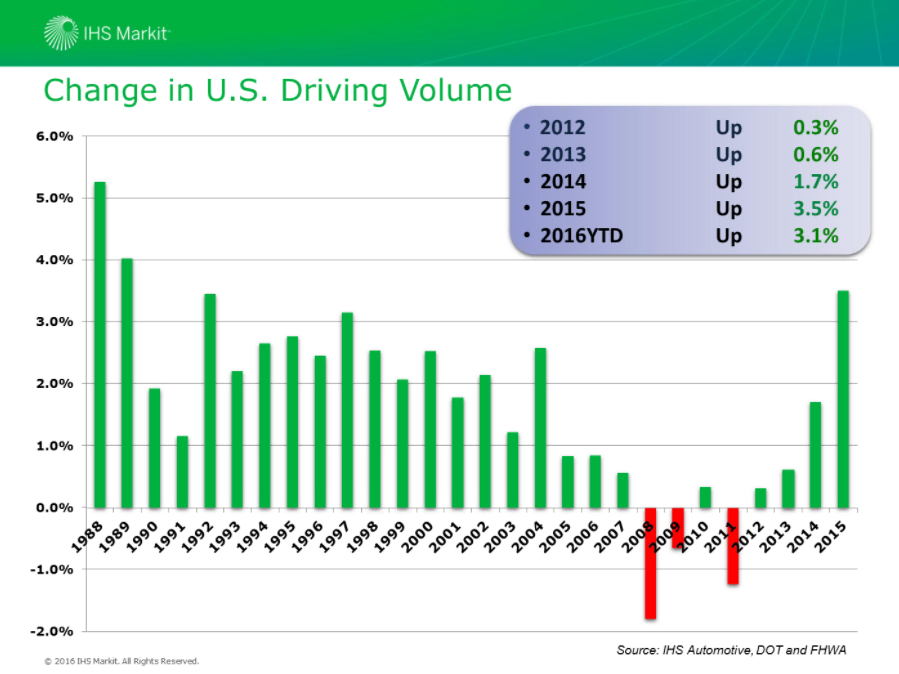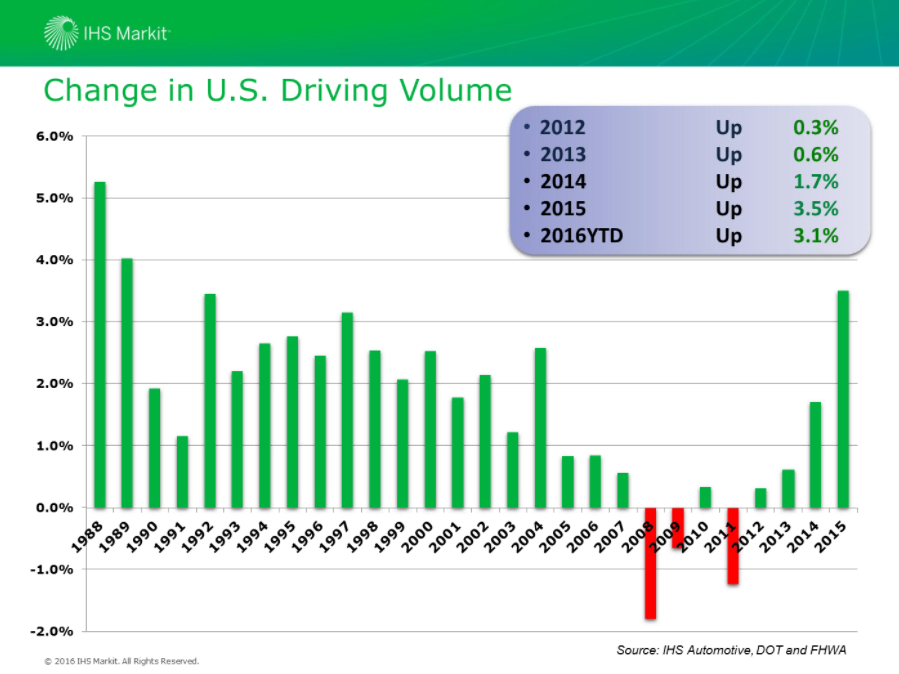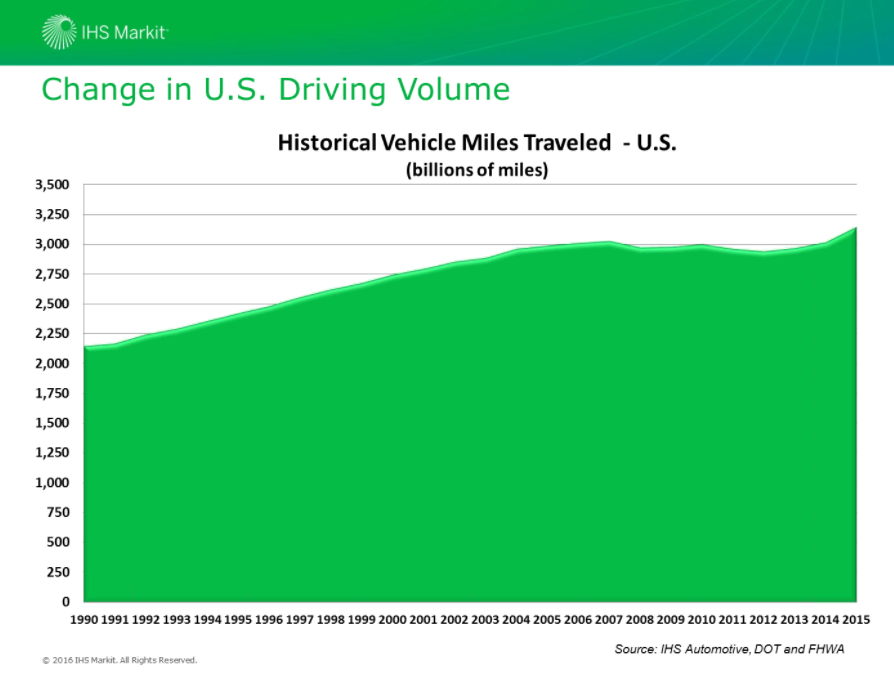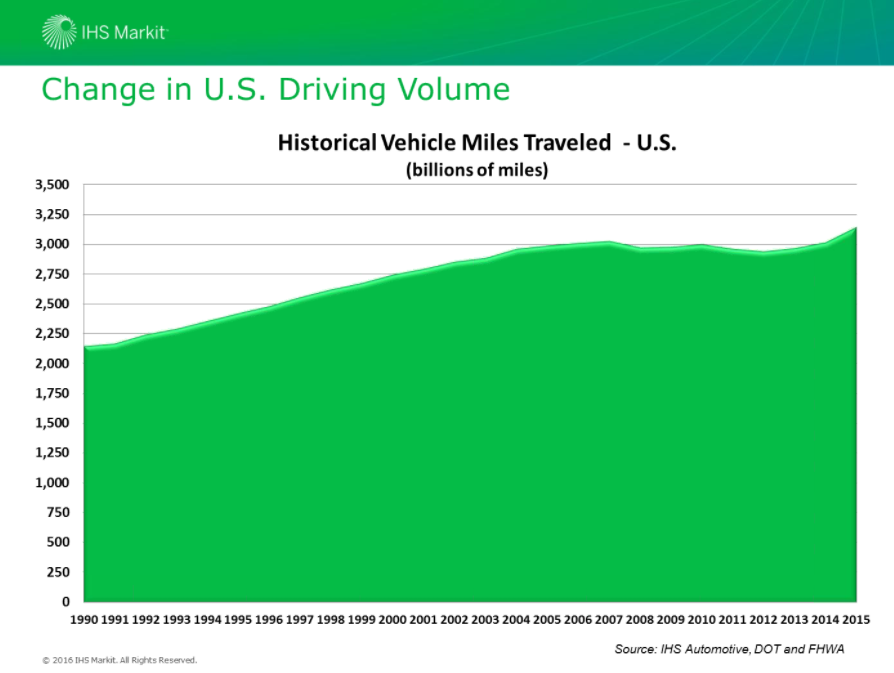 Despite GEICO's rate increases, voluntary auto policies grew 5.2 percent anyway through the end of September compared to a year ago, and new voluntary auto business rose 6.8 percent in the first nine months of the year, with more "significant growth" in October, the company said. GEICO is up 276,000 voluntary policies-in-force for Q3 and up 670,000 for the first three quarters compared to 2015.
GEICO's market share matters in terms of potential business for its DRP shops — the company has more business to recommend your way — and potential share stolen from other DRPs. It also means collision repairers in general are slightly more likely to find themselves negotiating repair costs with GEICO adjusters.
While doing so, remember that GEICO's two biggest underwriting expenses (everything not related to paying claim losses) are employees and ads, according to Berkshire Hathaway. Underwriting expenses were up 14.8 percent for the quarter and 9.1 percent for the year over 2015, for spending of $1 billion and $2.89 billion, respectively.
"The increases in underwriting expenses reflected the increases in policies-in-force," GEICO wote.
So if a shop needs to spend more on staff and marketing or because its training, equipment and overhead costs are higher, it might want to consider charging more. GEICO's doing it, and it seems to have worked; the company has netted $552 million through September, nearly $100 million more than its pretax profit last year — and that's before Buffett and partner Charlie Munger invest the "float" to make potentially even more money.
More information:
Berkshire Hathaway third-quarter 2016 10-Q
Berkshire Hathaway, Nov. 4, 2016
Images:
A GEICO ad is on display July 22, 2012, at Joint Base Lewis-McChord. (Douglas Rial/iStock)
This chart from IHS Markit displays percentage changes in American miles driven. (Provided by IHS Market via Auto Care Association webinar)
This chart from IHS Markit displays American miles driven. (Provided by IHS Market via Auto Care Association webinar)
Share This: