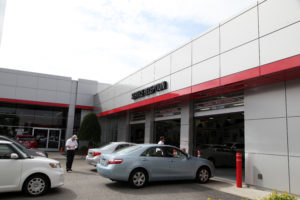 Dealerships are considering collision repair as a method of managing car sales slowdown and improving customer retention, Fixed Ops Journal reported Tuesday.
In the main article and a sidebar devoted to the #1 Cochran dealership group's collision growth, the Automotive News sister publication indicates that independent repairers and consolidating multi-store operators might have more competition than each other in the near future.
The article indicates that the 18-dealership Cochran will open a seventh collision center in early 2017 and AutoNation will put all 70 auto body shops under its retail brand with "plans to open or acquire at least 15 more free-standing repair centers within two years." Other dealerships describe strategies like affiliating with ABRA or CARSTAR.
Because of factors like OEM certifications — the piece says Sonic Automotive is pursuing every one it can get — and access to dealership customer data, dealer shops might have advantages in the collision repair industry, Fixed Ops Journal reports.
Ironically, an article posted the same day by Collision Repair magazine in Canada also quotes Collision Advice's Mike Anderson as being bullish on collision-repairing dealerships.
"For the first time in my life I believe a dealership is a benefit. A bet on dealerships is a good one," he said, according to the magazine.
Dealerships also might have an advantage given the complexity of vehicles and their relative familiarity with the OEM technology and procedures to repair them, according to Fixed Ops Journal and Collision Repair magazine. And in the future, there's the potential for OEMs using telematics to take control of first notice of loss and refer customers to qualified, branded dealership collision centers once a collision is detected, according to Collision Repair.
Besides seeing how potential or actual competitors are behaving, dealerships, MSOs and independent collision repairers might benefit from the Fixed Ops Journal coverage and auto body business tips for dealerships. Read more here and here.
More information:
"Dealerships battle fast-growing consolidation of body-shop business"
Fixed Ops Journal, Nov. 21, 2016
"#1 Cochran swims against dealer tide, expands collision repair network"
Fixed Ops Journal, Nov. 21, 2016
"Pfaff Open House targets new materials, techniques and scanning"
Collision Repair magazine, Nov. 21, 2016
Featured image: Some dealership chains are interested in collision repair, Fixed Ops Journal reported in November 2016. (Imagesbybarbara/iStock)
Share This: