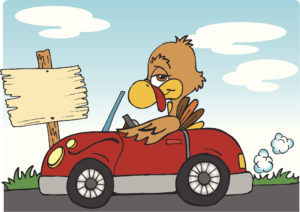 Want to be the hit of Thanksgiving dinner conversation and small-talk with the extended family? Why not share your insights into the future of cars?
Bone up with some past RDN coverage and drop those topics or tidbits into casual conversation, and you'll look like an MIT engineer or the well-read auto body professional you are.
Cars seem to be "cool" to non-gearheads again with the hype around self-driving cars, the increasing convergence of Silicon Valley computing and Detroit manufacturing, and "The Fast and the Furious" getting a ninth sequel. So you'll probably have an attentive audience and help keep family drama or angry political debates from bubbling over.
3-D printing an entire car, or at least a part of it?
Intriguing developments, predictions in 3-D carbon-fiber automotive printing: Recent reports in Popular Mechanics and Wards Auto offer some glimpses of the future of automotive 3-D printing, a potentially carbon-fiber-intensive technology with the potential to alter collision repair. More.
Aluminum? Carbon fiber? Old news. Here's a 3-D printed plastic car
Partly 3-D-printed supercar Divergent Blade shown off at L.A. Auto Show
Stratasys to 3-D-print custom thermoplastic fender, bumper skins for Daihatsu Copens
Carbon fiber? Why not use tree, tequila composites instead?
Ultimate wood grain: Clemson, USDA seek composite bumpers from trees: Bring a house painter onto your auto paint team: A Clemson scientist and a USDA lab are attempting to create composite fenders and bumpers out of wood fibers. More.
Ford kicks in $5M, becomes first OEM charter member of carbon-fiber researching Composites Institute (This is the tequila one.)
Anything Tesla (Love 'em or hate 'em, they're always interesting)
Musk: Model 3 will ace 5-star crash ratings, pre-orders at 198K day after reveal (This is the one normal people can afford.)
Tesla: Complete self-driving possible with tech on all new cars, even on Model 3
Tesla self-driving car demo video has calibration lesson for repairers today
Tesla Master Plan 2: More autonomy and ride-sharing, crossover SUV, pickup truck, semis
NTSB is investigating Tesla crash; inquiry raises issue of greater collision oversight
Tesla Model S P85D gets perfect Consumer Reports score — and extra credit
Elon Musk: Tesla Model X deserves nearly 6 NHTSA stars, harder to roll over, side-impact
Go green: Hydrogen Toyotas, Bolts, and 'eTrucks'
Toyota: Hydrogen fuel-cell Mirai shouldn't be stretch for body shops; trained dealers must check for leaks first
2017 Chevrolet Bolt's closures, fenders include aluminum
Daimler: Mercedes electric heavy-duty eTruck didn't go exotic with frame, body materials
NHTSA requires quiet electric, hybrid vehicles to make noise starting in 2019
Self-driving cars — and safety tech we have now
How 'turn taking' between driver and autonomous cars could give shops some crashes to repair: A human alerted by a vehicle to take over needs 5-8 seconds to assess the situation and get back to the mentality of a typical driver. More.
New federal self-driving car policy includes references to repairs, maintenance
Volvo S90 offers semi-autonomy standard, can detect deer in industry-first tech
Carey: Forget future 'sexy' self-driving cars. ADAS will change collision repair ecosystem in 3.3 years
Bloomberg: Uber to offer free Pittsburgh self-driving car rides with human backup; here's some body shop considerations
Happy Thanksgiving! Thank you all for your support, tips, feedback and interviews over the past year.
Share This: