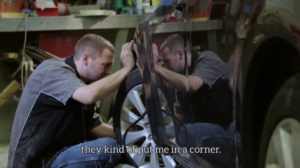 KOTA's Tuesday report and a September state profile of a legally blind auto body technician in South Dakota should not only inspire collision repairers but serve as a reminder to owners to look past disabilities — particularly amid a tech shortage.
Aaron Ready was hired back at Rapid City, S.D.-based Rick's Body Shop after a California shop who'd hired him relegated him to menial labor upon learning of his hearing aids and poor vision, according to KOTA and a South Dakota Department of Human Services video. Ready has Usher Syndrome, a degenerative disease, according to KOTA.
"I tried my darndest to get him to stay," owner Butch Murner told DHS, and Ready says when he called to inquire about his old job, the response was "Get your tools and get here right now."
"We had hired Aaron before, and we had seen that he worked harder than anyone else, "Rick's Body Shop co-owner Butch Murner told the Rapid City Journal in 2015.  "Despite his disability, he has done some of the most difficult collision-repair work with perfect ease. His skills blew us away, so we hired him again because he deserves it."
"I stay out of the paint booth," Ready told KOTA, but he otherwise can perform whatever body work is needed — describing disassembling vehicles and setting them up and pulling them on a frame rack.
"A lot of it is done by feel," he told KOTA.
Butch Murner says the shop only had to "yell a little louder" and give him extra handheld lighting to help see better.
South Dakota Gov. Dennis Daugaard in September honored Ready with a 2016 Governor's Award for Outstanding Employee with a Disability. Daugaard's parents were both deaf, and he's made jobs for the disabled a priority.
"If you don't give a guy a chance to prove himself, how're you gonna know?" Rick's Auto Body co-owner Troy Murner says in the DHS video.
The state launched the "Ability for Hire" campaign in 2015 — and Ready is one of its "poster boys," featured in a photo and in the video story described above and seen below.
The story is a little more poignant, as KOTA reported Ready's vision is growing worse. But then again, he's overcome everything else and works by feel, so what's one more challenge?
Besides the obvious moral case for looking beyond a disability at a job candidate's skill and work ethic, there's plenty of "cold hard cash" reasons for businesses to do so as well.
The obvious, industry-specific one: There's an auto body tech shortage on. Fill jobs or lose business. With a tech bringing in $30,000-$50,000 of revenue a month, can you afford to have a vacancy for too long? There's also the retention argument — give a man or woman a job and they'll be loyal — and if they do jump ship to a competitor, Ready's example indicates that the competitor might waste the potential anyway and send them back to your company.
But there's also financial incentives in terms of federal tax credits — including for small businesses. Your state might have a similar set of incentives.
And as it turns out, the purely warm and fuzzy approach is wrong anyway, the disability advocacy group Pathways to Careers told the Daily Beast in 2014. While you should consider disabled applicants, don't just automatically hire them because it feels good — hire because the person would be a good fit for the job:
Pathways operates on the premise that employing people with disabilities should never be done simply because it's the right thing to do. "It just doesn't work. It doesn't sustain itself, and then they're out of work 4-5 months later with neither side knowing what went wrong," said DeAtley. Pathways also avoids delivering platitudinous messages about people with IDD such as, She's such a happy person or He's just so grateful to get a job. These, DeAtley suggests, communicate to the employer that the worker isn't really a valuable employee.
Instead, like Best Buddies, Pathways argues that people with disabilities can and should be the right person for a given job.
Advocacy groups can help employers match a candidate to the right position, the Daily Beast article indicates. Besides national ones like Pathways, there's likely going to be local ones in your state. Google a little or contact state agencies like South Dakota's Department of Health and Human Services to get started.
South Dakota says data support the following results for workers with disabilities:
They have equal or higher job performance rates.
They have higher retention rates.
They have lower absenteeism.
They are experienced problem-solvers with a proven ability to adapt.
They bring unique perspectives and experiences to the workplace.
They create a favorable impression of your organization.
More information:
"Hiring People With Disabilities Isn't Just the Right Thing to Do—It's Good for Business"
Daily Beast, Oct. 27, 2014
"Auto body technician uses sense of feel"
KOTA, Nov. 22, 2016
"South Dakota Businesses, Workers Honored at 2016 Governor's Awards"
South Dakota Department of Human Services, Sept. 13, 2016
"Ability for HIre Rick's Auto Body Long Format 9 8 16"
Dept. of Human Services via YouTube, Sept. 28, 2016
"Tax Benefits for Businesses Who Have Employees with Disabilities"
IRS
Featured image: Aaron Ready of Rick's Auto Body was featured in a September video by the South Carolina Department of Human Services' Ability for Hire program. (Dept. of Human Services via YouTube)
Share This: