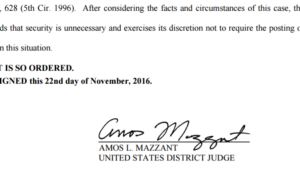 Eastern District of Texas Judge Amos Mazzant on Tuesday issued a temporary injunction on a Dec. 1 overtime rule which would likely have affected employees and owners at most body shops.
Under the new rule announced in the spring, any employee on salary making less than $47,476 a year gets time-and-a-half pay for exceeding 40 hours in a workweek as of Dec. 1.
In the past, the threshold had been $23,660 — below the poverty threshold for a family of four in 2014.
"Some salaried employees currently classified as exempt managers commented that they earn less per hour than the employees they supervise," the Department of Labor observed, referring to the old rule.
On top of the revised salary test, employees faced the same "duties test" as before to ensure they were executivish enough to not rate OT.
In response to a lawsuit filed by 21 states (and another by business groups which Mazzant consolidated into the state suit) against the Department of Labor over the regulation, Mazzant wrote that determining what job duties qualified a person for OT had indeed been delegated to the agency by Congress. But salary hadn't.
"After reading the plain meanings together with the statute, it is clear Congress intended the EAP exemption to apply to employees doing actual executive, administrative, and professional duties," Mazzant wrote. "In other words, Congress defined the EAP exemption with regard to duties, which does not include a minimum salary level."
States had also argued that the rule's automatic updating based on salary also violated federal law by not having public comment before each increase. Mazzant instead concluded, "Because the Final Rule is unlawful, the Court concludes the Department also lacks the authority to implement the automatic updating mechanism."
Based on this, there was enough evidence that the states were right, and given the Dec. 1 deadline for the new law, Mazzant agreed with the injunction while the courts worked it all out.
"The Court finds the public interest is best served by an injunction," he wrote. "If the Department lacks the authority to promulgate the Final Rule, then the Final Rule will be rendered invalid and the public will not be harmed by its enforcement. However, if the Final Rule is valid, then an injunction will only delay the regulation's implementation. Due to the approaching effective date of the Final Rule, the Court's ability to render a meaningful decision on the merits is in jeopardy. A preliminary injunction preserves the status quo while the Court determines the Department's authority to make the Final Rule as well as the Final Rule's validity."
Unfortunately, this still kind of leaves everyone in limbo. Next week, we'll try and get some more analysis and insight on what businesses' best course of action would be while the legal system does its thing.
Featured image: Eastern District of Texas Judge Amos Mazzant on Tuesday issued a temporary injunction on a Dec. 1 overtime rule which would likely have affected employees and owners at most body shops. (Provided by Eastern District of Texas via Texas Attorney General's Office)
Share This: