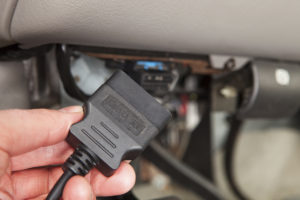 Editor's note: The Equipment & Tool Institute, which represents both high-tech and low-tech automotive tool manufacturers, is a good resource for collision repairers and insurers trying to get up to speed on diagnostics. They've graciously allowed us to reprint this Oct. 12 ETI Blog discussion of the scanning options available for collision repair and the pluses and minuses of each one. It's a good overview ahead of our upcoming post-SEMA coverage of the OEM and aftermarket scan tool manufacturer discussions during the OEM Collision Repair Technology Summit.
By Bob Holland
Just in the last few months, numerous OEMs have come forward stating the importance – dare I say, requirement – for a pre- and post-repair OBD-II scan for collision damaged vehicles.  This opens the door for repair facilities to perform this service and get paid by the insurance company for the time they spend performing the diagnostics on the vehicles.
Only a small number of Diagnostic Trouble Codes (DTCs) will cause a light on the instrument panel to illuminate resulting in many vehicles with trouble codes to be returned to their owners without all the collision related electronic problems corrected. With the increased use of electronic driver safety systems such as lane departure warning systems, blind spot detection, and forward-looking cameras for crash avoidance, and automatic cruise control, not only is a pre- and post- scan needed to make sure they are operational and communicating properly, but also recalibration and/or aiming and reinitializing these systems are critical to an effective and safe repair.
This leaves collision repair shops wondering how to tackle the issue. Some shops have outsourced this service to either a mobile repair technician or one of the local dealerships in the area.  This worked when a post-repair scan was done solely on vehicles with a trouble light.  However, it will not be a practical solution moving forward if every vehicle must receive a pre- and post- scan.
The options available to a shop today are as follows:
The OEM software and hardware solution
This is a viable option if the repair facility specializes in just a few brands of vehicles, investing in OEM software and hardware to perform the scans and keeping current on software license agreements; however, most collision repair shops are not dealer-affiliated and work on many brands of vehicles. Additionally, utilizing OEM software can be complicated and require training because each OEM tool is different from one another and can be confusing to a non-specialist.
The big advantage is OEM software and hardware is the only solution that is up to date with all the vehicles an independent collision shop will see, assuming they have an up-to-date license and the proper hardware for that OEM.
The aftermarket scan tool solution
This is a popular solution and is prevalent in the aftermarket mechanical shops. The platforms are usually very user-friendly and follow a similar path for all vehicles that are covered by the tool.
The disadvantage is these tools are designed for aftermarket mechanical repair shops that usually see work only after the normal 2- or 3-year vehicle warranty period is complete. OEM tools utilized by new car dealers make most mechanical repairs to cars during the warranty period. Therefore, the data in these aftermarket tools will rarely be current enough to scan a brand-new car that is involved in a collision and delivered to an independent collision repair shop. Today the collision industry is made up of about 70 percent independent shops, and less than 30 percent of car dealerships even have an onsite body shop.
Remote, Web-enabled pay-per-use devices
One provider has come forward to supply a gateway for a remote technician to utilize a factory tool on a vehicle from anywhere.  The most popular device of this type is marketed by ASTech.  It connects to a remote factory scan tool through the internet.
This potentially solves several problems for the shop.
They can have access to multiple factory tools for a low cost and only pay when they use them.
It provides an invoice for the sublet work that is clearly defined and can be tacked onto the bill for the insurance company.
It includes a qualified remote technician to run the scan tool and interpret the data and make recommendations.
It causes several concerns as well.
The technician is remote and might miss an obvious problem or misdiagnose an issue because he/she can't physically inspect the vehicle.
Insurance companies might disagree with the cost of this service and not cover 100 percent of the expense it creates for the shop.
Scanning is one thing, but actual reprogramming and recalibration could be very difficult to do over a remote line with poor connection speed, and could cause additional problems that would need to be corrected.
The OEMs might create more restrictive licenses which could make this method no longer financially viable.
For now, OBD-II scanning is the big topic discussed at all the collision industry events and there have been numerous panels of OEM's, Insurers, and Repair Facilities all trying to find the best path forward.   It has replaced the repair of aluminum and exotic materials as the "hot topic" in collision.   It will be interesting to see how our industry evolves to support this growing need.
This post was originally published Oct. 12 on the Equipment & Tool Institute Blog.
Bob Holland is president of the ETI Board of Directors and Chief's director of collision for the Americas.
More information:
"The Collision Industry is Waking Up to the Importance of Pre and Post Scanning of Collision Damaged Vehicles"
Equipment & Tool Institute Blog, Oct. 12, 2016
Featured image: Scanning through the OBD-II port is often necessary in collision repair. (BanksPhotos/iStock)
Share This: