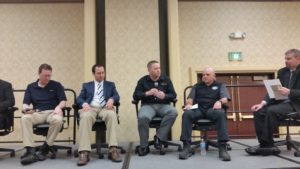 Though General Motors recently announced a slate of in-shop courses, many OEMs offering collision repair training demand auto body shop owners send technicians offsite to a dedicated facility — sometimes internationally.
That's inconvenient for the owners — which based on brand retention data are doing the OEMs a favor by being prepared to deliver proper repairs.
As A&B CARSTAR owner Brett Bailey pointed out in April, losing a productive technician temporarily for the days of training can be the "expensive part" to a proprietor — far more painful than paying the tech's actual travel costs.
But logistically and practically, training at the shop itself just doesn't work, representatives of mainstream and luxury OEMs said during two Society of Collision Repair Specialists "Meet the Trainer" events in April and November.
In part, it's the owners' own fault.
Tesla's Kelly Logan said in April at a Repairer Roundtable that he used to travel to shops around the world before Tesla built a dedicated training center in California. Sometimes during in-shop training, "the tech gets pulled away" to put out one fire or another.
"Things are going on. 'We need to get a car out.' There's a lot of distractions," Logan said.
James Meyer of Toyota agreed during the OEM Collision Repair Technology Summit in November. Toyota Collision Repair & Refinish Training tried in-shop training, but gave it up because it never worked, he said.
Jason Bartanen of I-CAR, which handles training for Jaguar Land Rover, in April said a technician simply wasn't as focused on learning delivered on their home turf — they're leaving after work for a kid's baseball game, etc.
At off-site training, "they're there the entire time," he said.
"You want to have the technician's full awareness and for him to take it seriously," Logan said.
Besides distractions, a shop just doesn't have all the necessary equipment on-site to train an entire class, OEM trainers said.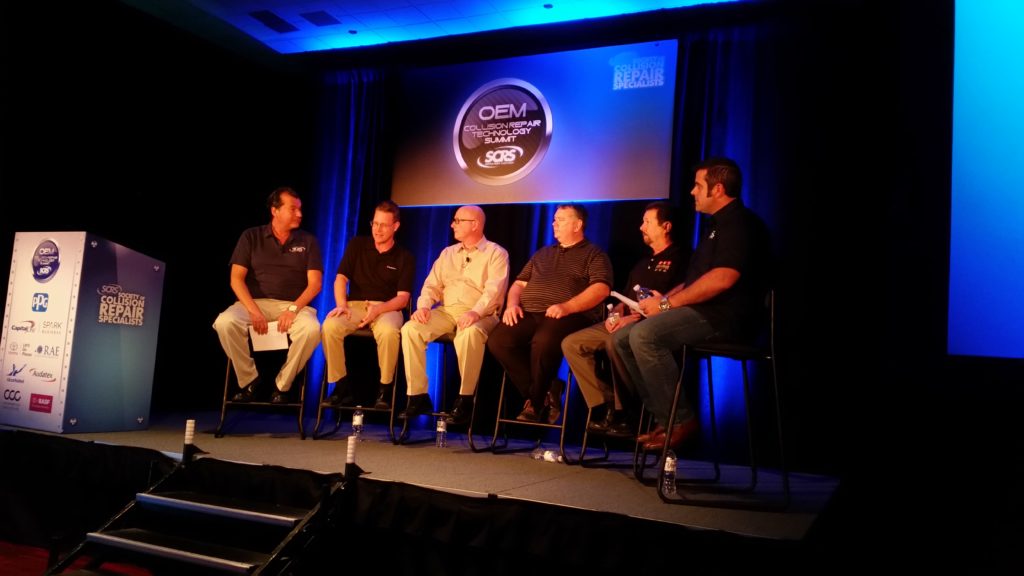 Audi's Shawn Hart, who attended both events, said in November that Audi doesn't profit from the offsite training, and "we give them the perfect environment."
Hart describes his class as extremely hands-on, and the Audi center has enough copies of each piece of equipment that everyone can use it. Contrast that with a shop, which might have just one of each item.
Logan agreed, noting that much of the Tesla course is built around a Fronius welder used to repair the OEM's aluminum vehicles. Trying to have eight to 10 of them at even a regional facility isn't feasible, he said.
Hart also pointed out that he physically would only have been able to go to a certain number of facilities had Audi held classes within a shop itself — "There's only 52 weeks in a year," he said.
Cost of training for OEMs, shops
One audience member at the November panel wondered if OEMs would subsidize the cost of training for auto body shops given the automaker's stake in the mutual customer getting a good repair.
Mike Kukavica of Porsche said his company doesn't charge for training beyond an initial fee — which hadn't changed in the nine years of the training. After the shop pays the initial fee, Porsche will train anyone an owner sends there.
Rick Miller of Jaguar Land Rover said his company's fee is used to pay the program's third-party partner — and that charge actually went down after 13 years of existence.
Jag doesn't make any money off of training, he said.
Meyer called Toyota's cost "very reasonable," pointing out that there was no way the company's investment in its training facility was recouped by what it charged shops.
More information:
Jaguar Land Rover training/certification and contacts (via I-CAR)
Porsche training/certification (via Performance Gateway)
Images:
Tesla's Kelly Logan speaks during an SCRS Repairer Roundtable in April 2016. (John Huetter/Repairer Driven News)
From left, Gary Wano of G.W. and Sons, Shawn Hart of Audi, Mike Kukavica of Porsche, Rick Miller of Jaguar Land Rover, James Meyer of Toyota and Barry Dorn of Dorn's Body and Paint participate in an OEM trainer forum on Nov. 3, 2016, at SEMA. (John Huetter/Repairer Driven News)
Share This: