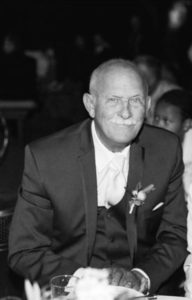 Starting out with nothing would have left some entrepreneurs thrifty, even stingy.
Instead, G&C Auto Body founder Gene Crozat gave generously to both the collision repair industry and his Northern California community, remembered his son Shawn Crozat, G&C's chief operations officer.
"It is with profound sadness and grief that we must announce the passing of our Husband, Father, Founder and President Gene Crozat," Gene Crozat's 11-city G&C Auto Body network posted Wednesday on Facebook. "Gene was a unique individual, whose passion for his business, his love for people and his uncompromising devotion to his principles made him a strong leader and loving person. We will miss him dearly."
Crozat, born Feb. 1, 1944, died Tuesday. He was 72. He is survived by his wife, Teri, six children, and nine grandchildren, Shawn Crozat said.
"We cannot express how overwhelming and grateful we are for the outpour of love and messages from everyone," the family posted Nov. 24 following scores of comments on social media. "You have no idea how much your caring words are helping our family heal."
Crozat started his collision repair career painting motor pool vehicles during his time stationed at Merced, Calif.'s Castle Air Force Base. To make ends meet, "he had to hitchhike both ways" to side jobs at locations like Rich's Auto Body, according to Shawn Crozat. Rich's hired him full-time following his discharge and taught him how to color-match paint by hand.
Gene Crozat ultimately left Merced, Calif., for Santa Rosa with what he liked to say was "a pack of Pall Malls" and $1.42, Shawn Crozat said Monday.
"He's a pretty scrappy guy," Shawn Crozat said. "… No one's ever given him anything"
Crozat went to work for a dealership but quit upon being told to "jack up the price beyond what was reasonable" for insurers, Shawn Crozat said. He and Leo Gassel opened their own shop in 1972, with Crozat taking over following Gassel's retirement a few years later.
"Finally, he built his dream shop 22 years ago," Shawn said. The elaborate shop was a huge gamble: "He mortgaged his whole life," the son recalled, remembering the children picking out where to live above the shop should they lose the house.
"He filled the shop like he thought he would," Shawn Crozat said, and today G&C spans 11 locations and has more than 200 employees.
"He was a futurist," Pete Bezeck of the California Autobody Association said Monday. "He saw things that most people didn't see"
Despite hand-to-mouth times and having to work hard to succeed, Gene Crozat was "extremely generous to people," Crozat recalled.
Professionally, this included creating and for a while running the Collision Repair Association of California, an all-volunteer effort by shops, according to Shawn Crozat.
"He devoted quite a bit of money, raised a lot of money and time … to better body shops and make it more fair," Shawn said.
Gene Crozat fought to address issues like paint caps — "he couldn't mentally understand" how paint costs could be decided by an artificial number, his son said — ultimately addressing the topic through work with the state Senate and insurance commissioner.
"That was a real benefit," Shawn Crozat said.
Shawn Crozat said his father also fought for shops over the issues of steering and labor rates. (We're particularly fond of this memorable 2009 rate decision in G&C's favor by Superior Court Judge James Bertoli.)
The shop now no longer has to fight such battles, Shawn Crozat said.
"Now, we have great partnerships with insurance companies," he said.
Crozat's generosity spans far beyond the industry, famously through a "meter beater" program instituted after "my dad got pissed off" by a ticket during Christmastime, Shawn Crozat said. The idea of the city encouraging residents to come downtown only to "nail us" grated on the elder Crozat, he said, and so teams would fill local parking meters to save drivers from tickets.
He always wanted to participate in charity firsthand rather than just cut a check.
"He'd get down and cry with someone," Shawn Crozat said. More than 50 people or families have lived at the Crozats home during a time of need, and "you name it, he's done it" when it comes to categories of hardship that brought a person to stay with the family, Crozat said.
Gene Crozat has since founded the Crozat Family Foundation, which has donated 120 cars to needy recipients in the past three years and offered other assistance like lodging, gas cards and counseling as well.
"It's all geared at local families," Shawn Crozat said.
In lieu of flowers, the family asks that donations be made to the foundation.
The Crozat family also welcomes everyone to attend a 2 p.m. viewing, 4 p.m. funeral and 6 p.m. dinner and celebration of life Friday at the Church of Jesus Christ of Latter-Day Saints, 5301 Badger Road, Santa Rosa, Calif.
More information:
Crozat Family Foundation Facebook page
Crozat Family Foundation website
Featured image: Gene Crozat, co-founder of  what is now the 11-location G&C Auto Body, is seen. (Provided by Shawn Crozat)
Share This: