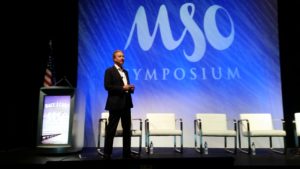 Similar to predictions its founder made this summer, the Romans Group estimated Thursday that the top four auto body consolidators alone would grow to more than a fifth of the industry share by 2020.
In 2015, Caliber, Service King, ABRA and Gerber (in that order) together controlled only 11.3 percent of the market, the consulting firm wrote in a news release.
By 2020, they'd have "just over 20 percent of industry market size," the Romans Group wrote as part of a sneak peek of the new report "A 2015 Profile of the Evolving North American Collision Repair Marketplace" it's offering for sale. Gerber for one has also pledged to double in size by 2020.
If one adds in the other three collision repair segments the Romans Group tracks — $20 million-plus MSOs, including dealership chains; $10 million to $19 million MSOs and dealerships; and franchise/banner groups —  high-revenue chains would represent nearly 45 percent of the collision repair market.
These four segments led to an interesting Top 10 list of industry brands, based on the Romans Group's 2015 calculations. Maaco ranked No. 5 and fellow Driven Brands colleague CARSTAR reached No. 6. Three dealership chains sat at Nos. 7-9 — including GEICO sister company Berkshire Automotive, bought by Warren Buffett from the Van Tuyls in 2015 — and Fix Auto finished the list at No. 10.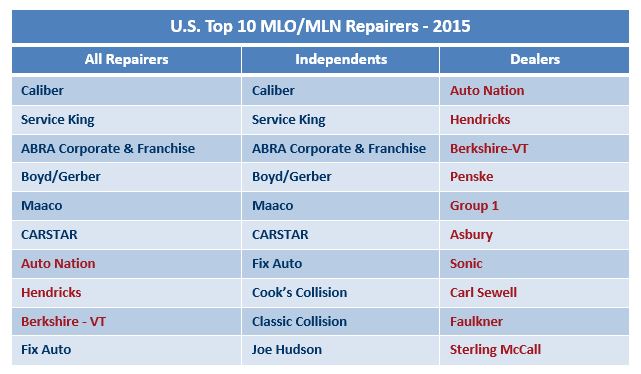 In August, Romans Group founder Vincent Romans offered two forecasts (shown below) for that regional and national MSO landscape through 2020. In a "moderate" Scenario No. 1, the combined MSO segment controls 41.49 percent of the revenue, he said then. In an "aggressive" Scenario No. 2 in which bullish predictions from that segment pan out, the MSO community has 47.20 percent of the market.
These four segments took about $10.2 billion of the industry's revenue — up from just $3.8 billion in 2006, the Romans Group estimated last week. (In August, Romans put the entire 2015 collision repair market at about $34.1 billion.) However, Caliber, Service King, ABRA and Gerber (Boyd) accounted for 70 percent of that $10.2 billion, Romans reported last week.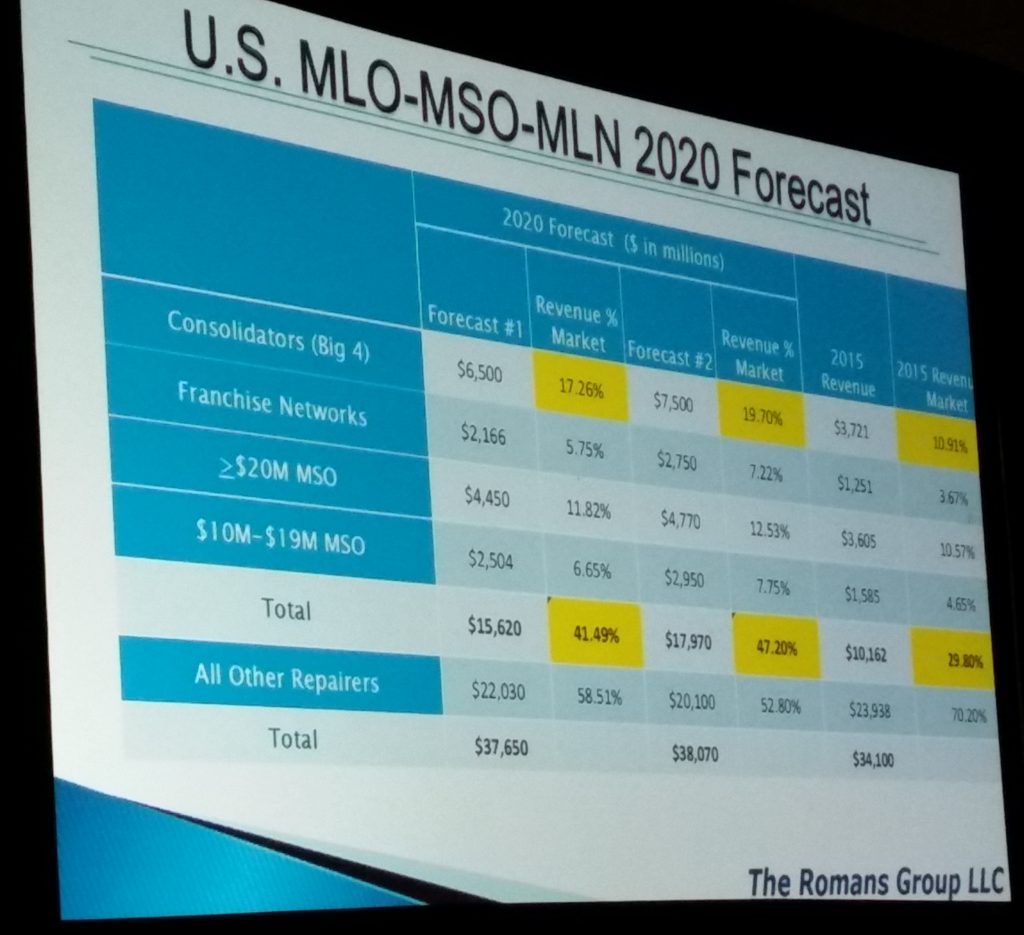 "It has been quite a ride to watch what has transpired during the past decade, not only within the collision repair industry, but throughout the entire auto physical damage ecosystem," the Romans Group wrote Thursday. "The consolidation, convergence, and the structural changes we are witnessing within businesses, industry segments and markets, as we know them today, are now significant market factors to consider as part of our future planning. The high velocity and breadth and depth of change, coupled with the seemingly relentless introduction of innovative and disruptive products, services and business models, has required us to maintain an intense vigilance, to stay constantly informed, and to learn and understand as we consider, adopt, avoid, or leverage these transformative or disintermediating forces in order to remain relevant and competitive."
Romans estimated in August that smaller operations would fall from 70.2 percent of the market to around 58.51 percent (the "moderate" scenario) or as low as 52.8 percent ("aggressive"), as body shops consolidate, franchise, close — or expand into one of the four weight classes his company tracks.
And when that amount falls to 40 percent and the four large segments control 60 percent of the market, the industry will face "structural change," he said then.
However, the Romans Group wrote last week that while the U.S. and Canada "saw a continued downtrend" in collision repairers from 45,000 in 2006 to 32,900 in 2015, "this downturn has slowed in recent years." The surviving shops on average bring in more money, rising from $666,000 in annual sales to $1.04 million in 2015, the firm estimated. ($666,000 in 2006 equates to about $783,000 in 2015 dollars, in case you were curious.)
To buy the report, call the Romans Group at 847-382-6208 or email Mary Jane Kurowski at maryjane@romans-group.com.
More information:
"A 2015 Profile of the Evolving North American Collision Repair Marketplace"
Romans Group, Nov. 24, 2016
Images:
Romans Group founding Principal Vincent Romans presented at the 2016 NACE MSO Symposium. (John Huetter/Repairer Driven News)
The Top 10 industry brands, based on the Romans Group's 2015 calculations. (Provided by the Romans Group)
The Romans Group wrote in November 2016 that while the U.S. (and Canada) "saw a continued downtrend" in collision repairers from 45,000 in 2006 to 32,900 in 2015, "this downturn has slowed in recent years." The surviving shops are more profitable on average, rising from $666,000 in annual sales to $1.04 million in 2015, the firm estimated. (Provided by the Romans Group)
Share This: