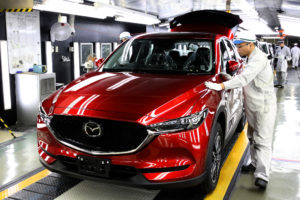 The next-generation 2017 Mazda CX-5 adds ultra-high-strength steel to the A- and B-pillars and side sills, the latest popular vehicle to receive more of the advanced metal.
That's likely to change things up somewhat for auto body shops working on new CX-5s. Higher strengths of steel typically demand that shops refrain from traditional welding, section in only specific places, and replace rather than repair damaged parts.
SKYACTIV
Mazda wrote earlier this month that the CX-5 includes new 1,180-megapascal steel on the A-pillars and adds 980 MPa steel on the side sills and B-pillars as part of the SKYACTIV-BODY on the crossover SUV. Mazada considers its SKYACTIV standards its "signature" technology and applies them to various vehicle systems across its product line.
Mazda didn't give any other details on other CX-5 parts specifically increasing in strength or being lightweighted/strengthened with substrates other than steel, though it does mention the "expanded use of high-strength materials reduces weight and achieves a higher level of collision safety."
However, given that even cars like the Mazda3 boast of a similar "lightweight, high-rigidity SKYACTIV-BODY," repairers should certainly expect to encounter such materials on larger crossover SUVs like the CX-5 as Mazada tries to meet U.S. and international gas mileage/emissions standards.
For example, the 2016 Mazda Miata body is 71 percent high-strength steel and aluminum, compared to the prior NC version's 58 percent, Mazda spokesman Jacob Brown wrote in an email last year. The chassis nearly doubled its amount of high-strength steel from 12 percent to 21 percent.
The 2017 CX-5 also is stiffer, according to Mazda, probably because of a combination of new joining methods and such upticks in high- and ultra-high-strength steels.
"A 15.5% increase in torsional rigidity over the previous model reduces flexing that might otherwise slow response to the driver's steering actions," Mazda wrote Nov. 15 about the CX-5.
Besides the materials themselves, repairers need to know what each part is intended to do.
"The new CX-5 uses Mazda's high-strength SKYACTIV-BODY, which effectively absorbs and disperses impact force to suppress cabin deformation," Mazda wrote.
Load pathing to keep occupants safe could be thrown off by a faulty or sloppy repair. It's also important that repairers carefully consider parts decisions, as it's possible something that something that in the past would would have been passed off as substitutable with aftermarket or recycled parts might play a safety role.
A general Mazda SKYACTIV-BODY description dating back at last a year or two, for example, describes creating a safety-focused energy path in which "parts such as door hinges, which do not normally play a role in absorbing shock, are important elements in the design." (It's unclear if the hinges are so used in the 2017 CX-5, but you get the idea.)
Mazda reports that the 2017 CX-5 has pedestrian safety features in its front-end — another potential point in favor of OEM parts.
"Structures under the hood and in the front bumper help mitigate injury to a pedestrian's head or legs," Mazda wrote of the CX-5.
We've asked Mazda for confirmation that this applies to the U.S. version, as America lacks — for now — the pedestrian safety standards demanded by other international Mazda markets. But the release was intended for U.S. audiences, so it's likely that repairers will need to consider preserving that pedestrian safety to deliver pre-loss condition.
Other advanced technology
Like virtually every other OEM, Mazda's packing the CX-5 with standard and optional tech that probably requires you to scan and/or calibrate stuff. OEM repair procedures are going to be huge here. I-CAR can also help you connect the dots to get there with its new calibration database or more general Repairability Technical Support portal to OEM information and coverage.
Among them:
"G-Vectoring Control" alters torque "in response to steering wheel action" and "delivers unified control over lateral and longitudinal acceleration (G) forces and optimizes the vertical load on each wheel," according to Mazda.
Your customers might notice if you didn't do it, according to Mazda:
"GVC is particularly effective in SUVs, which can be prone to generating lateral forces due to their relatively high center of gravity," Mazda wrote. "It achieves high levels of both vehicle responsiveness and stability, while also helping to reduce sideways sliding of the cabin occupants' bodies and deliver a comfortable ride."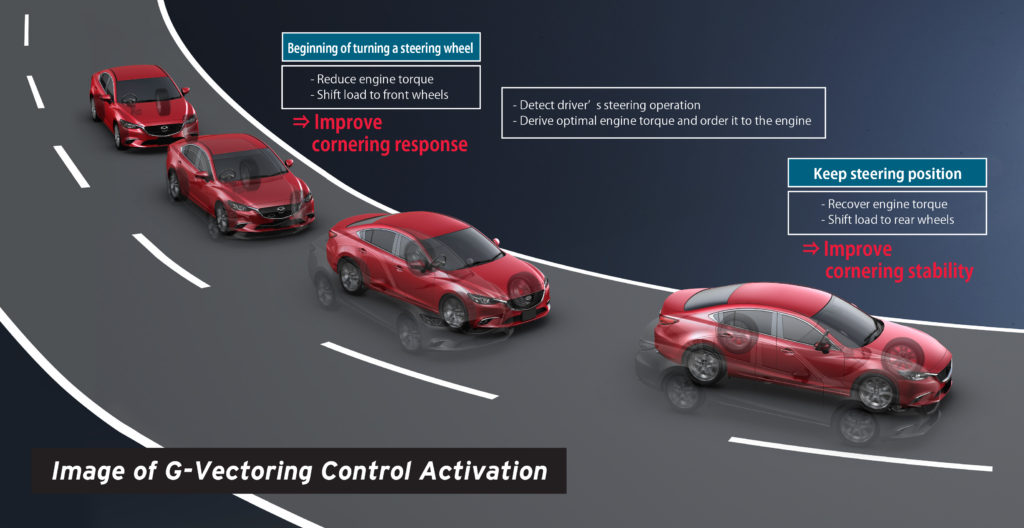 Windshield HUD: The CX-5 has "an Active Driving Display that promotes safer driving by projecting information onto the windshield," program manager Masaya Kodama wrote.
A thing that can detect traffic signs: Certain markets and options packages have "Traffic Sign Recognition … which reads speed limit and other road signs and displays the sign's message on the Active Driving Display." This and the windshield HUD can appear on the Mazda3 as well.
More information:
"2017 Mazda CX-5 Global Press Materials (U.S. Version)"
Mazda, Nov. 15, 2016
Mazda Traffic Sign Recognition/Active Driving Display page
Images:
Production has begun on the 2017 Mazda CX-5. (Provided by Mazda)
"G-Vectoring Control" alters torque "in response to steering wheel action" and "delivers unified control over lateral and longitudinal acceleration (G) forces and optimizes the vertical load on each wheel," according to Mazda. (Provided by Mazda)
Share This: