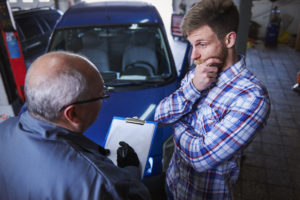 An AAA survey released this month found that two-thirds of drivers don't trust auto repairers in general, but majorities are still able to find a shop they like.
The survey simply used the term "auto repair," and it didn't distinguish between mechanical service and repair and collision repair, a spokeswoman said.
Obviously, the two industries are quite different, even if both have the same customer: the vehicle owner. Insurers reimburse at least 70 percent of auto body business, while general mechanical labor is predominantly out-of-pocket by the motorist. Given how customer payment concerns figure heavily into AAA's findings, respondents probably thought of mechanical, not collision, when answering the study.
However, it's possible that the same misperceptions influence not only customer perception of the collision repair industry, but also how insurance personnel see the field. After all, they're American motorists as well, particularly those without an actual body shop background. So AAA's findings might be worth reviewing by the collision as well as the mechanical segments of the "auto repair" world.
The No. 1 concern cited by AAA's distrustful drivers was "Recommending unnecessary services," expressed by 76 percent of respondents.  (The survey had a 3 percent margin of error.) Next came "Overcharging for services" (73 percent).
You can see the problem: If a customer or insurer's default is to perceive a mechanic or body shop like this, it might be harder to explain that yes, in fact, you do need to follow OEM repair procedure X at price $Y even if competitors ignore it or contractually agree to charge less.
This makes OEM documentation or, failing that (there's not an answer for every situation), I-CAR backup, even more important. Otherwise, you might find a situation where the insurer and customer erroneously think you're padding the bill.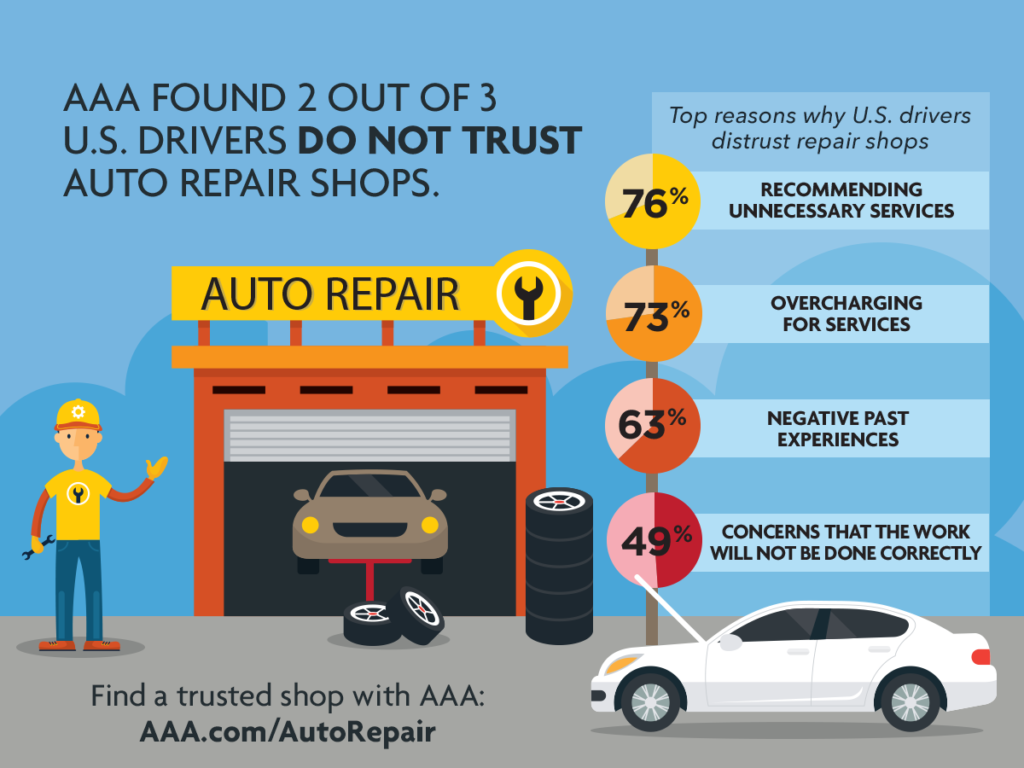 The No. 3 concern was "Negative past experiences" (63 percent). If customers are having bad experiences at your shop, that's certainly your problem; watching and responding courteously to reviews might help detect this sort of thing and soothe disgruntled customers. If the customer had bad experiences somewhere else, there's probably not a lot you can do other than be sensitive to that history and be night-and-day better than the other guys.
But despite these unsettling trends, shops could take comfort in a few other AAA findings and use them to hone business practices and marketing.
For one thing, the No. 4 trust issue was "Concerns that the work will not be done correctly" (49 percent). That's high, but it's still less than half of customers — which means the majority of the country's default view is to trust your expertise as an automotive repairer. That seems to suggest that a good explanation of what you're doing and why could help alleviate the top 2 concerns of bill padding.
Even better, 64 percent of drivers told AAA they do have a shop they trust.
"To minimize the stress associated with vehicle repair and maintenance, it is critical that drivers find an honest repair shop that they can trust with their vehicle," AAA automotive engineering and repair managing director John Nielsen said in a statement. "AAA found that one-third of U.S. drivers – 75 million motorists in total – have yet to find a trusted repair facility, leaving them vulnerable when trouble strikes."
Connected car
Your job through marketing and quality repairs is to establish yourself that trusted facility — and do so before a wreck. Because if you think "steering" is an issue now, it's only going to intensify from both OEMs and insurers through connected cars and other telematics devices and software.
This technology can identify if a vehicle's been in a crash, whether it's likely a total loss or not, and immediately dispatch it to a nearby shop from lists compiled by the insurer or OEM if a customer doesn't have a preference.
But if you've established yourself as a trustworthy shop before a crash, customers want their data to be transmitted to you, AAA found.
"'Connected cars' with built-in diagnostic capabilities can alert drivers to vehicle trouble and help repair shops quickly and accurately address issues," AAA wrote. "Unsurprisingly, given concerns around data security, AAA found that the majority of U.S. drivers want the ability to direct their vehicle's data to the repair shop of their choice – the trusted facility with whom they have built a relationship."
This "default shop" concept already is being tested in Canada with the Ckure app, which has partnered with the Collision Industry Information Assistance trade group. The app doesn't automatically summon assistance — fearing this could lead to unethical sales tactics — but if activated by a customer, it automatically contacts his or her preferred shop for roadside assistance.
The default shop starts as whichever one got the customer to install the device; if the customer lacks a preferred shop, the app signals strictly vetted local shops. CCC has described similar opt-in defaults of what data is transmitted where for its new DRIVE technology.
Such marketing and digital concerns are only going to become more important, as AAA data suggests two future generations more skeptical of the industry and still looking for their preferred shop. Those demographics are an opportunity for a savvy shop.
Baby Boomers are twice as likely as younger generations to trust auto repair facilities, with one-in-five reporting they 'totally trust' the industry," AAA wrote. "Baby Boomers (76 percent) are more likely to have a preferred auto repair shop compared to Millennials (55 percent) and Gen-Xers (56 percent)."
Technology
So what works to convince someone your shop is trustworthy? Technology apparently can go a long way.
In October, we covered Quik Video, which allows service and repair professionals to email and text short, no-cuts, real-time videos of what needs to be done on their cars and why. About 94 percent of customers watch the films, and an average Quik Video-using dealership has a 212 percent upsell rate, the company's CEO said.
In January, the Society of Collision Repair Specialists will unveil the first of a video series describing certain repair procedures, and those films also seem like they'd be a good resource to educate and foster trust with customers and insurers. (You could also go more in-depth and develop video refreshers for technicians, something Service King said the younger generation of employees likes.)
And another fascinating suggestion from J.D. Power in Canada: Customers (or at least Canadian ones) really seem to trust repairers which use tablets.
"Customers also like it when their service advisor is connected," J.D. Power wrote in August. "The study finds that 21% of customers say their service advisor used a tablet device during their service visit. The use of a tablet seems to build a level of confidence in the advisor, as among customers whose advisor used a tablet and recommended additional work to their vehicle, 61% had the work done. When the advisor didn't use a tablet but recommended additional services, only 44% had the work done."
And speaking of technology, the J.D. Power Canadian survey also found customers really like Wi-Fi, though it only released data on overall customer satisfaction — which is different from trustworthiness or overall repair quality. But make sure to take security steps if you offer it.
More information:
"Vehicle Owners Expecting Connected Service Experience, J.D. Power Study Finds"
J.D. Power, Aug. 31, 2016
"Most U.S. Drivers Leery of Auto Repair Shops"
AAA, Dec. 1, 2016
Images:
An AAA survey released this month found that two-thirds of drivers don't trust auto repairers in general, but majorities are still able to find a shop they like. (Provided by AAA)
This customer and his beard appear dubious about his mechanic's advice. (gpointstudio/iStock)
Share This: