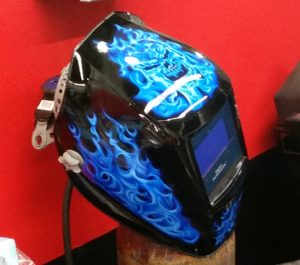 Besides explaining and expanding upon its MAG welding instructions in a recent Guild21 presentation, Honda also offered some insight into how to correctly MIG-braze its vehicles.
One of the main considerations for the procedure is ensuring a welder uses the correct silicon bronze wire, according to Honda collision instructional designer Chris Tobie's talk (see slides) and an August Body Repair News.
Shops must use ERCuSi-A or CuSi-3 wire with a diameter of 0.8 mm, he said. Either class of 0.8 mm wire — ERCuSi-A is an American designation, CuSi-3 is a European one — is acceptable, Tobie said; you don't need to track down a spool of wire that carries both terms.
"Those basically mean the same thing," Tobie said.
However, a collision repairer does need to take care not to confuse either silicon bronze wire with the 980-megapascal welding wire Honda requires for MAG-welding ultra-high-strength steels. MAG welding and MIG brazing are "completely separate operations," Tobie said. From 2009, shops have needed both both silicon bronze and 980 MPa wire to work on Hondas and Acuras, he said.
As with the 980 MPa wire, repairers should take care not to buy the silicon bronze wire from an unverified source, according to Tobie.
"Be sure you know who you're buying this from," he said. "This is not a place to save money."
While legitimate silicon bronze wire is relatively common, one sure bet would be the three vendors Honda as of December had approved to sell the real 980 MPa Bohler wire, Tobie said. All three also sell the correct silicon bronze wire, he said.
Pulse control
Another crucial distinction: Proper MIG brazing on Hondas and Acuras will require pulse-control MIG brazing equipment, Tobie said. That's different than stitch, he said, calling the latter an "older feature."
"Not all makers may require that (pulse-control MIG brazing)," Tobie said. "We do."
Since pulse-control MIG brazing is a newer repair technique, if a MIG welder is older than eight years, "it probably doesn't have it," Tobie said. A repairer would probably have to replace their welding equipment with a tool carrying that capability, and "that is not cheap," according to Tobie.
Tobie estimated that a reputable welder with pulse control would run $7,000-$12,000, depending on the features built into the device. On the plus side, he said, such a welder might allow for aluminum work and have dedicated torches, saving a shop from having to constantly swap out wire or other productivity-killing procedures.
Honda requires pulse-control MIG brazing because of the amount of ultra-high-strength 1,500 MPa hot-stamped steel in its vehicles, Tobie said. Even MIG brazing can affect the strength of the heat-sensitive steels, he said, and "rules and requirements change drastically" as tensile strength increases.
Asked what would happen if a shop didn't use pulse-control MIG brazing, Tobie said the weld wouldn't look much different — maybe a little sloppier — but its strength would be insufficient. Subjected to destructive testing, it would "fail in ways that it should not," he said.
If a manufacturer tells a shop in repair procedures to fix a car a certain way, the shop can be "absolutely certain" there's testing to back up those instructions, Tobie said. So shops shouldn't wing it or countermand those guidelines.
"We are repair folks, not engineers," Tobie said. "We don't need to be reeingineering cars."
Tobie also gave shops a little refresher on the difference between MAG and MIG in the first place. MIG stands for "metal inert gas" — in this case, 100 percent argon, which doesn't react with the brazing — while MAG welding refers to "metal active gas."
For Honda, the correct MAG mix is 80 percent argon and 20 percent carbon dioxide, which is the "active" gas that reacts with the weld pool.
However, while you should use that "C2o" gas if possible — there's a "nicer arc, less splatter," Tobie said — some areas of the country might find it difficult or too expensive to get their hands on that mix, he said.
Thus, Honda will also allow a C25 mix of 75 percent argon and 25 percent CO2. There's more spatter, and it doesn't lay down as well, but it'll work without weld strength issues, according to Tobie.
"You have to ask how comfortable do you want to make your structural repair person," Tobie said. For shops with access to C20, "please use it," he said.
More information:
"Honda Body Repair Manual Welding & Sectioning Guideline Revisions"
Honda Body Repair News, August 2016
"Acura Body Repair Manual Welding & Sectioning Guideline Revisions"
Acura Body Repair News, September 2016
Honda Independent Repair Website
Honda via VeriFacts, Dec. 8, 2016
Featured image: A welding mask sits in the SEMA Garage in 2016 during a tour. (John Huetter/Repairer Driven News)
Share This: