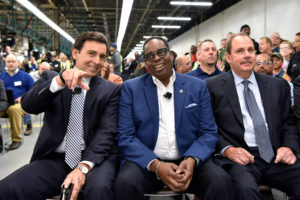 Ford's plan for a 300-mile electric crossover by 2020 will likely have an impact on collision repair if the vehicle proves to be a hit.
The OEM's announcement — part of seven electric or hybrid vehicles revealed Tuesday during Consumer Electronics Show Week — reflects a recent consumer preference for small SUVs over cars. And with an all-electric crossover, there's obviously no chance of higher gas prices cooling that trend for the Ford EV CUV.
Based on pre-orders for the Tesla Model 3 worldwide and this CUV love, customers might indeed flock to the Ford crossover, slated to be built in its Flat Rock plant. As we examined with the plug-in hybrid Prius Prime, it's easy to see the appeal of electric cars to those whose routine doesn't involve long-haul trips — particularly if an OEM is giving you enough range for a distance drive too.
Drive around in the city or suburbs for maybe a couple of dozen miles — or even both legs of an hour-long, 60-mile commute — and plug the car into your garage each night. Ford made the same point in its news release.
The vehicle becomes even more attractive to fleets who don't log more than 300 miles in a day and want to save gas; think about every Prius taxi upgraded to an EV Ford CUV, for example.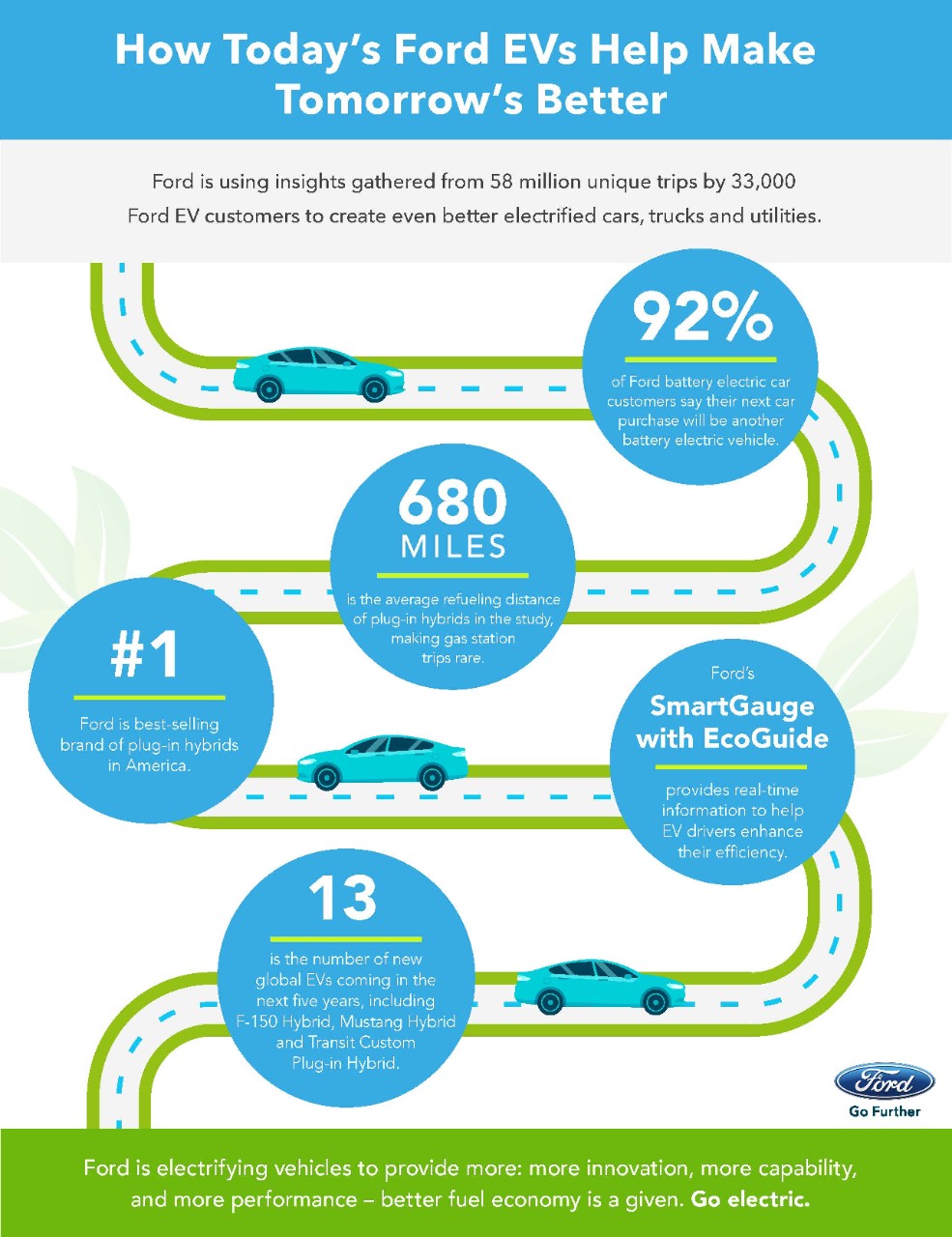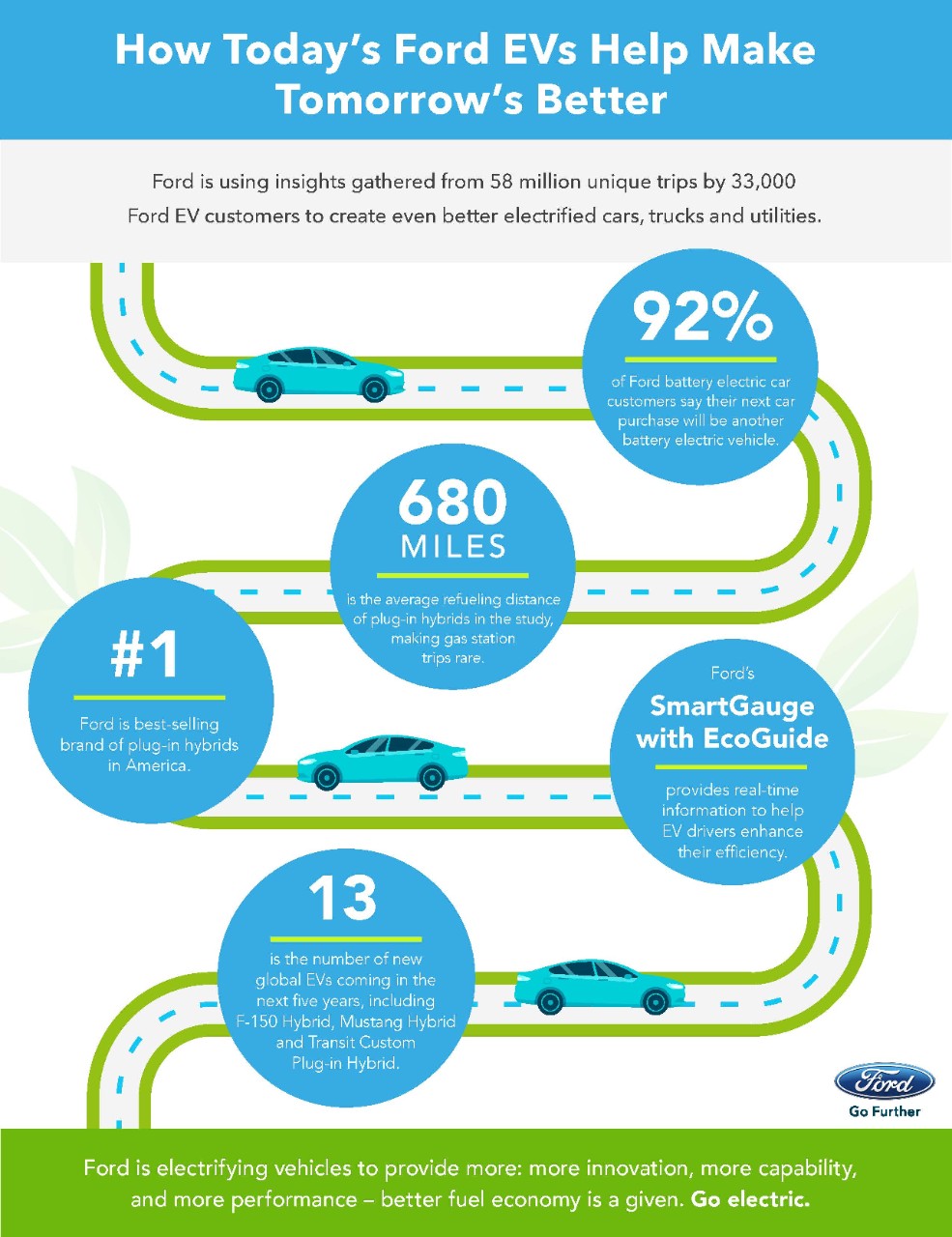 The CUV will probably have to be lighter than a typical Ford CUV to achieve the range Ford seeks — 200 miles is seen as the point in which consumers shed "range anxiety" and buy electric cars — and to offset the weight of the battery.
With this in mind as well as current and impending weight reductions in CUVs and SUVs, collision repairers who wish to repair Ford's vehicle will need to have the ability and equipment to properly repair at least one — but likely multiple — advanced materials. Here's a few tidbits how OEMs have used such materials in the bodies of other partially or completely electric vehicles:
Carbon-fiber: BMW's way of saving weight in the electric i3 and i8, as well as the regular and plug-in hybrid 7 Series. Also the hatch of the plug-in Prius hybrid.
Advanced-high-strength steel: Hyundai's plug-in hybrid Ioniq uses it, as do all Prius builds and the electric, 200-mile Chevrolet Bolt car. The electric Tesla Model 3 likely will have it as well.
Aluminum: The Chevrolet Bolt mixes steel and aluminum to yield its 200-plus mile range. Tesla's electric vehicles all so far have aluminum or are expected to have some of the metal in the body.
Magnesium: Found in the tailgate of the regular Chrysler Pacifica minivan, which also has plug-in hybrid and, according to Green Car Reports, electric concept editions. Also on what the Wall Street Journal reported was the aluminum and magnesium electric SUV Tesla Model X. (Tesla describes the body as aluminum and boron steel.)
One notable exception: The Daimler electric eTruck doesn't get crazy with lightweighting. But it only has 120 miles of range and a big, big battery.
The rest of Ford's electric announcement from CES indicates some other vehicles will receive or retain some lightweighting.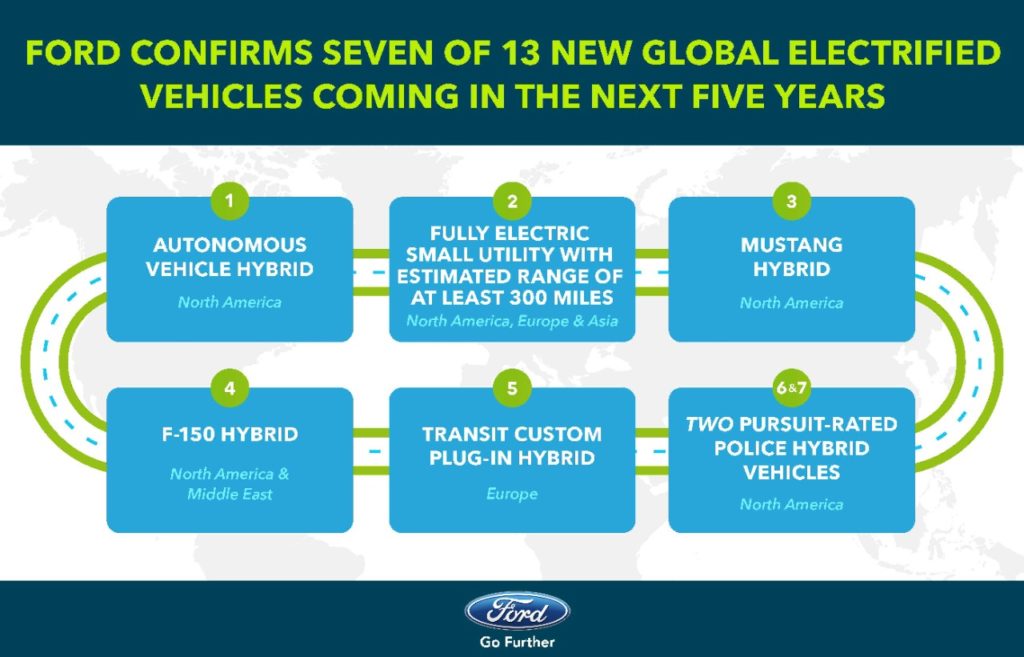 The OEM announced two new electrified cop cars; a hybrid "high-volume autonomous vehicle designed for commercial ride hailing or ride sharing" by 2021; a hybrid Mustang and hybrid F-150 which can double as a generator, both in 2020; and a plug-in hybrid Ford Transit for Europe in 2019.
"Ford's global EV strategy is to build on our strengths," Ford Chief Technical Officer Raj Nair said in a statement. "While some others seem to be focused on marketing claims and numbers, we're focused on providing customers even more of what they love about their Ford vehicles. This means more capability for trucks, more productivity for commercial vehicles and more performance for sports cars – plus improved fuel economy."
Corrections: A prior version of this article contained incorrect information about "range anxiety" and the Chevrolet Bolt's range. Range anxiety is seen to dissipate at 200 miles. The Chevrolet Bolt gets 238 miles with a full charge. The article has since been corrected to reflect this.
More information:
"FORD ADDING ELECTRIFIED F-150, MUSTANG, TRANSIT BY 2020 IN MAJOR EV PUSH; EXPANDED U.S. PLANT TO ADD 700 JOBS TO MAKE EVS, AUTONOMOUS CARS"
Ford, Jan. 3, 2017
Images:
From left, Ford CEO Mark Fields and UAW Ford Vice President Jimmy Settles are seen Jan. 3, 2017, the day Ford announced a 300-mile electric crossover would be built at Ford's Flat Rock plant. (Provided by Ford)
Ford's findings about electric or hybrid vehicles are shown in this Jan. 3, 2017, infographic. (Provided by Ford)
Ford announced seven electric or hybrid vehicles on Jan. 3, 2017. (Provided by Ford)
Share This: