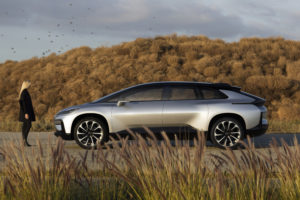 Faraday Future on Tuesday unveiled its FF 91, the first production model of what the startup OEM calls an "entirely new species" of autonomous electric car.
The OEM offered few details about the vehicle body during its pre-Consumer Electronics Show launch event aside from its use of a "monocoque vehicle structure in which the chassis and body are a single form – providing measurable improvements in overall vehicle rigidity, safety and handling."
This structure is part of Faraday Future's Variable Platform Architecture, a supermodular format allowing the OEM to pack in different combinations of battery cells and other features. As Wired described it following the OEM's 2016 CES appearance:
Most automakers have been doing this (modular design) for decades. Ford or Honda can use the same platform to underpin different bodies, from sedans to crossovers, the world over, which makes producing and selling those cars more cheaply and in different markets possible. But Faraday takes the concept further. It says it will use one platform for everything from, say, a two-seat commuter car to a three-row crossover. It can just adjust the side rails to add more "strings" of batteries, as it calls the rows of power cells under the floor of the car.
That could make for relatively consistent and convenient repair procedures — so long as shops don't lose track of what Faraday Future segment they're reassembling.
The FF 91 body itself might be made of aluminum, useful for achieving what Faraday Future propulsion engineering Vice President Peter Savagian described as a maximum distance of 378 miles that lets drivers "forget range anxiety."
"Sources within FF's supply chain told Electrek that the startup took delivery of several aluminum body-in-white for the same vehicle as the prototype seen in the sightings," Electrek wrote in September.
Other notable features potentially affecting repair procedures and severity include:
What appear to be modular side mirrors which can be swapped out with camera-only ones — improving aerodynamics but also likely raising severity. Also, a rearview mirror offering a digital display like Cadillac's.


LEDs which tell onlookers helpful details about the car's status (such as running in autonomous mode).
A lidar puck which raises out of the hood to sense the vehicle's surroundings while the FF 91 operates autonomously.
Lots of other sensors and cameras. The FF 91 also possesses 10 high-definition cameras, 13 radars and 12 ultrasonic sensors, and designer Kim called the more than 30 sensors "aesthetically integrated" into the vehicle body.
Active-aerodynamic wheels which adjust vents on fanlike rims for optimal airflow.
An exotic panorama roof with "smart dimming glass technology," and windows also containing "PDLC (Polymer Dispersed Liquid Crystal) glass, which is operated by users tapping on the glass, providing instant privacy and shade from the exterior environment," according to Faraday Future.
A camera in the exterior of the B-pillar that recognizes drivers and passengers and unlocks the car automatically for them.
Also interior cameras that also recognize people and adjust settings accordingly. "FF 91 can not only recognize faces, but also facial expressions and moods it uses to auto-prompt an experience to match, using music, temperature, scent, content, massage and more," Faraday Future writes.
And, while not collision repair-specific unless the car crashes into something while accelerating, we should note the OEM's boast that the car can get from 0 to 60 mph in 2.39 seconds, provide 1,050 horsepower, and pull more than 1 G.
"The FF 91 outruns gravity," Savagian said.
For $5,000, customers can reserve a FF 91, scheduled for sale in 2018. However, we should also point out some skepticism among the auto press that the company can deliver all that it claims, not to mention Nevada's treasurer calling the company a "Ponzi scheme," according to a Reuters report published in Automotive News.
More information:
"Forget Faraday Future's Crazy Concept Car. It Has Bigger Plans"
Wired, Jan. 21, 2016
"Faraday Future is building a fleet of prototypes, more vehicles spotted testing in the wild"
Electrek, Sept. 23, 2016
"A NEW SPECIES IS BORN WITH THE LAUNCH OF FF 91"
Faraday Future, Jan. 3, 2017
"Faraday Future | Flagship Vehicle Reveal"
Faraday Future via YouTube, Jan. 3, 2017
Featured image: The Faraday Future FF 91 is shown in this image. (Provided by Faraday Future)
Share This: