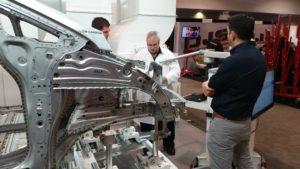 The Chevrolet Bolt had a busy 2016, starting with the CES revelation that the 2015 concept electric car would become a reality for the 2017 model year, and ending with its first deliveries and coronation as Motor Trend's Car of the Year.
Now, it's time for collision repairers to fix what Reuters reports are an expected 30,000 Bolts sold over the course of 2017. The car is in the $30,000-$40,000 range, depending on how long tax credits for electric cars hold out.
General Motors planned to ship the first Bolts to California and Oregon in December and expand sales to "Northeast and Mid-Atlantic States including New York, Massachusetts and Virginia … this winter." The OEM said other metropolitan areas would receive the car in the first six months of the year, and Bolt-certified dealerships nationwide would follow by "mid-2017."
Not all of the Bolts will be involved in a crash, of course, and the vehicles will offer advanced driver's assistance system options that might further reduce collision odds if purchased.
But collision repairers should prepare for the Bolts unfortunate enough to take a hit by reviewing repair procedures pertinent to handling the vehicle's modern electronics systems, electric powertrain and mix of steels and aluminum in the body, closures and panels.
Bolt collision repair procedures aren't yet up on the Genuine GM Parts site, but GM Bolt spokesman Fred Ligouri was kind enough to track down a few details for us. Spanesi Americas business development manager Tom McGee also warned repairers about the complexity of the mass-market vehicle in a Repairer Driven Education presentation coinciding with Spanesi's hosting of a Bolt body-in-white in its SEMA booth.
Here's some of what we learned from both men and the Bolt's body:
Body and exterior
We already received confirmation in September that the Bolt's exterior would be largely aluminum, and Ligouri repeated and expanded on some of these details in an email Dec. 29, 2016.
"The hood, front fenders, doors, and liftgate outer are made of aluminum," Ligouri wrote. "The roof and rear quarter panel are steel.  Body structure is a mixture of mild, high-strength and advanced high-strength steel."
Steels visible on the Spanesi booth's Bolt body-in-white ran from the low-carbon mild steel all the way up to ultra-high-strength press-hardened steel. (The latter reaches at least 1,300 megapascals, based on McGee's presentation). As shops start working their way up the steel food chain to the lighter, stronger stuff, GM imposes more and more restrictions on how the car should be repaired.
McGee also warned that shops must know which steel is which to properly repair the vehicle, and described laser welds that allowed dissimilar steels to be welded together. He also highlighted other advanced joining on the Bolt by pointing out a single part with silicon bronze and laser welding as well as structural adhesive.
GM's been beating up on Ford for using aluminum, and it doesn't seem to have drawn as much attention to the light, strong metal on the Bolt. But the presence of aluminum on much of the Bolt's exterior will affect everything from paintless dent repair to corrosion and dust considerations for body technicians and the paint department.
That means you'll want to check repair procedures and with GM. Dedicated tools and extra care might be necessary for the Bolt, just as with the F-150, even if the Bolt doesn't spread its aluminum throughout the safety cage the way the Ford does.
Ligouri offered few details in response to our inquiry about what equipment might be necessary for aluminum repair on the Bolt. He pointed out that repairers might have already had experience with aluminum panels on vehicles like the electric Volt.
"Special tools are required to be a certified Bolt EV sales and service dealer," he wrote. "We've had aluminum body panels in previous Chevrolet vehicles before (namely the Chevrolet Volt has an aluminum hood and liftgate)."
We also asked about the potential for a certified auto body network like the one GM set up for the much more advanced aluminum-and-steel body of the Cadillac CT6. However, Ligouri only mentioned the certified Bolt dealership network, which seems from other GM statements to owners to be primarily dedicated to Bolt mechanical repair and service, not bodywork.
"A certified Bolt EV servicing dealer must have the required tools and training to service Bolt EV," he wrote.
One other interesting piece of Bolt and collision repair body trivia — McGee said he confirmed with GM that the Bolt can be put on pinch-weld clamps. But other vehicles might not have strong enough pinch welds to anchor a car, he said. That sounds like something shops might want to double-check with OEMs, particularly as vehicles get thinner and use more advanced materials.
Be careful
Electric vehicles have traditionally been more of a niche than a common shop visitor. Because of this, not all repairers might be familiar with considerations specific to body work on a vehicle with a fully electric powertrain. These exist, according to Ligouri.
"There are certain procedures relative to de-energizing the battery that must be followed when doing certain types of bodywork on the Bolt EV," Ligouri wrote, stressing a similar point later in the email interview:
"As with any work performed on a vehicle, draining or de-energizing the fuel source must be considered depending on level and location of body work to be done."
Numerous body repair procedures in the 2016-17 Chevrolet Volt manual are prefaced with bright red warnings to disable voltage properly, which might give shops a taste of what Ligouri's describing.
"Failure to follow the procedures may result in serious injury or death," the manual states.
More information:
"CHEVROLET DELIVERS FIRST BOLT EVS TO CUSTOMERS"
Chevrolet, Dec. 12, 2016
Featured images: Various grades of steel, including press-hardened ultra-high-strength steel (dark grey) were visible on the 2017 Chevrolet Bolt body-in-white displayed at the SEMA Spanesi booth. (John Huetter/Repairer Driven News)
Share This: