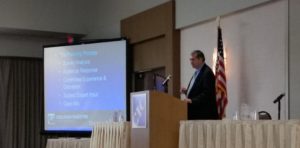 Drawing upon a 2016 survey of the body, new Collision Industry Conference Chairman Guy Bargnes on Thursday laid out changes and guidance for the next three events this year.
If you are in any way connected to the auto body industry and you've never been to a Collision Industry Conference, make it a point to attend one of the next three of the quarterly events, to be held in Pittsburgh, Pa.; Chicago; or Las Vegas. The gathering is an unusual but effective amalgam of networking, education, and hashing out the issues facing auto body shops; auto insurers; OEMs; estimating services; distributors; and paint, equipment and parts manufacturers. It allows each segment to get a better sense of its business partners — and the headaches the various industries cause one another.
The group's debate might be a little livelier this year. Bargnes (Painters Body and Supply) highlighted a comment from the November survey that demanded, "Stop trying to make everyone comfortable. if you're uncomfortable with the discussion it means we're getting somewhere."
Bargnes agreed with the sentiment, quoting motivational speaker Mike Jones at the November CIC that "confrontation is the fuel for enthusiasm" but needed to be tempered with respect.
About 21.1 percent of the survey's 228 respondents were single-location shops, and 18.1 percent were multiple-location shops. Other top segments included 16.8 percent educators/trainers, 9 percent consultants, 6.5 percent paint/materials manufacturers and 6 percent insurers.
Bargnes said that effective Thursday, all educators or vocational instructors could attend CIC for free, a policy derived after receiving survey feedback last year.
"I think that's a good thing," he said.
Bargnes also acknowledged a survey plea to get more insurance companies involved, but told the group that companies making up 80 percent of the insurance market do have representatives at CIC.
All of the respondents gave the body a pretty clear set of marching orders. Of all the potential topics to address and discuss in the next year, repair procedures and the repairability of new vehicle technology was deemed most important by 25.4 percent of those surveyed. The availability — or lack thereof — of technicians placed second at 18.4 percent, and insurer-repairer relations ranked third at 9.2 percent.
Another survey suggestion involved the selection of CIC chairmen. "The current process inhibits younger people (45 and under) from leadership," the feedback read.
"I didn't think 45 was that young, actually," Bargnes said. He said that he had brought the matter up at a past chairmen's meeting a while ago. While "this process needs some attention," he said that younger professionals might need a different outlet than the chairmanship role.
They might have more luck leading or participated on committees; there's some under-45s with both roles in 2017.
As for the committees, Bargnes also discussed how the chairs of the various committees were chosen, calling it "not a perfect process."
The idea is to find people who understand how to work in a volunteer organization, he said. So if you're troubled by a chair's direction or comments, "talk with them about it," Bargnes said. Errant committee chairs also might this year be reined in by the guidance of a past Collision Industry Conference chairman; a new policy will pair a mentor from that pool with each committee.
More information:
Collision Industry Conference website
Featured image: Drawing upon a 2016 survey of the body, new Collision Industry Conference Chairman Guy Bargnes on Thursday laid out changes and guidance for the next three events this year. (John Huetter/Repairer Driven News)
Share This: