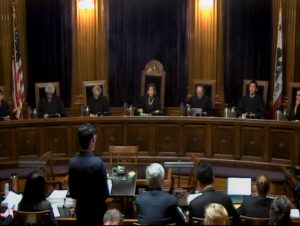 California collision repairers can breathe a little easier.
The state Supreme Court has reversed a lower court ruling and supported the California Department of Insurance's ability to develop new regulations to address bad insurer behavior, even measures not specifically called for by state statute.
Both insurers and repairers had been awaiting the outcome of Association of California Insurance Companies et al v. Jones, etc. (See Nov. 1, 2016, oral argument here.) A ruling that the commissioner had overstepped his regulatory power could have made it easier for auto insurers to use the courts to challenge Insurance Commissioner Dave Jones' regulations designed to combat steering and "prevailing rates" generated through flawed survey data. (The regulation actually came from his predecessor, but the 2010 election year put Jones in power in time to be named in the lawsuit.)
The court's 7-0 ruling Monday upheld the CDI's ability to dictate through regulations how home insurers should describe replacement costs to homeowners — following concerns that home insurers' estimates were too low when associated costs like labor, permits, etc. were considered. Any insurer who provided a cost estimate to a customer needed to account for a series of line items defined by the regulation. (Body shops and drivers having to fight for not-included procedures necessary to keep the vehicle safe or restore the same aesthetics as before can perhaps sympathize with the builders and unknowingly underinsured and out-of-pocket homeowners on this one.)
The court said prior to the ruling it planned to examine if "noncompliance with the regulation constitutes a misleading statement, and therefore an unfair trade practice, for purposes of the act?" and "Does the Insurance Commissioner have the statutory authority to promulgate a regulation specifying that the communication of a replacement cost estimate that omits one or more of the components in … (the relevant part) of the California Code of Regulations is a 'misleading' statement with respect to the business of insurance?"
No, the court ruled Monday.
The outcome was important because Jones seems to be doing some of the same things with his body shop regulations. The "prevailing rate" measure sets out a standard that any insurer who conducts a labor rate survey could follow to receive a"rebuttable presumption" they were acting in good faith on labor rates. The steering regulation adds extra clarity as to how insurers should refrain from using misleading statements to direct customers to direct repair program shops.
Correction: Carriers wouldn't have to use the California Department of Insurance's labor rate survey template, but those who elected to follow the proposed template could receive a "rebuttable presumption" they were acting in good faith on labor rates. The article has been updated to reflect this.
More information:
Decision in Association of California Insurance Companies et al v. Jones, etc.
California Supreme Court, Jan. 23, 2017
Oral argument in ACIC v. Jones
California Supreme Court, Nov. 1, 2016
Featured image: Janill Richards of the Oakland, Calif., Office of the Solicitor General, standing, takes a question from the California Supreme Court on Nov. 1, 2016, during oral argument on ACIC v. Jones, in this screenshot from court video. (Provided by California Supreme Court)
Share This: