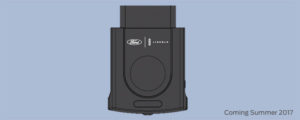 Following third-party competitors like Meineke, T-Mobile, Verizon and even the insurer Metromile, Ford announced Friday it would offer an OBD-II device providing older vehicles with Wi-Fi, telematics — and diagnostics.
Ford's SmartLink — actually developed in conjunction with "hum" manufacturer Verizon — will be available for use on modemless 2010-16 Fords starting this summer, Ford wrote in a news release.
"Ford SmartLink will surprise and delight owners of recent model-year vehicles by adding some of today's most popular connectivity features" Ford global marketing, sales and service Executive Vice President Stephen Odell said in a statement. "Offering it through our dealerships is another way to keep us connected with our customers and earn their loyalty."
Features include location assistance, starting and locking/unlocking the car with a phone, an eight-device 4G Wi-Fi hotspot, and "health and security alerts."
Asked if these "health alerts" would be as comprehensive as some of the SmartLink competitors in terms of scanning diagnostic trouble codes and showing them to users, dealer communication associate Sherrice Gilsbach described something similar to Hyundai BlueLink. That service, which doesn't appear to have an OBD-II option for older or less-optioned vehicles, doesn't actually provide the code itself but a description of its severity and nature and how soon the owner should visit a dealership.
"Any Diagnostic Trouble Codes are run through our Diagnostic Code Translation System and are presented to our Owners in the Ford SmartLink App in plain English, including the nature of the code, what it means to the Owner and what they should do about it," Gilsbach wrote. "If a code requires service at a Ford or Lincoln Dealer, the Owner can tap a button to be connected to their preferred Dealer."
This matters for collision repairers because it'll be really obvious if a shop left codes on the vehicle that didn't exist prior to the crash.
The additional connectivity to a car's OBD-II port and driver's cellphone also provides Ford with a means of detecting collisions and directing either emergency services to the scene and/or the driver to a Ford-certified body shop.
Asked if Ford would offer collision detection/accident existence, Ford Customer Service Division connectivity marketing and operations manager Dennis Carnevale said in a statement, "We don't have anything specific to announce at this time, but our research into how to enhance customer benefits by expanding Ford SmartLink capabilities is ongoing."
Gilsbach wrote in an email Friday that Ford would announce pricing closer to the product's launch. Similar to Meineke's Revvy, customers with their own hotspots can buy just the telematics services if they don't want or need the in-vehicle Wi-Fi, she wrote.
"There will be a charge for the telematics services (lock/unlock, etc.), but we have not yet determined how we will charge that. Consumer WiFi for the hotspot is separate," Gilsbach wrote. "… To enable the extended key fob capabilities and to get the full value from Ford SmartLink, Telematics data must be enabled, however use of the WiFi hotspot for passenger's electronic devices could be optional."
More information:
"BACK TO THE FUTURE: FORD VEHICLE OWNERS CAN EASILY UPGRADE 2010 – 2016 VEHICLES TO HAVE CONNECTIVITY FEATURES"
Ford, Jan. 27, 2017
Featured image: A rendering of Ford's SmartLink OBD-II plugin for older or less-optioned vehicles is shown. (Provided by Ford via Business Wire)
Share This: