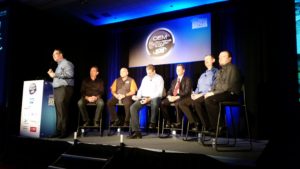 Besides subletting all diagnostics to a dealership or buying versions of every OEM tool to serve your local market's fleet, collision repairers do have some third-party scan tool options.
Going aftermarket might save money and provide shops with a more universal tool, but it also carries a risk that the manufacturer which reverse-engineered an OEM tool'features didn't have certain models or the latest capabilities the way an OEM edition would.
Then there are options that span both worlds, such as an asTech2 middleman device or a scan tool able to behave like an OEM tool through SAE's J2534 standard — depending on what the automaker makes available through that standard.
It's important that shop owners, managers and the employees in charge of operating the devices educate themselves on such matters before committing to a particular tool. To that end, the Society of Collision Repair Specialists hosted a group of diagnostics tool manufacturers in November 2016 as part of its OEM Collision Repair Technology Summit during SEMA, and those who missed out on the SEMA event can now watch the video.
"The conversations cover different mechanisms available to the collision repair community, and unique challenges and advantages associated with the process of documenting the restoration of the technological elements in the vehicle," SCRS wrote in a news release announcing the video's YouTube release.
Visit the SCRSCollision YouTube channel to see the hour-long forum featuring I-CAR industry technical relations director Jason Bartanen; Chuck Olsen, operations executive director of AirPro; Bosch training manager Bob Pattengale; Collision Diagnostics Services CEO Doug Kelly; Jason Gabrenas, national diagnostics trainer for Snap-On; and moderator John Ellis, CEO of Ellis & Associates.
You might want to make it a double feature and also watch the automaker panel that preceded it through a second SCRS video released Jan. 20. In that film, you'll hear perspectives from FCA, Honda, Nissan and Toyota on diagnostics — including arguments for purely using OEM scan tools.
SCRS also suggested collision repairers consider taking the new I-CAR course "Introduction to Diagnostics and Scan Tools" (VT210E01).
More information:
"SCRS Releases Part 2 of 2016 OEM Collision Repair Technology Summit – Restoring Vehicle Functionality through Electronic Technology and Diagnostics"
Society of Collision Repair Specialists, Feb. 2, 2017
"SCRS Presents Restoring Vehicle Functionality With Electronic Technology and Diagnostics Part 2 of 2"
Society of Collision Repair Specialists YouTube channel, Feb. 1, 2017
Featured image: Society of Collision Repair Specialists Executive Director Aaron Schulenburg introduces an aftermarket scan tool panel at the OEM Collision Repair Technology Summit at SEMA in 2016. (John Huetter/Repairer Driven News)
Share This: