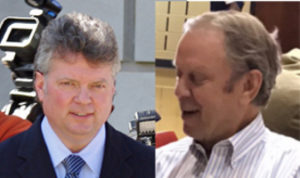 A task force involving Mississippi's attorney general, insurance commissioner, auto insurance carriers, and body shops has been meeting to work out a "consumer's bill of rights," the head of a body shop trade group said Thursday.
"That's the goal," said John Morgan Hughes, lobbyist and executive director for the Mississippi Collision Repair Association. The document would have "bias-neutral" language and be something a driver could receive following a collision, Hughes said.
Hughes said he and other participants from the three industries were asked not to discuss the substance of the deliberations; he could only speak to what was public record: the talks' existence and the end goal.
He predicted whatever document was produced would be "better than what's there today, which is nothing."
The talks have been hosted by Democratic Attorney General Jim Hood and Republican Insurance Commissioner Mike Chaney. Hood's office said he couldn't comment at this point, and a spokeswoman for Chaney on Thursday referred questions to Hood's office.
"We appreciate this," Hughes said, calling the trade group thankful to the two officials for "taking their time to put this together."
The gathering sounds like a model for other states, whose residents also might find themselves unknowingly caught in the middle of the same controversies between the three industries which share them as a customer. It also makes for a wonderful example of American democracy: Hughes described high-powered attorneys in suits working alongside a repairer with his "name on his shirt."
Correction: An earlier version of this article misstated Attorney General Jim Hood's party affiliation. Hood is a Democrat. The article has since been corrected to reflect this.
Featured image: Democratic Mississippi Attorney General Jim Hood, left, and Republican Insurance Commissioner Mike Chaney are shown. (Provided by Attorney General's Office and Department of Insurance)
Share This: