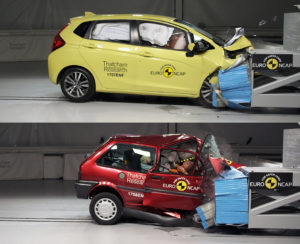 For shops that run into a customer, adjuster — or worse, an auto body technician– who insists past collision repair methodology will always work on the cars of today, go to the videotape.
To celebrate 20 years of European NCAP testing which prodded OEMs to design safer cars, Thatcham on Thursday crashed a 1997 Rover 100 and the current-model Honda Jazz (Britain's version of the Honda Fit), and footage of the difference is eye-catching.
Thatcham wryly notes that when it started tests 20 years ago, OEMs freaked out and complained that nobody could ever win four stars — it was "impossible." Within five months, the Volvo S40 earned that rank. (Today, the scores go up to five stars.)
The organization, the British version of the Insurance Institute for Highway Safety and the manager of United Kingdom Euro NCAP tests, estimated that tougher testing has led to the number of people killed or seriously injured in crashes falling from 23,000 to 8,500 between 1997 and 2015.
"Euro NCAP has fundamentally changed the way that vehicle buyers and vehicle manufacturers value safety," Thatcham Chief Executive Peter Shaw said in a statement. "In 1997, many motorists were still choosing not to wear seatbelts. Only a few years later we were demanding airbags, side impact protection and other safety systems. You're now twice as likely to walk away from a car cash compared with twenty years ago. These major changes in the way people and manufacturers prioritise safety are all thanks to Euro NCAP."
Thatcham stacked the deck Thursday in taking a car that only earned 1 star in 1997 and testing it against an entirely different OEM's car. They could have, for example, taken the three-star 1997 Ford Fiesta and put it up against a 2017 Fiesta. But hey, let the kid win on his birthday.
Besides, the overall point — and ours — still stands: They don't make 'em like they used to, and you don't fix 'em like you used to. Factors like safety cages made out of higher-strength steels (or aluminum!), engineered crash energy flow, better airbags and crumple zones are in play now, and continuing to advance to meet new safety demands.
To provide a slightly more apples-to-apples comparison, here's the U.S. Honda Civic moderate-overlap crash results in 1997 and 2011 (the 2006 generation). The IIHS switched to only providing photos related to the new small-overlap test after 2011, which kept us from showing the 2017 and 1997 Civic undergoing an identical test. But again, you get the idea: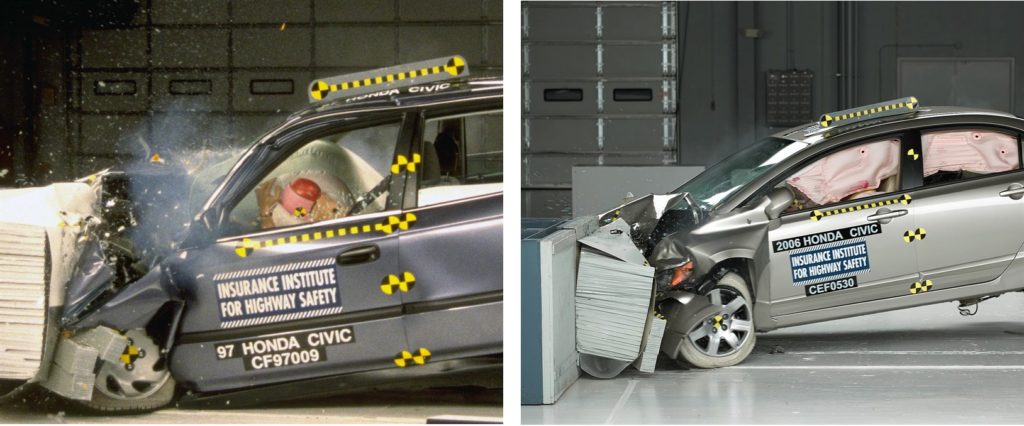 And just because it's fun, below, find the IIHS 50th anniversary mash-up of a 1959 Bel Air and a 2009 Chevrolet Malibu — which is a few years before the Malibu was redesigned with even more high-strength steel. Granted, both cars are striking a different object, a methodology issue. However, as the Malibu has a lower curb weight than a '59 Bel Air, the modern car was the one playing with the physics handicap — and it still won.
"It was night and day, the difference in occupant protection," IIHS President Adrian Lund said in a statement. "What this test shows is that automakers don't build cars like they used to. They build them better."
More information:
"15,000 Killed and Seriously Injured Saved Annually in the UK as Euro NCAP Marks 20 Years of Car Crash Testing"
Thatcham, Feb. 2, 2017
Insurance Institute for Highway Safety, Sept. 9, 2009
Images:
To celebrate 20 years of European NCAP testing which prodded OEMs to design safer cars, Thatcham on Thursday crashed a 1997 Rover 100 and the current-model Honda Jazz. (Provided by Thatcham)
Insurance Institute for Highway Safety photos of a 1997 and 2006 Honda Civic in a moderate-overlap crash test. (Provided by IIHS)
Share This: