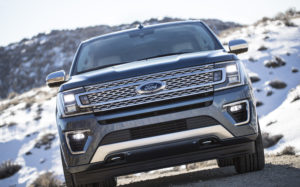 Like the 2015 F-150, the next-generation 2018 Ford Expedition will have an aluminum body-in-white and panels over a "redesigned high-strength steel frame," Ford announced Tuesday.
The full-size SUV weighs 300 pounds less than the existing Expedition, which sold 59,835 units last year — up 44.4 percent.
"In addition, an all-new high-strength, aluminum-alloy body and redesigned high-strength steel frame form the foundation for Expedition's rugged off-road and strong towing capabilities," Ford wrote in a news release. "Thanks to the use of advanced materials, the all-new Expedition saves up to 300 pounds, and the team reinvested that weight savings everywhere it counts to give customers more technology and convenience features than ever before."
Few other details were provided about the Expedition or its metallurgy — though thankfully, Ford does not refer to anything as "military-grade" this time. Ford SUV spokeswoman Becky Sanch wrote in an email that the OEM wasn't yet sharing more information about the high-strength steel it used, such as how much of it was ultra-high-strength steel above 780 megapascals.
Collision repairers certified by Ford for aluminum repair on the F-150 will see their credentials carry over to the Expedition, Ford and certification partner Assured Performance both confirmed Tuesday. Certification also carried over when Ford expanded its aluminum truck offerings from aluminum 2015 F-150s to aluminum 2017 F-Series Super Duties.
"No new equipment will be needed," Sanch wrote in an email Tuesday. "They will be certified to repair Expedition." Ford aluminum equipment specifications can be found here on Ford's Rotunda site; see all of the certification requirements here on Assured Performance's website.
"The Ford certification continues to apply for all Ford vehicles," Assured Performance CEO Scott Biggs agreed.
Biggs noted that should Ford come out with "kryptonite" or another substrate paradigm shift, his company would have at least a year of lead time to prepare its certified shops for new requirements.
The aluminum Expedition had been rumored for a while, and its existence seems to signal other aluminum vehicles from Ford.
3M senior technical service director Shawn Collins said in a 2015 Auto Body Repair Network webinar that Ford was looking at expanding its aluminum line to the Explorer, Expedition and even the Fusion prior to 2020.
For shops deciding whether to take the plunge into aluminum, it's hard to ignore the prospect of possibly 60,000 aluminum Expeditions joining nearly 821,000 aluminum F-Series trucks every year — not to mention whatever else down the road Ford and its rivals opt to make in part or completely out of the metal. (Even in instances where just a hood or bumper beam is aluminum, you'll likely still need dedicated equipment or risk corrosion from aluminum-steel contact.)
Collins also in the webinar predicts the Jeep Wrangler, Chevrolet Silverado and Tahoe, GMC Yukon and Cadillac Escalade going aluminum.
While the model years might differ, Collins has yet to be disproved (though GM has built the next-generation Traverse, Terrain and aluminum-hooded Equinox bodies largely or completely out of steel). A 2015 report from the Dallas Morning News ahead of GM's $1.4 billion plant spending announcement — including for a new body shop — in Arlington, Texas, and a Jeep forum in 2016 appear to back up Collins' comments as well.
So shops might want take a hard look at their own community's vehicle mix (find out how here) and determine whether they'd like to get into aluminum.
"ALL-NEW FORD EXPEDITION REDEFINES FULL-SIZE SUVS WITH ADAPTABLE INTERIOR, SMART TECHNOLOGY FOR EVERY OCCUPANT"
Ford, Feb. 7, 2017
Complete List of Ford Approved Aluminum Specific Tools & Equipment
Ford Rotunda, June 2016
Assured Performance certification requirements
Featured images: Like the 2015 F-150, the next-generation 2018 Ford Expedition will have an aluminum body-in-white and panels over a "redesigned high-strength steel frame," Ford announced Tuesday. (Provided by Ford)
Share This: