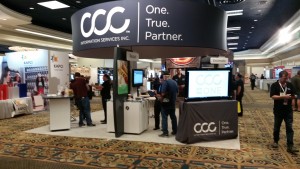 Bloomberg reported last week that owners TPG and Leonard Green & Partners are attempting to sell CCC, valuing the company at $3 billion.
The short article cites unnamed "people with knowledge of the matter." TPG declined to comment to Bloomberg last week and declined to comment to us as well Wednesday. Phone and email messages to Leonard Green had not yet been returned.
"Over the past 30 years CCC has been public and it has been private," CCC said in a statement. "It is the company's policy not to comment on its ownership or its investors. CCC's only focus is on its customers and continuing to invest in their long-term success."
According to Bloomberg, the two owners are seeking a buyer.
CCC was last sold in January 2013, when Leonard Green bought it from Investcorp for more than $550 million. Bloomberg reported that Leonard Green "almost immediately" sold a 50 percent interest to TPG "with plans to invest in Asia." (Here's Fortune's 2013 coverage.)
That's quite a return in four years, as Bloomberg observed. Prior to that, Investcorp boasted it had grown CCC's earnings before interest, taxes, depreciation and amoritization by 50 percent.
TPG and Leonard Green appear to have done a better job with CCC than Investcorp if the estimating service is worth $3 billion now.
Investcorp bought the then-publicly traded company for $496 million in 2006, which in 2013 dollars works out to $573 million — indicating it bought the company for more than it fetched in the sale if inflation is taken into account. (Investcorp's 2013 news release of the sale suggested the investment management firm was intentionally trying to dump assets, since it boasts of generating $1 billion worth of cash in two months.)
CCC at the time had been trading on the NASDAQ, and common stock shareholders received $26.50 per share in the sale. The stock was delisted Feb. 10, 2006.
In 2008, Investcorp attempted to merge CCC with Mitchell in what would have been a $1.4 billion company. The Federal Trade Commission challenged the decision, and the deal fell apart in 2009.
Aurora Capital Group later sold Mitchell to KKR in 2013 for an unspecified amount.
CCC's sale comes nearly a year after then-publicly traded competitor Solera, which owns Audatex and AudaExplore, was sold to Vista Equity Partners for $6.5 billion in March 2016.
More information:
"TPG-Backed CCC Information Services Said to Mull $3 Billion Sale"
Bloomberg, Feb. 1, 2017
"Investcorp completes the sale of CCC Information Services Inc. to Leonard Green & Partners, L.P."
Investcorp, Jan. 15, 2013
"Investcorp Completes Acquisition of CCC Information Services Group Inc."
CCC via Business Wire, Feb. 10, 2006
Featured image: The CCC booth at SEMA 2015. (John Huetter/Repairer Driven News)
Share This: