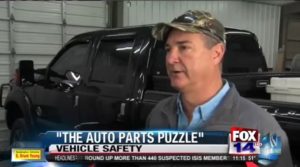 Another local network has raised the auto insurance issues of referral shop quality and recycled or aftermarket parts.
KTVE/KARD, which touts an audience in three states, talked with two drivers. One apparently didn't read his insurance policy closely and was irked to have to pay $1,200 out-of-pocket to receive OEM parts on his work truck. Another one received lousy repairs from what sounds like a direct repair program shop.
"It's kind of a joke," the second customer Kenny Peaker tells reporter Connor Ingalls. He describes choosing a shop recommended by his insurer — "if I went to their select provider, everything would be taken care of" — but ended up with "all kind of issues" on his truck.
"They've even put a crease inside my door," Peaker says.
The investigation goes deeper than some of the others we've seen on local news stations. It points out the absurdity of the Property Casualty Insurers Association of America citing a 17-year-old Insurance Institute for Highway Safety study on cosmetic aftermarket parts crash performance but ignoring 2010 IIHS and Consumer Reports articles — the latter quoting the IIHS — stating otherwise with regard to bumper beams and other internal elements insurers write aftermarket for today. (As for "cosmetic" parts, there's more to consider besides safety; Consumer Reports pointed out fit and corrosion issues with fenders in 1999.)
The KTVE/KARD story also quotes a State Farm response citing its aftermarket parts position: "The State Farm car policy allows for the use of non-OEM parts. With regard to non-OEM crash parts, we continue our business practice of not specifying aftermarket crash parts on estimates we prepare and those prepared by select service repairers unless those parts are requested by a vehicle owner."
"They say they won't do it without you asking," Ingalls concludes, but on a practical basis, he's wrong on this one, and State Farm appears to contradict itself.
State Farm's own parts policy specifically says it'll write NSF- and CAPA-certified "crash parts" on estimates, and the company tracks Select Service shops' aftermarket parts usage as a potential metric the shop can use to better save State Farm money. The "request" is less a matter of the insured dying to have aftermarket parts and more a situation where a customer is told that under the terms of their policy they can "request" aftermarket parts and pay nothing or buy OEM and pay out-of-pocket.
Finally, the station gives an update on a lawsuit filed by former Republican Louisiana Attorney General Buddy Caldwell before he failed to win re-election. According to Ingalls, Republican Attorney General Jeff Landry's office said the case was continuing. It also references the suits filed by multiple states' auto body shops through Eaves Law Firm, though it fails to note a pretty major setback for the case filed in Louisiana.
But overall, a nice resource that shops in Arkansas, Louisiana and Mississippi can use to educate customers during a repair or before motorists sign up for an auto insurance policy without reading the parts terms.
More information:
"The Auto Parts Puzzle: What Happens to your Car in a Repair?"
KTVE/KARD, Feb. 6, 2017
Featured image: Another local network, KTVE/KARD, has raised the auto insurance issues of direct repair program shop quality and recycled or aftermarket parts. (Screenshot from video on www.myarklamiss.com)
Share This: