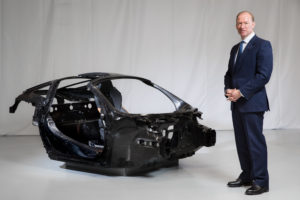 Though it shouldn't come as a surprise to followers of the supercar company, McLaren on Thursday offered details of a new Composites Technology Center which would produce and develop its latest monocoque carbon-fiber bodies.
McLaren, which says it hasn't built a car without a carbon-fiber chassis since 1981, will continue that streak by creating its next-generation Monocell II and Monocage II in the Sheffield, United Kindom facility. The more than 21,000-square-foot, factory will be McLaren's first away from its McLaren Technology Center and create 200 new jobs.
The automaker said it would build the Monocell II "using advanced automated manufacturing techniques" with the help of the University of Sheffield's Advanced Manufacturing Research Centre.
Construction will begin in "early 2017," according to McLaren. A pre-production carbon fiber chassis is expected at the main McLaren Technology Center in the second half of the year. The new McLaren Composites Centre will start full production of the new chassis by  2020.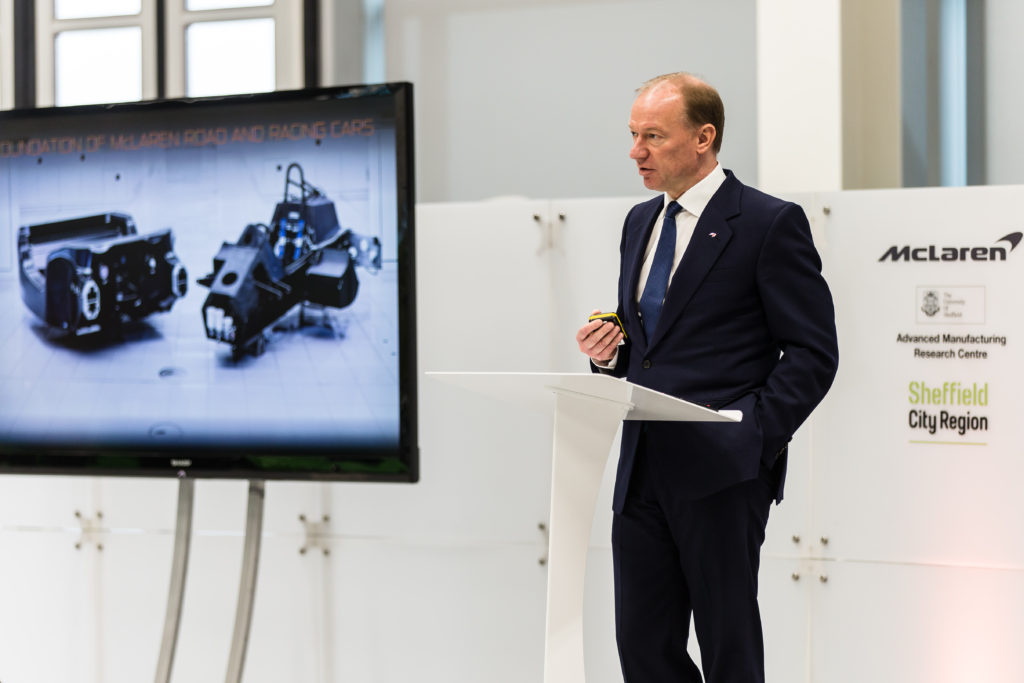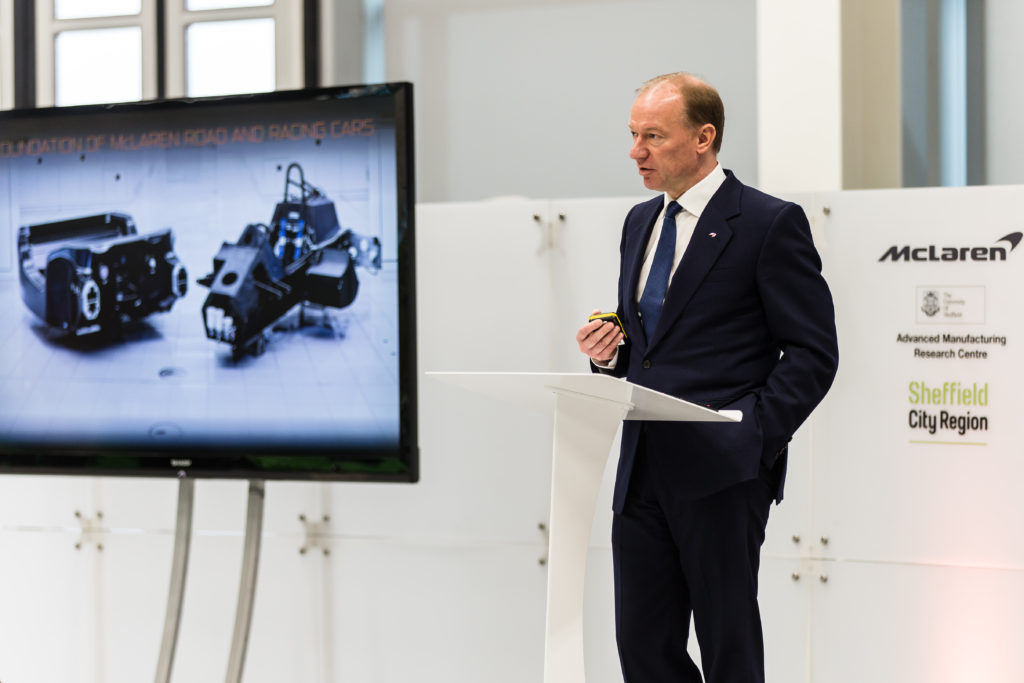 "In 1981, McLaren was the first company to recognise the exceptional properties of carbon fibre, and we have designed the highly-technical material it to be at the heart of every McLaren road and racing car ever since," McLaren CEO Mike Flewitt said at the launch event Thursday, according to the company. "The now-iconic McLaren F1 was the world's first road car to be built with a carbon fibre chassis and every car built more recently by McLaren Automotive has the same. Creating a facility where we can manufacture our own carbon fibre chassis structures is therefore a logical next step."
McLaren produced its first road car out of carbon fiber in 1993, and the company says the F1 still the "fastest naturally-aspirated road car." In January, it announced its next-generation Super Series — the "first-ever replacement of a product family" — would debut March 7 and feature the Monocage II composite structure.
"Super Series is the core of the McLaren business and personifies the blend of extreme performance, crafted luxury and unparalleled driver involvement that is the McLaren heartland," Flewitt said in a statement. "This is the first time we have replaced a product family and the new Super Series will be absolutely true to McLaren's pioneering spirit in being a revolutionary leap forwards, both for our brand and the supercar segment."
The Monocage II weighs less than the older Super Series platform, which McLaren describes as "carbon fiber and metal," and the next-generation Super Series will only tip the scales at about 2,829 pounds — about 40 pounds less than a McLaren Super Series 650S.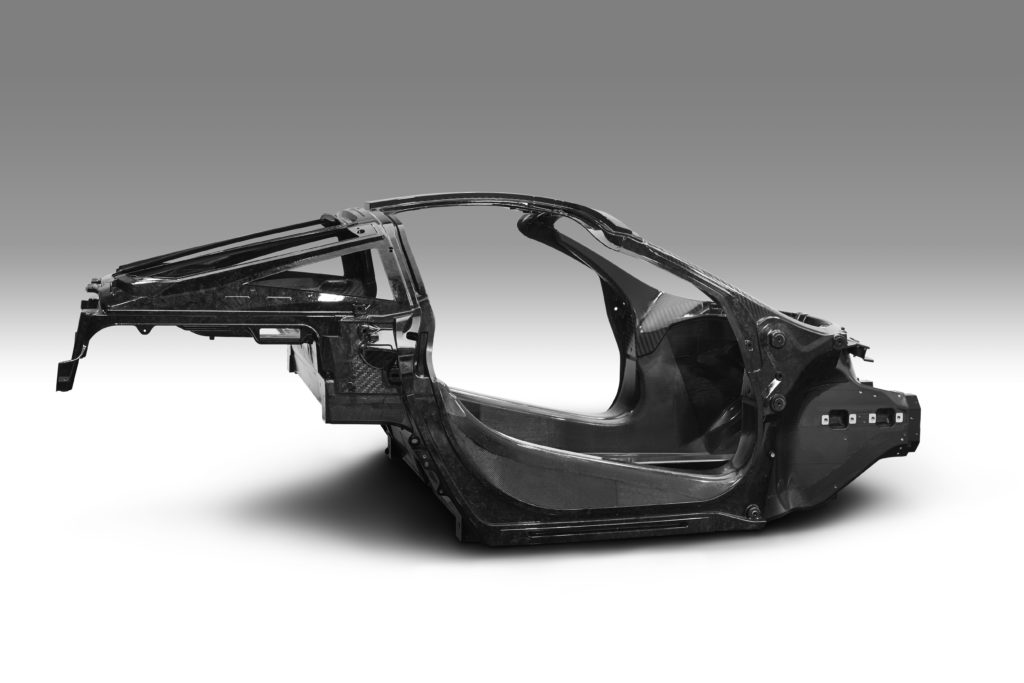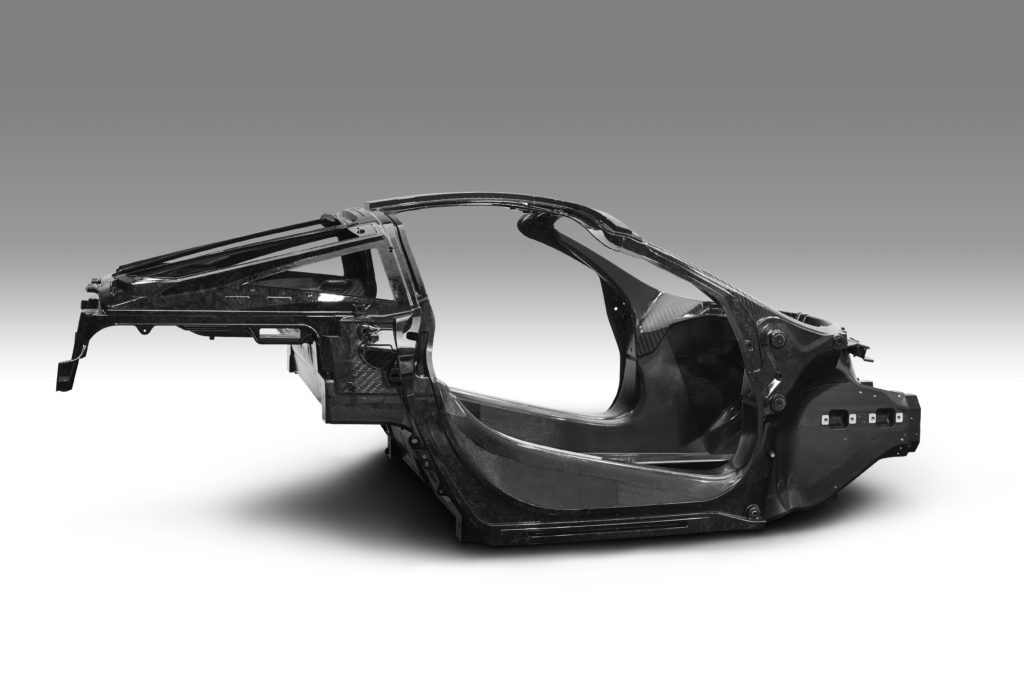 The structure also allows for a better view and ride when you're driving away that midlife crisis:
"The development of Monocage II has allowed McLaren to incorporate a wider cabin entrance and lower sill to improve access into a driver environment that will offer excellent all-round visibility," McLaren wrote in a news release. "The new chassis structure also enables a lower centre of gravity, further sharpening the dynamic performance of the new Super Series."
An owner also can show off their carbon fiber with a "Visible Monocage" A-pillar option.
McLaren also this year teased next-generation Super Series auto body aerodynamics innovations on the rear and door.
"An active wing that extends over the full rear width of the second-generation McLaren Super Series moves upwards and increases in angle to optimise aerodynamic efficiency and also deploys to its most extreme angle as an airbrake in less than half a second, optimising balance when braking from speed," McLaren wrote.
Dihedral doors use uses air ducts to boost downforce and cool the engine.
There aren't many McLaren supercars or Formula One cars zipping around the United States — the company's North American sales rose 106 percent in 2016 to 1,139 — but the company's methods might be aped by competitor producing both supercars and mainstream vehicles. McLaren describes the new Super Series as one of 15 new or refreshed vehicles under its Track22 plan.
McLaren's partnership with the University of Sheffield, which Flewitt depicted as a leader in composites and materials study, could lead to the university educating and inspiring other engineers on carbon fiber, intensifying this trickle-down effect.
More information:
"THE NEW McLAREN AUTOMOTIVE COMPOSITES TECHNOLOGY CENTRE"
McLaren, Feb. 9, 2017
"McLAREN AUTOMOTIVE ANNOUNCES SECOND-GENERATION SUPER SERIES, THE NEW CORE OF THE McLAREN BRAND"
McLaren, Jan. 4, 2017
"NEW McLAREN SUPER SERIES BLENDS BEAUTY AND TECHNOLOGY TO DOUBLE AERODYNAMIC EFFICIENCY"
McLaren, Jan. 18, 2017
Images:
McLaren CEO Mike Flewitt poses with the Monocage II, which will be produced at a new McLaren Composites Technology Centre. (PatrickGosling/Beadyeye)
McLaren CEO Mike Flewitt is shown at a Feb. 9, 2017, event related to the McLaren Composites Technology Centre. (PatrickGosling/Beadyeye)
The McLaren Monocage II will be produced at a new McLaren Composites Technology Centre. (Provided by McLaren)
Share This: