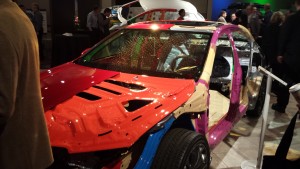 Collision repairers equipped for the aluminum-intensive F-150 (and now the Expedition) are familiar with the concept of dedicated tools and spaces set aside so aluminum and steel don't mix.
But while many in the auto body industry rushed to learn and obtain the thousands of dollars worth of tools, training and equipment needed to work on the nation's most popular vehicle, it's important for shops opting against the investment to realize that similar gear and/or care might be necessary on seemingly "steel" vehicles — and have been for a while.
The 2018 Toyota Camry and 2018 Lexus LS, for example, both have aluminum hoods, as do at least the new and previous generation of the Prius.
For example, the body repair manual for the 2010-15 Prius — five model years before the 2015 F-150 — warns that steel (or other metal) dust can corrode aluminum, as well as pointing out safety risks from aluminum dust.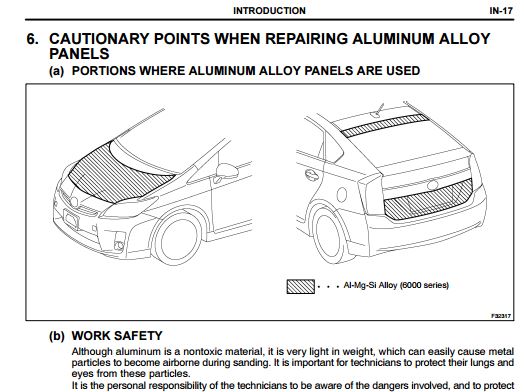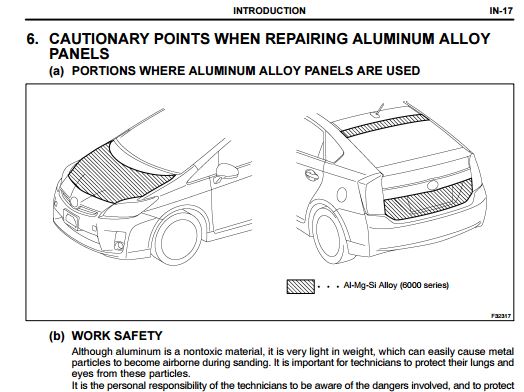 "If aluminum comes into contact with another type of metal (especially steel), galvanic corrosion will cause the base metal to corrode," Toyota wrote. "If tools used to repair steel panels are not cleaned before they are used on aluminum alloy surfaces, the tools will leave behind steel particles and corrode the base metal.
"Therefore make sure to completely clean off iron particles on the surface of tools if using them to repair steel parts before use, or prepare a separate set of tools (hammers, dollies, chisels, air sander, carbon electrode, etc.) for use on aluminum alloys only."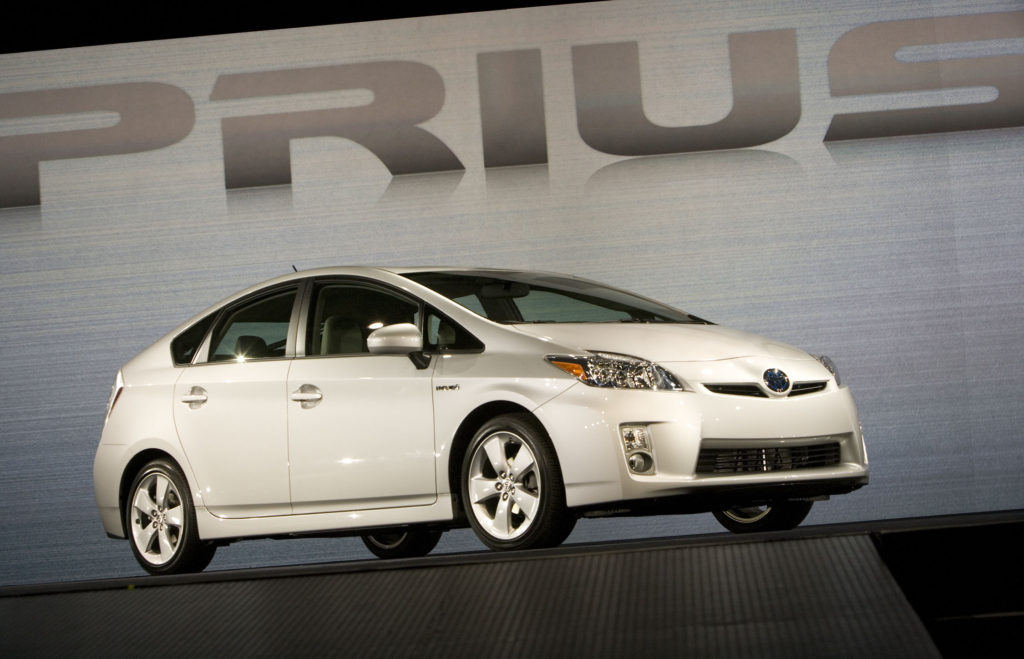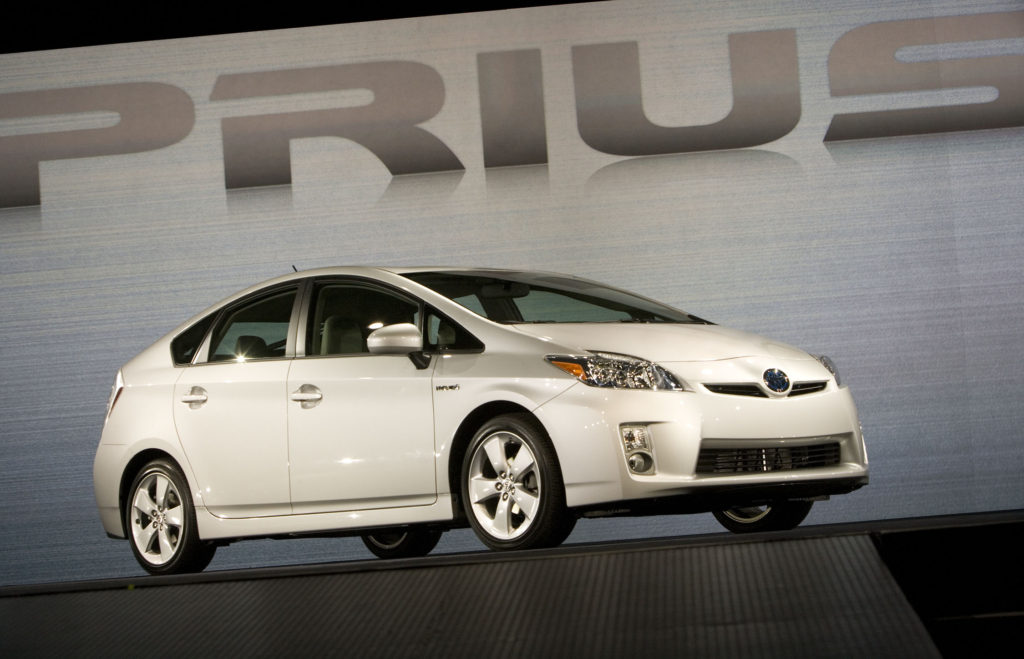 As with the F-150, the aluminum Prius hood is also likely to develop an oxide film and screw up your paint job if exposed to the air too long — and too long is a "matter of minutes."
"An oxide film forms on an aluminum alloy within a matter of minutes when the base metal is exposed to the air," Toyota wrote. "This oxide film has a negative effect on putty and paint adhesion, so it is important to immediately treat the base metal after sanding and degreasing."
Rival Honda has introduced a series of vehicles with aluminum bumper reinforcement beams and/or hoods, such as the 2015 TLX pictured above and the 2016 Honda Accord. These will also demand similar care.
"Aluminum is aluminum … corrosion is corrosion," Honda collision repair expert Chris Tobie, who recently became the Acura NSX Performance Refresh Center product support coordinator, wrote in an email. "And yes, (aluminum) repair all requires the same precautions. Parts cost is a big part of whether to repair or replace aluminum components, so that will factor into the equipment a shop requires.  Aluminum bumper beams, like steel ones, are replace only. Never repair these!"
However, I-CAR industry technical relations director Jason Bartanen said that he hadn't heard of a large volume of customers returning corroded aluminum panels over the "many, many years" shops have encountered them in the past.
"Aluminum has been used for hoods and other closure panels for many, many years, with no warnings about moving them to a segregated area of the shop, or with tool/equipment guidelines," he wrote in an email. "Additionally, I don't believe the industry has seen widespread comebacks due to repair of aluminum closure panels in the same area, or with the same tools, as steel panel repairs. Good hygiene should prevent most cross-contamination; add to that protective coatings (primers/paint/clearcoat) that prohibit moisture from the panel and the opportunities for galvanic corrosion are greatly minimized."
General Motors, which restricted work on the aluminum-intensive Cadillac CT6 to very select shops, also implied aluminum tool guidelines existed for the repairable-by-everyone Chevrolet Volt and Bolt. The electric 2017 Bolt, which can exceed 200 miles on a charge, has a predominantly aluminum exterior over a steel structure, and prior Volts have had aluminum hoods and trunk lids. (We don't have the exact model years, unfortunately. It's also worth noting that at least the 2011-15 Volts have aluminum bumper beams.)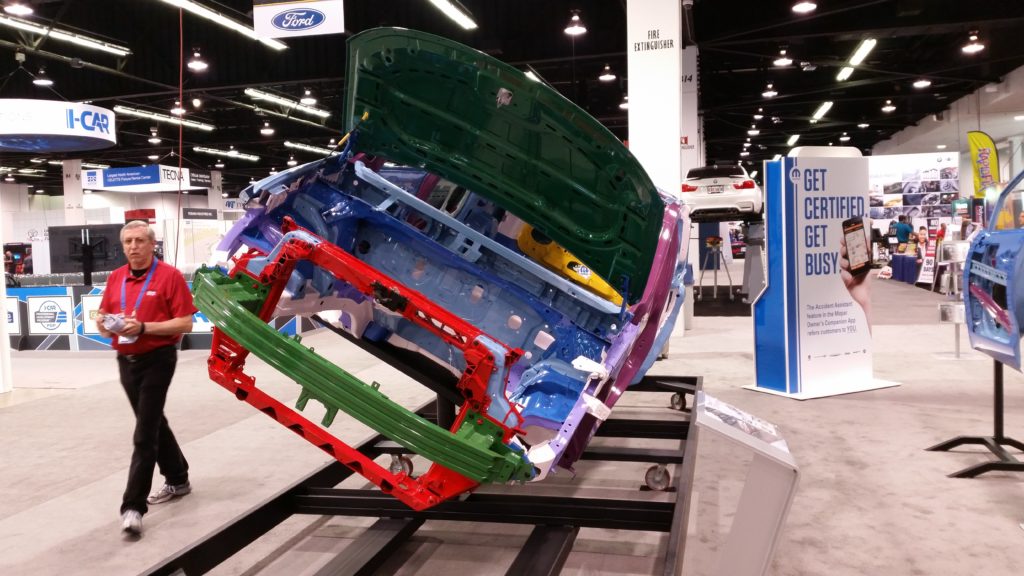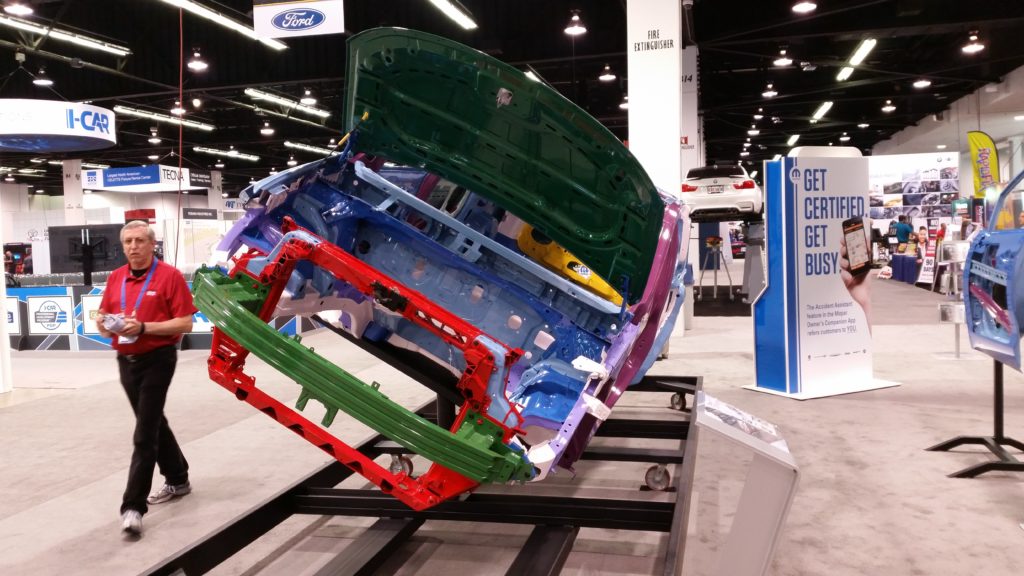 Chrysler says the same about the aluminum on the 2017 Pacifica's closures:
"When working with aluminum use dedicated tools, grinding discs and sandpaper to prevent steel cross contamination with the aluminum," FCA wrote in the minivan's body repair manual. "Cross contamination of these two materials will cause galvanic corrosion."
Obviously, shops will have to make their own business decisions with regard to aluminum repair equipment, training and tools, and as Bartanen pointed out, the industry didn't seem to have faced a rash of corrosion bringbacks from prior aluminum-steel combinations on vehicle exteriors. But OEMs appear to be suggesting that the investment might be necessary to prevent future redos as they use more aluminum to lightweight cars.
Images:
The hood of the 2015 Acura TLX is made of aluminum. (John Huetter/Repairer Driven News)
The body repair manual for the 2010-15 Toyota Prius warns about safety and corrosion risks with the presence of aluminum. (Provided by Toyota)
The third-generation 2010 Toyota Prius is revealed in 2009 at the North American International Auto Show. (Joe Polimeni/Toyota)
Various metals, including aluminum green), magnesium yellow), and press-hardened ultra-high-strength steel (maroon) can be seen on the 2017 Chrysler Pacifica at NACE 2016. Also visible is the composite  front structure (red). (John Huetter/Repairer Driven News)
Share This: