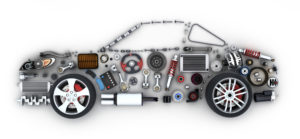 Though a company spokesman didn't answer our inquiries on if AutoNation's new branded aftermarket parts business will extend to collision-related items, the company's statements to investors suggest the No. 1 dealership chain will sell bread-and-butter mechanical parts for now.
Seeking Alpha transcripts of the past two earnings calls — one the same day, Oct. 28, 2016, as the company announced it would sell its own brand of replacement auto parts — describe both the parts planned for the near term and a confidence that AutoNation Precision Parts (and an AutoNation Auto Gear line of accessories) will pull in tens of millions of improved margins.
According to a third-quarter transcript provided by the financial research and analysis website, CEO Mike Jackson told analysts that the company had started with batteries, wipers and filters.
"So, what are the extensions that have immediate benefit to the company?" he said, according to Seeking Alpha. "Parts, because these parts, these AutoNation parts, are going to be available in our franchise stores, as well as the AutoNation USA stores, the benefit is immediate. We have significant batteries, wiper blades, filters already in there, and we are in negotiation with supplier for hundreds of more parts that will be available both in our franchise business and in the AutoNation USA store.
"The benefit of that is immediate, both for the customer and for AutoNation. Of course, we will continue to offer OEM parts, and, of course, we will use them for all warranty work or all customer care work that the manufacturer pays for, but beyond that, we will offer our customers choices. And we think there'll be a high adoption rate, just like we saw in the service contract. And, oh, by the way, we will then be able to have this supply of parts on a much better cost basis for our reconditioning in our USA stores and in the customer care aspect of our USA stores."
Eventually, the parts could number in the thousands, he said, though he didn't say if these would extend to collision components. The company in October said it plans to add 18 collision facilities through openings or acquisitions within the next two years.
"And then step by step, we're in discussion with all the various suppliers where we lay the market opportunity, the value creating of what the consumer wants," Jackson said in the 3Q transcript. "And you can see that expanding into hundreds of parts or it could be thousands of parts. But that's going to be something that develops over the next several years, and it's a little bit difficult to say how we're going to structure all that from an operating and distribution point today, but we'll find the optimal line and pursue it."
Jackson also bristled at the term "aftermarket" to describe the company's non-OEM offerings.
"I resent the aftermarket term or whatever it is, it's going to be AutoNation parts from outstanding suppliers with a brand that the consumer can trust," he said.
The company in October characterized the parts as "a high quality, competitively priced line of maintenance and repair parts."
"The new product line will be integrated into the Company's reconditioning operations, as well as enable improved customer retention for retail service, wholesale parts and collision repair business units, including AutoNation USA," the chain continued in the news release. "AutoNation Precision Parts was launched in the third quarter of this year in the Company's existing stores, with the introduction of AutoNation branded batteries that feature an industry-leading free lifetime replacement guarantee.
"AutoNation Auto Gear, the Company's branded automotive accessory line, will offer auto accessories for lifestyle, appearance, protection, and vehicle security. AutoNation Auto Gear was also launched in the third quarter in the Company's existing stores and will be available at each AutoNation USA store. The Company will be expanding both AutoNation Precision Parts and AutoNation Auto Gear product lines in phases as their product portfolios are developed."
New President Bill Berman said Feb. 3 that the company anticipates that the parts branding will "provide meaningful contribution to customer care profitability in the next several years," including "at least $100 million of incremental gross profit in 2018," states a fourth-quarter 2016 earnings transcript on Seeking Alpha. Jackson later clarified this for an analyst as margin improvement instead of revenue growth.
Jackson described "customer acceptance" of the AutoNation parts as "extremely high" and talks with parts manufacturers going "extremely well," according to Seeking Alpha.
He said during a discussion of a proposed border tax that the company was buying the AutoNation parts from domestic distributors.
"We're as American pie as you get, all our employees live and work in America, they're all U.S. citizens or at least on a green card and everything we buy is U.S.-sourced," Jackson said, based on the transcript.
But that doesn't mean the AutoNation parts were necessarily made in America, just bought there, according to the transcript. Asked what percentage were manufactured in the U.S., Jackson replied, "No. I couldn't tell you."
Jackson also was unapologetic for competing with his partner OEMs on parts, arguing that automakers had backed the company up against the wall:
I would say that, first, we still offer all the OEM parts, and we still use all the OEM parts for all warranty repairs or for any of the certified pre-owned programs. So we meet all the requirements, of course. What I've said to the manufacturers is if I go back 10 years ago, we had very nice front end gross margins on new vehicles and my costs were significantly less. And I actually made money selling a new car.
Now, today, I got a front end gross margin of around 5%, I got costs of around 5%, I'm not making anything selling a new car. And I really don't think it's the transparency of the digital world at all. I really think it's the structure of the incentive programs and the push from the manufacturers that've gotten us here. So I say to them, I say, look, you've changed the basic contract between us which is, I build an exclusive facility for you and I can make money selling your cars and doing some other things … I got to make all my money elsewhere than in selling new cars.
And there is a certain understanding that that's what the industry has come to. And I'm not going to sit here naively and think that new vehicle front-end margins are going to recover. I can improve used vehicle front-end margins, but the new vehicle listing is bigger than me. And therefore, I need a strategy to deal with this new place that the automotive retail industry finds itself in, hence AutoNation brand extension. So there is a certain understanding on the other side that I didn't change the world, you changed the world, I have to react to it.
Clarification: An earlier story referenced AutoNation revenue, though it's unclear how much of an expected $100 million in margin improvement would actually be revenue, based on a Seeking Alpha transcript. The article has since been corrected to reflect this.
More information:
AutoNation third-quarter 2016 earnings call transcript
Seeking Alpha transcript of AutoNation call held Oct. 28, 2016
AutoNation fourth-quarter 2016 earnings call transcript
Seeking Alpha transcript of AutoNation call held Feb. 3, 2017
"AutoNation Launches AutoNation USA and Comprehensive Brand Extension Strategy"
AutoNation, Oct. 28, 2016
Featured image: AutoNation will sell its own brand of automotive parts. (vladru/iStock)
Share This: