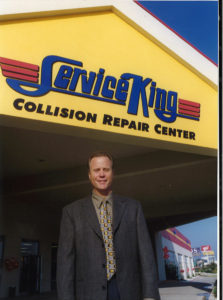 Citing "people with the knowledge of the matter," Bloomberg reported Monday that the Blackstone and Carlyle Groups are examining selling Service King for what could be as much as $2 billion.
Bloomberg reported that neither of the publicly traded companies would comment, and a Service King representative couldn't be reached by the news service.
"Service King policy prohibits public comment on this story," a spokesman wrote to us in response to an inquiry about the Bloomberg report.
Bloomberg reported that the two conglomerates had talked with bankers about "starting a sale process this year" but might also still decide to keep one of the nation's largest collision repair chains.
Reuters covered the Bloomberg report but had no additional information.
This would seem to be the first tangible sign of a sale of one of the largest multi-store operators, something which in 2016 had been predicted by Supplement! collision repair financial adviser Brad Mewes to occur by 2018.
"For many of these companies, they are simply coming to the end of their holding period," Mewes wrote in a post Wednesday commenting on the reports that CCC and Service King were possibly up for sale. "Most private equity investments have a shelf life between three and seven years, with a five-year median lifespan. Each company listed above has increased significantly in value over the past five years, and in order for the fund to realize an actual return and in order to return profits in the form of cash to the limited partners of the fund, portfolio companies must be sold.
Service King competitors like the publicly traded Boyd/Gerber and privately held CARSTAR have announced aggressive plans to expand and might have interest. A dealership chain could also be a dark horse buyer — AutoNation, for example, has also said it'd like to grow its collision business, and the privately held Hendricks and Berkshire Hathaway Automotive (formerly Van Tuyl) also were among the top 10 collision repair chains in 2015, according to the Romans Group.
Carlyle bought the 47-location Service King in 2012 and after tripling the chain to 177 shops sold a majority interest to Blackstone in 2014 for an undisclosed amount. In 2015, Romans Group figures put Service King as the No. 2 MSO nationwide, counting both dealerships and franchise operations. Service King's last tally put it at 309 locations following the Jan. 12 announcement of a 24,000-square-foot collision repair center opening in South Holland, Ill.
Late last year — the company's 40th in business — Service King had reached a point where it established a chief operating officer role, filling it with top Bridgestone executive Stuart Crum. Earlier this month, it announced it would this summer move to a new corporate headquarters spanning nearly 65,000 square feet in Richardson, Texas.
More information:
"Blackstone, Carlyle Consider $2 Billion Sale of Service King"
Bloomberg Markets, Feb. 13, 2017
"Service King is for sale, Caliber takes on a new equity partner, CCC looks for a buyer – Private Equity in Collision Repair"
Supplement!, Feb. 15, 2017
Featured image: Service King founder Eddie Lennox poses outside of a Service King headquarters in Texas. (Provided by Service King)
Share This: