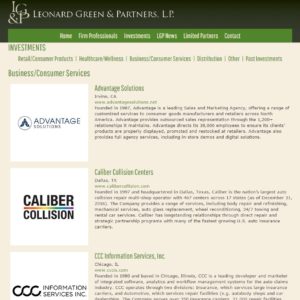 Leonard Green & Partners, which together with TPG owns CCC — for now — has obtained a minority stake in Caliber Collision from OMERS Private Equity.
Supplement! collision repair financial analyst Brad Mewes brought attention to the deal Feb. 15, and Leonard Green's website Tuesday included Caliber among its portfolio. (A Jan. 19 Internet Archive snapshot of the site does not show Caliber, giving some sense of how recent the deal was.)
A Caliber representative described the investment as "new" and a "small minority interest."
According to Leonard Green's website, partner Jonathan Seiffer now sits on the Caliber board, as well as the boards of automotive-related companies Mister Car Wash Holdings, Motorsport Aftermarket Group and the Tire Rack. Leonard Green principal Jeffrey Suer is now "actively involved" in Caliber. His only other automotive interest specified is serving with Seiffer on the board of Mister Car Wash.
OMERS bought what was then the 157-location Caliber in 2013 from ONCAP. The collision repair chain had grown to 467 locations as of Dec. 31, 2016, according to Leonard Green.
Inquiries Monday to OMERS and Leonard Green were not returned.
Caliber Chief Marketing Officer Greg Clark wrote in an email Tuesday that OMERS will continue to run the show, and there would be no conflict of interest with the No. 1 collision repair company being a sister company to the No. 1 estimating service.
"Leonard Green is a new financial investor in Caliber with a small minority interest," Greg wrote in an email. "OMERS has and will continue to be our majority owner with majority governance and voting rights.  There are no conflicts whatsoever with CCC as we have and will continue to be and operate as completely independent companies."
As Clark observed, public and private-equity conglomerates often have competing interests or outright competitors under the same roof and must handle it accordingly. Driven Brands owns CARSTAR and Maaco, as well as a variety of mechanical service and repair competitors. Berkshire Hathaway owns GEICO and Berkshire Hathaway Automotive (formerly Van Tuyl) dealerships with collision repair facilities. Yum Brands famously owns fast food rivals Pizza Hut, KFC and Taco Bell — different food classes, but still competitors for hungry patrons — and sticks them literally under the same roof.
"I wouldn't read too much into Leonard Green owning CCC and Caliber," Mewes wrote in an email. "Just two companies that are both in the same industry vertical."
Different Leonard Green staff appear sit on the board of CCC or are "actively involved" with the company, and none of their bios list a role in Caliber.
CCC on Wednesday offered a similar perspective as Caliber and referenced the different Leonard Green leadership.
"CCC wasn't consulted and isn't involved in Leonard Green's investment decisions," the company said in a statement. "The firm's minority stake in Caliber is completely separate from CCC and does not present any conflict of interest. As you reported in your 2/21 article, the individuals from Leonard Green involved with Caliber are different than those active with CCC.
"CCC has been successful, in large part, because of the goodwill we've built with our clients. Our focus is on delivering value and supporting all of our customers. Nothing changes there."
CCC and Caliber also might not be sister companies for long. Bloomberg this month reported that Leonard Green along with co-owner TPG is trying to sell the estimating service for $3 billion.
Leonard Green bought CCC from Investcorp for more than $550 million in 2013. However, as Fortune reported, Leonard Green immediately flipped half of the information provider to TPG Capital.
Selling a stake
We asked Mewes what it means when private equity companies sell a piece of a business. He said it could be for numerous reasons, and gave a few examples:
"For example, Leonard Green sold off 50% of CCC to TPG nearly as soon as they bought them," he continued in an email. That was because TPG is strong in both software and in Asia so it made lot's of sense to bring in a PEG that had those relationships. That was a case where both companies would rather own half of a $3B pie than 100% of a much smaller pie.
"But it's common to sell slices of equity for other reasons as well. There is the idea the 'second bite at the apple' whereby a company sells itself twice. (Private equity groups) cite this as a common reason to take on a PE investment. The current owner can take some money off the table by selling a stake in the business, but continue to hold an equity stake in the company and participate in the future growth of the business. When successfully executed, this "second bite" can be very valuable, perhaps creating even greater returns than the original transaction. This hold true for any equity holder, whether they are the founder of the business or a later equity investor into the business.
"Selling off partial equity stakes allows a PEG to take money off the table and return it to the LPs, while still continuing to participate in the future growth of the company. It provides liquidity to the fund, locks in an actual return, but allows leaves room for continued upside. There may be other reasons, but those are some of the common reasons you may see this sort of behavior in the market."
More information:
"Service King is for sale, Caliber takes on a new equity partner, CCC looks for a buyer – Private Equity in Collision Repair"
Supplement!, Feb. 15, 2017
"What Private Equity Firm Directors Need to Know"
Foley and Lardner, 2007
"Exclusive: TPG buys half of CCC Information Services"
Fortune, June 12, 2017
"OMERS Private Equity Acquires Caliber Collision Centers"
OMERS, Nov. 21, 2017
Featured image: Leonard Green & Partners, which together with TPG owns CCC — for now — has apparently purchased a stake in Caliber Collision from OMERS Private Equity. (Screenshot from Leonard Green website www.leonardgreen.com)
Share This: