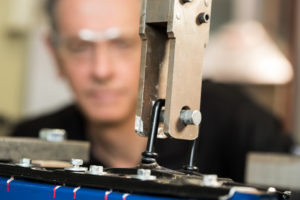 General Motors subsidiary Holden's testing of an aftermarket hood in Australia found it at risk of flying up and blocking a driver's view, the Federal Chamber of Automotive Industries announced earlier this month.
"If this was original equipment, we would absolutely have a recall," Paula Hilditch, Holden retail channel manager, says in a video released by FCAI accompanying the news release.
What Australians call the "striker wire" — the metal ring onto which the hood latch latches — didn't meet the standards demanded for a genuine Holden VF Commodore hood.
According to FCAI, Holden's research found "flaws and sub-standard materials" in the aftermarket version of the U-shaped component.
"The non-genuine part has failed under testing, which would result in the hood of the car suddenly flying up and slamming against the windscreen, leading to a loss of driver vision and control," FCAI, which aggressively campaigns for new OEM parts through its "Genuine is Best" initiative," wrote in a news release Feb. 8. "The ramifications of such a shocking incident at high speed are of grave concern to the industry."
The hood flying up would seem to ruin not only the driver's visibility but also that of autonomous braking and adaptive cruise control reliant on cameras mounted between the rear-view mirror and windshield. That removes a fail-safe against the blinded driver rear-ending whoever's in front of them unless vehicle lidar provides a second hedge.
FCAI didn't say what aftermarket manufacturer created the part. But it did raise the question of how well such parts were being vetted by the manufacturers, insurers and collision repairers which create a market for them.
"The part tested by GM-Holden was sourced from a self-certifying parts manufacturing and importing operation contracted to major Australian insurers, and which distributes to collision repairers," FCAI wrote.
Holden engineering group manager Rowan Lal says in the video that Holden factory hood slam tests are meant to simulate 10 years of service, but the company actually doubles that to 20.
When the aftermarket hoods were subjected to the same test, "they failed really early, well before the 10-year exposure."
The imitation hoods also were subjected to striker wire strength testing.
"We found that the performance was a lot lower than our standard original equipment," Lal says in the video.
In a statement, he concluded:
The non-genuine hoods tested are demonstrably inferior. Dangerous defects in the striker wire are present due to poor manufacturing processes and a hazardous lack of research and development on the materials used.
The non-genuine striker wire failed our pull strength testing, with the wire's hardness falling dangerously below our design specifications.
The hood slam testing we conducted, using our factory-specified cycles, indicated excessive wear and a sawing effect on the striker wire.
Normal road driving would rapidly exacerbate this wear rate. A significant potential exists for striker wire wear-through, striker wire separation from the hood assembly and a serious potential for the hood to fly open while driving.
Lal also in the video pointed to the millions GM spends on engineering parts, compared to what he characterized as the lesser efforts of an aftermarket company which just has to reverse-engineer the items.
"We know that they're right for our conditions for our customers. We know that (aftermarket) parts, they don't understand what we do and why we do it."
Adelaide University's Centre for Automotive Safety Research last year found steel aftermarket copies of Holden VF Commodore hoods that would have put a pedestrian child and a mechanic at greater risk, something mentioned in the as well in the FCAI video and news release.
More information:
"LAB TESTING REVEALS RISK OF HIGH SPEED HOOD FLY-UP"
Federal Chamber of Automotive Industries, Feb. 8, 2017
"LAB TESTING REVEALS RISK OF HIGH SPEED HOOD FLY-UP" (video)
Genuine is Best YouTube channel, Feb. 7, 2017
Featured images: General Motors subsidiary Holden's testing of an aftermarket hood in Australia found it at risk of flying up and blocking a driver's view, the Federal Chamber of Automotive Industries announced in February 2017. (Provided by FCAI)
Share This: