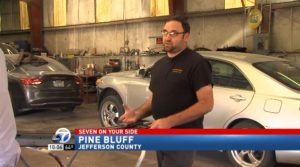 Shortly before the measure reportedly failed a House committee vote, an Arkansas television station this week pointed out the potential impact on consumers from a bill removing written consent for aftermarket parts on warrantied vehicles.
KATV reporter Elicia Dover noted in a video posted Wednesday that Senate Bill 291's stripping of that step could lead to aftermarket parts installed while a customer with a vehicle under warranty "might not know that at all."
Under the Magnuson-Moss Warranty Act, the act of installing an aftermarket part doesn't void a warranty. However, the OEM can null the warranty if that non-OEM part affects something else on the vehicle.
SB 291 would have still left a mandatory 10-point-type (or larger) disclaimer on estimates stating: "THIS ESTIMATE HAS BEEN PREPARED BASED ON THE USE OF AFTERMARKET CRASH PARTS SUPPLIED BY A SOURCE OTHER THAN THE MANUFACTURER OF YOUR MOTOR VEHICLE. THE AFTERMARKET CRASH PARTS USED IN THE PREPARATION OF THIS ESTIMATE ARE WARRANTED BY THE MANUFACTURER OR DISTRIBUTOR OF SUCH PARTS INSTEAD OF THE MANUFACTURER OF YOUR VEHICLE."
However, given real-world tendencies to ignore small print, Dover had a point.
The KATV story also quoted Hunter Bale of Bale Chevrolet, who makes a good point about stripping the step of securing customer consent: "From a consumer standpoint, there is no sense that this law makes. It's just removing a level of protection for the consumer."
Craig Griffin, owner of El Dorado, Ark.-based Laneys Collision Center and a former SCRS board member, said the House Insurance and Commerce Committee on Friday voted against recommending SB 291 be passed by the full House.
Griffin said he didn't know if any methods for resurrecting the measure existed, but under the "normal flow" of the Arkansas Legislature, "it's dead."
In another story posted Thursday by KATV, collision repairer C.J. Huber (who is unfortunately called "P.J.") of C.J.'s Auto Body and the station examined aftermarket part performance and safety.
That KATV story highlighted OEM and aftermarket differences between aluminum and cast-iron control arms and between bumper beams.
In another instance, a customer paid out-of-pocket for an OEM bumper beam after Farmers refused to put an original on an out-of-warranty vehicle, KATV reported.
"The inside of the manufacturer's bumper is smooth, and arches out slightly," KATV reporter Jason Pederson says. "The inside of the aftermarket bumper is wavy."
Huber said he thought the aftermarket version would behave differently in a crash.
"Testing by the Insurance Institute for Highway Safety (IIHS) has found no difference in vehicle safety performance in numerous crash tests using cars with OEM and certified aftermarket, or non-OEM, parts," Farmers spokesman Luis Sahagun said in a statement Friday. "Thus, without compromising safety, we support the use of aftermarket parts as they are able to increase competition, reduce repair times and lower overall repair costs for consumers."
The last IIHS aftermarket test, in 2010, compared CAPA-certified bumpers and unspecified non-CAPA aftermarket bumpers. The part in the video carries an NSF label.
Pederson provided more detail into the argument in favor of the bill:
"Supporters of this bill believe the quality of aftermarket parts has greatly improved and that passage of the bill will result in large savings for the insurance industry and consumers," he says.
Saving money for insurers is arguably irrelevant in the circumstances to which the bill would have applied. The customer paid an insurer premiums with the understanding the insurer would pay to properly fix their car (or someone's they hit) to pre-loss condition. If the insurer did its job correctly, it priced those premiums to match the risk of these losses plus extra for overhead and profit, and invested the "float" from premium revenue to make even more money. It's (rightfully) protected from abuse of this system by internal and law enforcement fraud investigations and its ability to total a vehicle if shops, OEMs or PBE manufacturers charge too much.
If an insurer can lower these loss costs by using aftermarket parts, then sure, premiums can be and are cut and customers save money — about $19-$24 a year on premiums. However, customers don't necessarily realize they've made that concession, according to Nissan — which makes the existing written consent form a nice hedge.
Be heard: Arkansas legislator contact information can be found here.
More information:
"Auto dealers warn consumers of proposed car parts law"
KATV, Feb. 22, 2017
KATV, Feb. 23, 2017
Featured image: OEM and aftermarket control arms are shown in a KATV broadcast examining differences between parts in the two categories. (Screenshot from KATV.com video)
Share This: