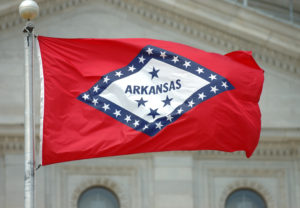 An Arkansas House committee on Friday voted against a bill to remove a requirement that auto body shops secure written consent before installing aftermarket parts on warrantied vehicles, a collision repairer who attended the meeting said.
Craig Griffin, owner of El Dorado, Ark.-based Laneys Collision Center and a former SCRS board member, said the House Insurance and Commerce Committee voted against recommending Senate Bill 291 be passed by the full House.
Griffin said he didn't know if any methods for resurrecting the measure existed, but under the "normal flow" of the Arkansas Legislature, "it's dead."
Senate Bill 291 had moved through the other house of the state Legislature in less than three weeks, being recommended by the Senate Insurance and Commerce Committee Feb. 14 and passing the full Senate 21-9 on Monday afternoon. (Three more senators voted "present," and another senator did not vote.)
The bill would have stricken Arkansas Code 4-90-306, a 20-year-old law that states: "Whenever repairs are made involving replacement crash parts, as defined in this subchapter, and the vehicle is still under the manufacturer's original warranty, only original equipment manufacturer replacement crash parts may be used by the repair facility unless the owner gives or has given written consent otherwise."
The measure would have left a mandatory 10-point-type (or larger) disclaimer on estimates stating: "THIS ESTIMATE HAS BEEN PREPARED BASED ON THE USE OF AFTERMARKET CRASH PARTS SUPPLIED BY A SOURCE OTHER THAN THE MANUFACTURER OF YOUR MOTOR VEHICLE. THE AFTERMARKET CRASH PARTS USED IN THE PREPARATION OF THIS ESTIMATE ARE WARRANTED BY THE MANUFACTURER OR DISTRIBUTOR OF SUCH PARTS INSTEAD OF THE MANUFACTURER OF YOUR VEHICLE."
But as Hunter Bale of Bale Chevrolet told KATV in a story posted Wednesday: "From a consumer standpoint, there is no sense that this law makes. It's just removing a level of protection for the consumer."
Griffin recalled three collision repair facility owners and one manager testifying against the bill before the committee Friday morning, and LKQ representatives speaking in favor of it.
"It was a fairly long committee hearing on the bill," he said.
He said the representatives seemed to be "all ears."
"I really felt like .. they were looking to hear from us because they had been hearing from their shop owners in their towns," Griffin said. "… They were prepared to hear our side of it. "
Arkansas doesn't have a formal collision repair trade group keeping tabs on the Legislature, and Griffin said he wasn't sure if any other measures of interest to the auto body industry existed this session.
"I'm actually planning on looking this weekend," Griffin said.
Griffin credited the Automotive Service Association and the Society of Collision Repair Specialists for helping connect Arkansas repairers with each other on the bill.
"It was good to have both of them involved," he said.
Another crucial partner was the Arkansas Automobile Dealers Association, which lobbied against the bill.
"Working together is what got it stopped," Griffin said.
Be heard: Arkansas legislator contact information can be found here.
Share This: