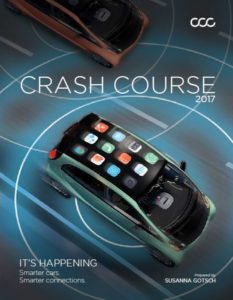 "It's Happening," CCC declared Tuesday with the release of the 2017 edition of its exhaustive annual collision data report "Crash Course," arguing that trends in vehicle telematics and connectivity had reached a point where they were beginning to disrupt the auto claims ecosystem.
As CCC indirectly observed, it warned everyone with last year's "Crash Course" that we were at an "Inflection Point" with regards to these trends, and those betting against such radical change didn't do so well in 2016:
"2016 will earn its place in history as perhaps one of the most tumultuous years ever. Those in the camp of 'it will never happen' were surprised by Brexit, the Trump victory, the 'no' vote to the Italian referendum, the return of Russia, the drop in oil prices, the rapid development of technology like artificial intelligence (AI), vehicle autonomy, and so many other changes," the introduction to the 2017 Crash Course begins.
If such auto-related change is indeed happening, anyone in the collision or insurance industries failing to observe, acknowledge and adapt to the trends CCC presents and analyzes might do so at their own peril. Don't miss the chance to get a copy of the free 2017 report and see where CCC's 180 million claims worth of information indicate your slice of the collision repair ecosystem sits — and where it might be going.
"In this year's report, we look at how rapidly changing technology is driving change for the consumer, the vehicle, the insurer, the repairer, the parts provider, and the manufacturer," CCC lead industry analyst Susanna Gotsch said in a statement Tuesday. "The growing number of digital connections being created means greater access to information. This information brings an even greater understanding of the end customer and creates operational transparency and insights into new risks and opportunities for the companies that serve them. We explore how many of these technologies are playing a key role throughout the automotive ecosystem, and how businesses are responding."
Besides giving a heads-up on the macro-level disruptors, the 2017 Crash Course also offers the kind of information a shop would need to measure itself against the rest of the industry. Useful data like average repair costs, labor rate, repair hours and parts usage are here, as are statistics related to DRPs and in-shop appraisals. There's also demographic details which might provide customer service insights.
Get the 2017 CCC "Crash Course" here. For comparision's sake, the 2016 "Crash Course" can be found here, and if you're really ambitious, the 2015 edition is here. (For a second opinion, grab the free quarterly Mitchell Industry Trends Reports here.)
More information:
"CCC Information Services Inc. Publishes 2017 Crash Course Report"
CCC, March 14, 2017
Featured image: The cover of the 2017 CCC "Crash Course" is shown. (Provided by CCC)
Share This: