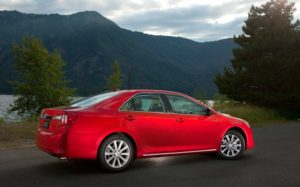 Just because an OEM didn't issue a position statement doesn't mean they don't have restrictions or requirements regarding a particular vehicle or part.
These demands are right where you'd expect them to be — inside the OEM repair procedures, and they might very well have been there for years.
Nissan last month issued a position statement stressing that no repairs should be done on rear bumper covers "in the general area of the side radars." Otherwise, blind spot warning technology in existence since at least the 2011 Nissan Quest LE could be compromised. That's an important message for body shops, vehicle owners and auto insurers.
It led to inquiries regarding Toyota's position on the topic. But within Toyota repair procedures, it "kind of says the same thing," according to Toyota Collision Repair and Refinish Training assistant manager Eric Mendoza. If shops checked repair instructions, they'd know Toyota's instructions on the topic for each of its vehicles.
Toyota issues CRIBs and TSBs. But Mendoza said "I want to get out of that pattern" where an OEM position statement is seen as necessary for every step of the repair — an expectation that's been arguably developing for some elements of the collision repair and auto insurance industries. General position statements become a "crutch" for the aftermarket, Mendoza said, and repairers fail to check repair procedures specific to the actual vehicle they're fixing.
Worse, a position statement becomes misconstrued and produces the opposite effect: A reader concludes, "'Oh well, it's a recommendation,'" and ignores it, according to Mendoza.
A position statement also might be misconstrued as only pertaining to vehicles the same year or newer as the statement date.  In Toyota's case, bumper cover modifications have been prohibited since the 2012 model year for Toyota and Lexus models with blind spot monitoring, according to Mendoza.
These vehicles included something as common as the 2012 Toyota Camry, which Autotrader indicates had an optional blind-spot monitoring system on the XLE trim.
Toyota's precautions for the Camry blind-spot monitoring system state:
(2) Do not subject the surrounding area on the bumper to a strong impact. If the sensor moves even slightly off position, the system may malfunction and vehicles that enter the detection area may not be detected. If the surrounding area has been subjected to a strong impact, inspect the sensor and surrounding area.
(3) Do not disassemble the sensor.
(4) Do not attach accessories or stickers to the sensor or surrounding area on the bumper.
(5) Do not modify the sensor or surrounding area on the bumper.
(6) Do not paint the rear bumper any color other than an official Toyota color.
(7) Do not apply strong impacts to the sensor or drop it, as it is a high-precision device.
(8) Do not reuse a sensor that has been dropped or subjected to a strong impact.
In this case, the key language is "Do not modify the sensor or surrounding area on the bumper," Mendoza said. A repair of damage is still a modification.
(Toyota's stressing of "strong impacts" being bad for the blind spot sensors — and possibly disrupting their function — also seem to indicate that you can't just repair a bumper cover after a collision and be done with it. The sensor might need to be replaced.)
Mendoza granted that this was kind of general, and Toyota has expressed to its repair manual writers that "'modify' is not very specific, he said. In newer model years starting with the 2018 Camry, repairers should expect to find clearer language, he said.
"They have improved the information for upcoming models," Mendoza said.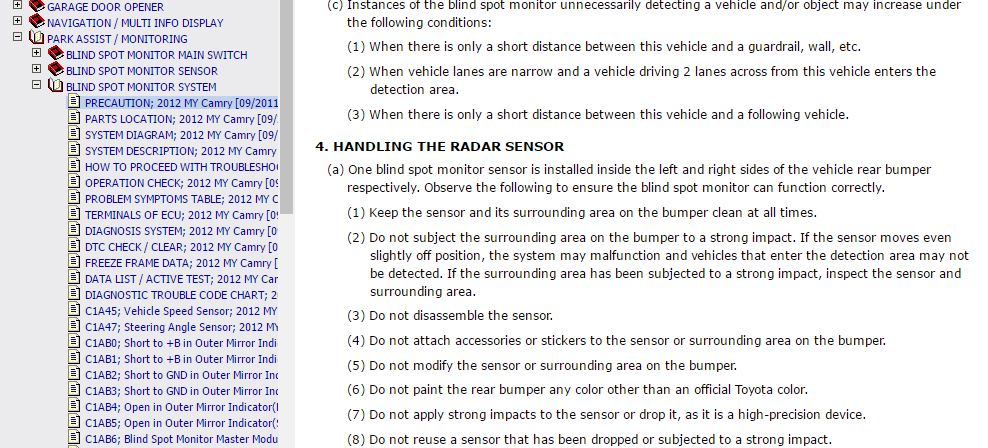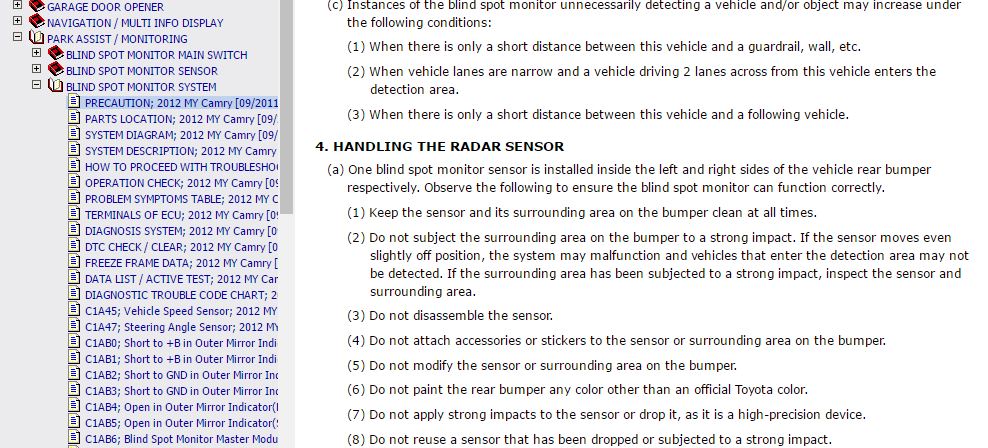 The information is contained in a precaution for the blind spot monitoring system, as well as the general information about that system. It doesn't appear to be in the bumper-related instructions.
This suggests a level of common sense and basic deductive reasoning is necessary on the repairer's part, an assessment with which Mendoza agreed. To wit:
A technician would have to look up the build data using the car's VIN number on Toyota's TIS site through the "Vehicle Information" tab. That will list all the options installed on that specific car. The technician would note those options, discover blind spot monitoring was included, and read up on that system specifically.
"We want everyone to know that the build sheet data is there," Mendoza said. There's no need to guess or eyeball what safety or convenience systems are installed.
If you're not used to using TIS, Toyota can teach you through Collision Repair and Refinishing Training course No. B901. (Get a dealership to sponsor your shop, Toyota explained in Collision Pros magazine.)
More information:
Toyota repair procedures website
Toyota Collision Repair and Refinish Training website
Images:
A 2012-14 version of a Toyota Camry XLE is shown. According to Autotrader, the XLE trim offers an optional blind spot monitoring system. (Provided by Toyota)
A position statement also might be misconstrued as only pertaining to vehicles the same year or newer as the statement date.  In Toyota's case, bumper cover modifications have been prohibited since the 2012 model year for Toyota and Lexus models with blind spot monitoring, according to a Toyota expert. Here are rules relevant to certain 2012 Camrys. (Provided by Toyota)
Share This: