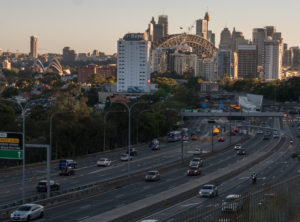 One of Australia's largest insurance companies has announced promising results from a trial partnership with OEMs that allows DRP shops to "exclusively use new genuine parts."
IAG, which owns brands like NRMA and SGIO, said in a Feb. 27 news release that the four-year-old trial program started in Sydney and Melbourne and since expanded to Brisbane and Gold Coast. The document's headline describes "a step toward all new genuine parts."
IAG findings
The trial sounds like a pretty good deal for all involved.
"Participating motor vehicle manufacturers and dealers are set to benefit from increased volumes and reduced operating overheads, while IAG's partner smash repairers will benefit from retained parts margins, and greater access to technical support," IAG wrote in a news release. "The parts trial has explored process improvements that help dealers improve supply and help repairers develop repair efficiencies."
According to IAG, conditions U.S. proponents have said follow new OEM parts have more or less come true in the Australian pilot program cities:
"The program has allowed customers to benefit from reduced key-to-key cycle times, better fitment of genuine parts and better paint finishes," IAG wrote.
The Federal Chamber of Automotive Industries, the Australian version of the U.S. Alliance of Automobile Manufacturers, hailed the decision March 8 and called it the "writing on the wall" for IAG's competitors. A spokesman noted that the trial "would appear to kick into touch all the old, tired arguments that are wheeled out against using genuine."
"This move by IAG sends a strong signal to consumers and to the insurance and motoring industries," FCAI Chief Executive Tony Weber said in a statement. "Today, we are a step closer to safer roads, safer cars, better repairs and the best in quality parts for Australian drivers.
"IAG is the first insurer to commit to encouraging smash repairers to use genuine parts, which is a massive step forward for the safety of Australian consumers."
FCAI communications manager Peter Brewer wrote in an email Thursday that there was "strong prospect for a national rollout (as we understand it)."
Subsidiaries of major OEMs' Australian subsidiaries also released statements in support of the IAG program last month. BMW called the trial a "ground breaking pilot programme," and General Motors/Holden declared that it "has proven the use of genuine parts is the cost effective solution for collision repair."
The trial is a hit with customers as well, FCAI and IAG indicated. Brewer wrote they seem "delighted with results. And … that's what really counts." Citing senior category manager Brad Sayer, IAG wrote that "the feedback from customers had been fantastic."
"We're proud to be partnering with Australia's leading motor vehicle manufacturers, dealers, and our partner smash repairers," Sayer said in a statement. "We believe new genuine parts, sourced from an Australian authorised dealer, provide the best option available – in terms of quality, availability, efficiency and ease of use."
"Our initiative means customers will save money in the claims process and know that they're getting new genuine parts for any repairs. As the parts trial is only available to IAG's partner network, we would love to hear from partner who may be interested in participating in the program."
The trial also creates an interesting reversal of what U.S. shops, insurers and parts vendors would perhaps expect out of a direct repair program and shop choice dynamic. According to IAG, its Australian DRP shops are where customers should go to get new OEM parts; here, DRP shops can in part be graded on their ability to avoid new OEM components.
It's unclear what the IAG trial means for non-network shops. The release indicates that the perks of the program are for IAG subsidiaries' shops alone.
"For smash repairers, participation and benefits are only available for IAG's partners to voluntarily accept," IAG wrote. "However, as more customers prefer new genuine parts to be fitted to their vehicles and exercise their 'choice of repairer' options, it is expected participants in IAG's parts program will also benefit from increased volumes."
A March 1 IAG parts policy on the DRP network website for insurance subsidiary NRMA and recent information provided to the Australian Senate suggest that IAG on the whole sticks to new OEM for the first three years and might write new or used OEM for the rest of the vehicle's life anyway. Aftermarket is not considered acceptable except in for a few select parts — and this involves a much more limited scope than what is considered "cosmetic" in the U.S.
"IAG's Motor Vehicle parts criteria predominately recommends new genuine Original Equipment Manufacturer parts for vehicles less than three years old, with the ability to fit used Original Equipment Manufacturer parts for vehicles over three years old where available and cost effective," the insurer told the Senate. "This policy is based on our commitment to quality and safety."
FCAI declares victory
FCAI has done its own testing to show the flaws in aftermarket and outright counterfeit parts. In the past, the trade group has reported aftermarket hoods that jeopardize child pedestrians and mechanics' fingers and create fly-up risks, as well as counterfeit versions of Mercedes rims which "disintegrated."
"The writing is on the wall for Australian insurers," Weber said in a statement. "The evidence shows non-genuine is a risk, and as an industry we applaud IAG for pursuing this change in policy. Every Australian insurer should do the same.
"New genuine parts sourced from an automotive brand's authorised dealer are the safest, highest quality, most readily available, most efficient and easiest-to-use option for vehicle repairs."
Portraying it as a test of whether your insurer "cares about your safety," Weber urged Australian policyholders to see what their insurer's stance on aftermarket parts would be.
"The FCAI is calling for car owners to review their product disclosure statements and find out exactly what their insurer's policy is on genuine parts," he said. "If your insurer cares about your safety, genuine parts should be used in every vehicle repair.
"The only way to ensure you are protecting yourself and your loved ones is to ensure genuine parts, acquired through the vehicle maker's authorised supply chain, are the only parts fitted to your car. Anything else is a risk. Genuine is always best."
IAG's report to the Senate and documents for its repairers contain a couple of other tidbits which might be of interest to U.S. repairers and insurers:
It says it's the only Australian insurer to have its own research center, which it uses to study OEM repair procedures and suggest changes to the automakers to make repairs more affordable.
It notes "we believe a car must be repaired to manufacturer's standards. For this reason, we do not compromise on safety and quality of repairs and believe that some cost trade-offs need to be made when it comes to saving people from road collisions and serious injury."
It says it's the only insurer to transparently audit its DRP network's repair quality. The 2016 report data is here.
Rules for IAG DRP shops actually sound pretty strong, and would seem to address many of the quality complaints raised by industry observers in the U.S. Check them out here.
More information:
"IAG takes a step toward all new genuine parts"
IAG, Feb. 27, 2017
"FCAI COMMENDS INSURER'S GENUINE PARTS POLICY CHANGE"
Federal Chamber of Automotive Industries, March 8, 2017
IAG, March 1, 2017
IAG direct repair program national standards
Featured image: One of Australia's largest insurance companies has announced promising results from a trial partnership with OEMs that allows DRP shops to "exclusively use new genuine parts." The IAG Group said in a Feb. 27 news release that the four-year-old trial program started in Sydney and Melbourne and since expanded to Brisbane and Gold Coast. The document's headline describes "a step toward all new genuine parts." (EFA2015/iStock)
Share This: