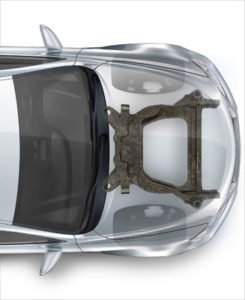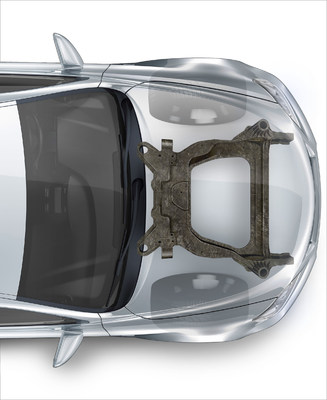 Magna announced Tuesday it and Ford have created a prototype carbon-fiber subframe that not only cuts mass by 34 percent compared to steel, it cuts 45 parts to a mere six.
Two of these parts are molded composite, while the other four are made of metal. Magna and Ford assembled them using structural adhesives and rivets. Magna called the reduction in pieces "dramatic."
Ford and Magna were studying the lightweighting benefits but also the challenges of sticking carbon fiber in the chassis. They also singled out the subframe's role in crash protection and rigidity as well as performing the more basic task of holding up the engine.
"Collaboration is the key to success in designing lightweight components that can give our customers fuel economy improvements without compromising ride and handling, durability or safety," Ford Research and Advanced Engineering vehicle enterprise systems director Mike Whitens said in a statement. "We must continue to work hard to achieve these lightweight solutions at the most affordable costs. Magna and Ford working together on this carbon fiber composite subframe is a great example of collaboration on advanced materials."
Computer-aided engineering says the concept works, according to Magna; the next step is for it to build the subframes and let Ford try them out. Real-world testing will include "corrosion, stone chipping and bolt load retention," followed by the companies determining in theory how best to design, create and assemble the structures.
"When we are able to work in close partnership with a customer at the beginning of their design and engineering processes, it's an opportunity to bring our full Magna capabilities to bear," Magna Exteriors President Grahame Burrow said at JEC World 2017, according to Magna. "We are able to take a clean-sheet approach with design, materials and processing, collaborate with the customer and within our product groups, and deliver a solution with the potential to really move the needle in terms of aggressive lightweighting without sacrificing styling or performance."
Magna said that it used engineers from both its engineers and body and chassis team, which raises interesting hypotheticals about what exterior parts could go composite someday in the future.
"We've been a pioneer in the use of lightweight materials for many years now," Burrow said, according to Magna. "First we launched the CF hood for the Cadillac CTS/ATS-V series, followed by a carbon fiber grille opening reinforcement for the Mustang Shelby Cobra GT500. Applying our expertise now to a structural component like the subframe is another step forward as we continue to help our OEM partners meet their goals."
Other Magna tech to watch
In other news this week, Magna announced that it was providing its EYERIS camera system into the Maserati Levante, which it described as Maserati's first SUV. All of you Maserati repairers out there (lucky stiffs) should look for digital cameras in the grille, side-view mirrors and above the license plate, Magna says.
For shops that handle cars that normal humans buy, Magna also Wednesday noted its role in developing in what appears to be the CabinWatch system on the next-generation 2018 Honda Odyssey. (Magna didn't identify the vehicle except to call it a "new minivan" featured at the Detroit auto show; but the 2018 Odyssey has this technology — a digital-video first, according to Magna — and was unveiled there.)
The technology lets parents see on a display screen just what the heck the kids are doing back there — even at night, thanks to infrared light. It's possibly that this could add severity, but there's a frequency flipside — fewer parents having to turn around to check on the kids could mean less rear-ending.
"The in-cabin child-monitoring feature is a great example of how Magna applies technology to meet the needs of specific lifestyles and vehicles – in this case it's families with children and minivans," Magna Chief Technology Officer Swamy Kotagiri said in a statement. "With today's drivers facing more distractions than ever, our goal is to continue to develop new driver-assistance features to enhance vehicle functionality, improve safety and provide peace of mind."
More information:
"Magna Brings Carbon Fiber Composites into Vehicle Structure with Innovative Subframe"
Magna, March 14, 2017
Featured image: Magna announced Tuesday it and Ford have created a prototype carbon-fiber subframe that not only cuts mass by 34 percent compared to steel, it cuts 45 parts to a mere six. (Provided by Magna)
Share This: