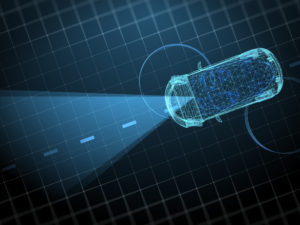 Wheel alignment giant Hunter Engineering warns that the demands and inconsistency of calibrating advanced vehicle safety technology might lead to mechanical and collision repairers performing the work incorrectly — or not at all.
Even if shops consistently recalibrated cars correctly, the time and equipment necessary to do so might be financially onerous, Hunter argued.
Hunter alignment senior product manager Kaleb Silver, who'll be speaking at an upcoming SCRS Repairer Roundtable, said OEMs are all over the map in their requirements.
For example, Silver said one common Ford lane departure warning calibration involves attaching a scan tool, putting the car in learning mode, and driving above 40 mph for about 5 minutes. The car "essentially calibrates itself" by looking at road markings, he said.
Aside from the demand of staying about 40 mph — difficult perhaps in an urban area — and keeping a clear view of the lane markings, it's not too difficult, Silver said. It doesn't require any fixture or targets, he said.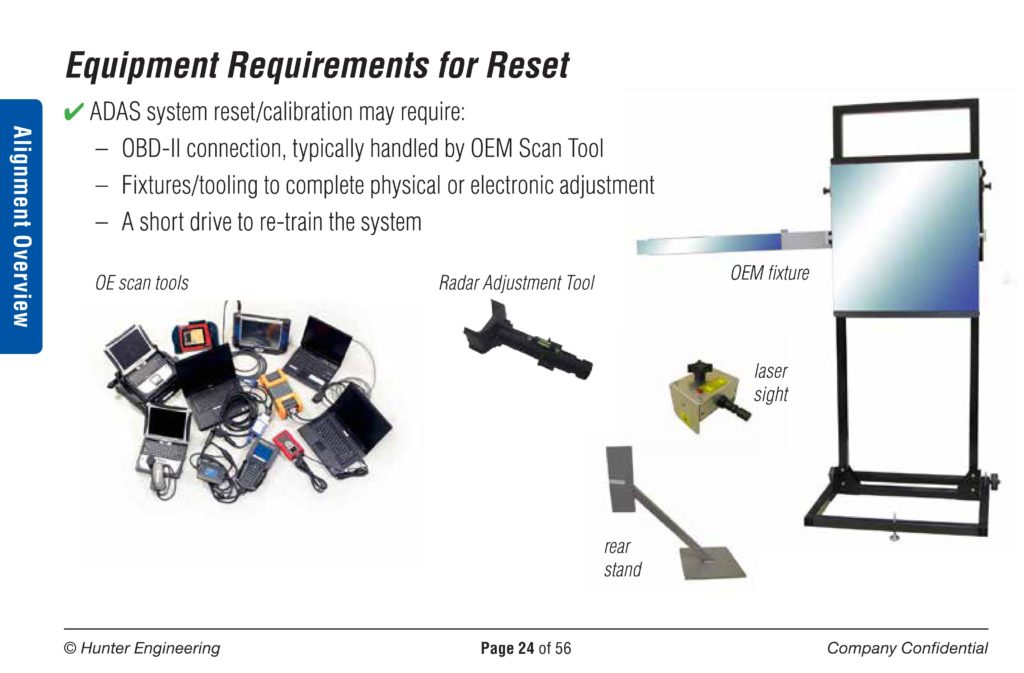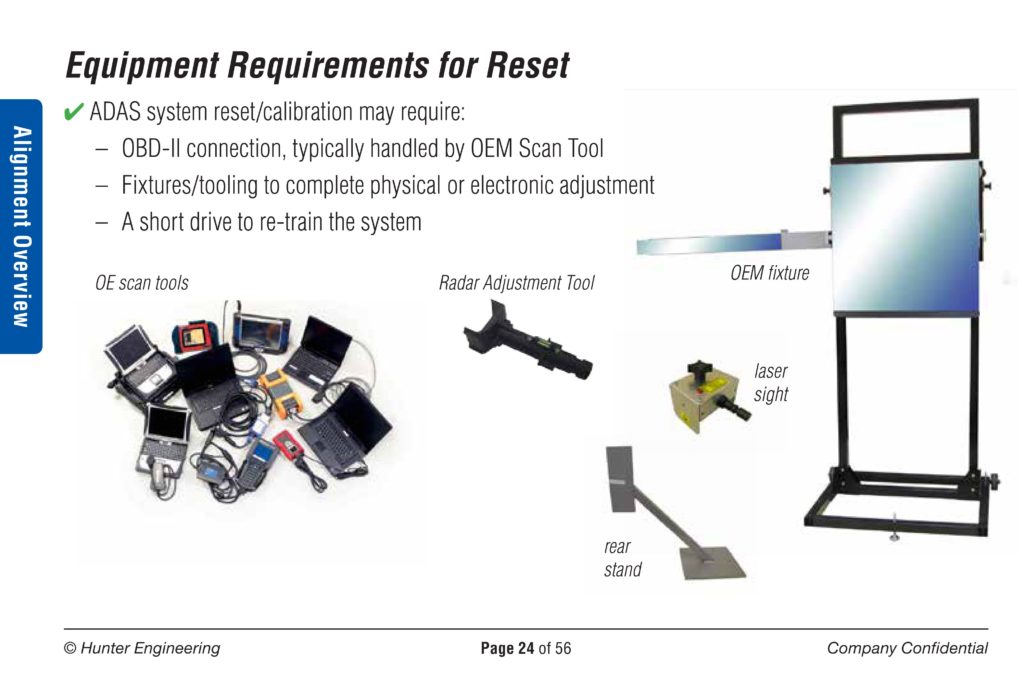 But on the other end of the spectrum sits OEMs like Audi. Resetting an Audi Q7's advanced driver assistance systems — an OEM requirement after any wheel alignment — could demand up to $18,000 worth of equipment (but no test drive), Silver said. (And if it's needed after a wheel alignment on an undamaged car, it's a safe bet it'll be required for a variety of collision repair scenarios.)
"Those items are a large investment," Silver said. It's not something that can easily be recouped by one of Hunter's tire shop customers who only charges charges $100-$200 for a wheel alignment.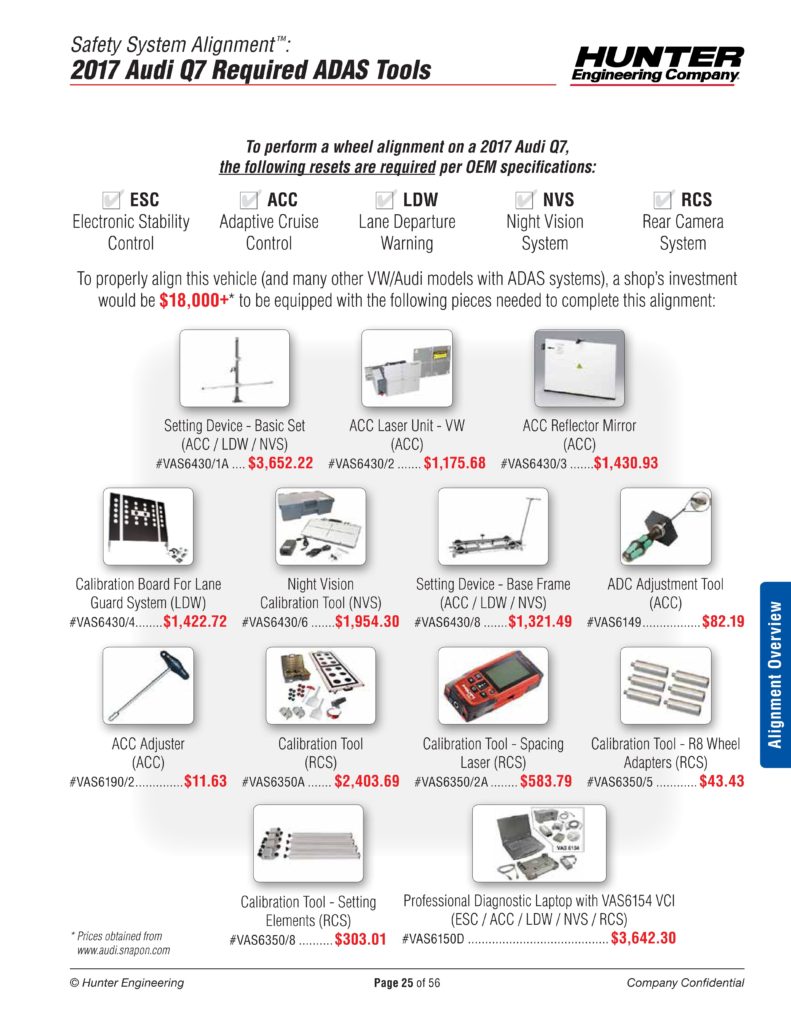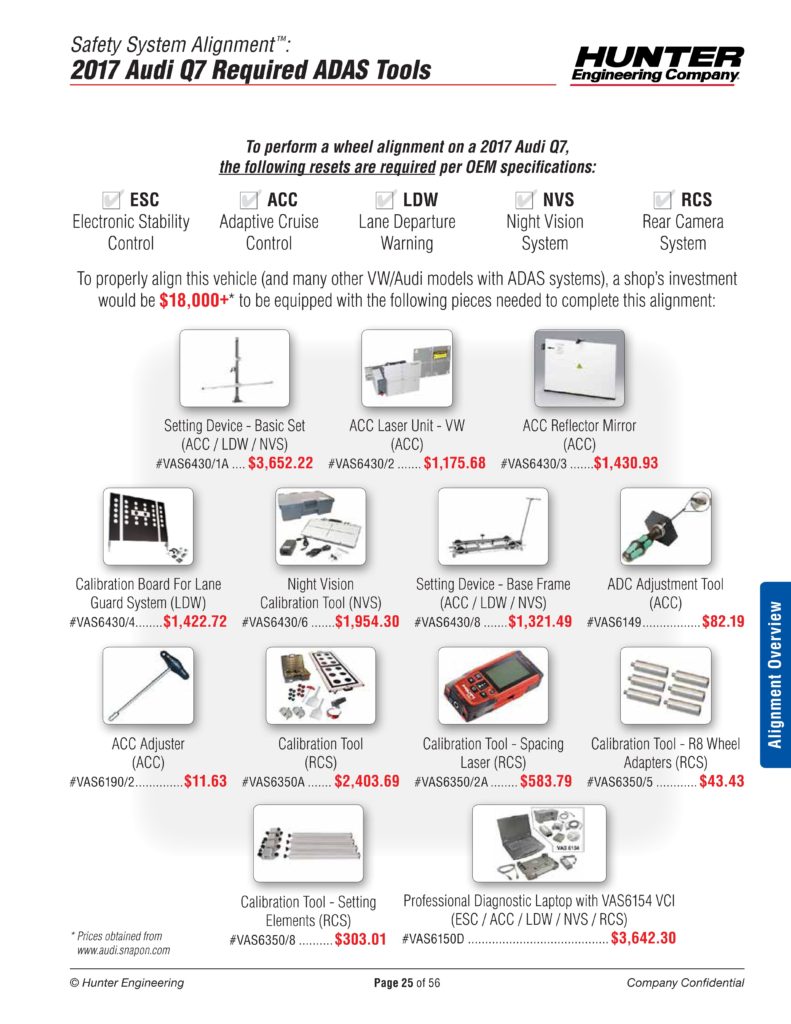 Not only does a shop need five figures worth of equipment, including a nearly $3,700 "Setting Device" and $2,403 calibration tool, but they need enough work space to calibrate the various systems. This can require additional space in front of the bay as large as 32.8 feet (10 meters) by 16.4 feet (5 meters) and demand various clear, level spaces within that rectangle.
Unfortunately, a typical alignment bay at one of Hunter's customers' shops — or a workspace at a collision repair facility — might be far smaller, perhaps only 28.44 feet by 13 feet.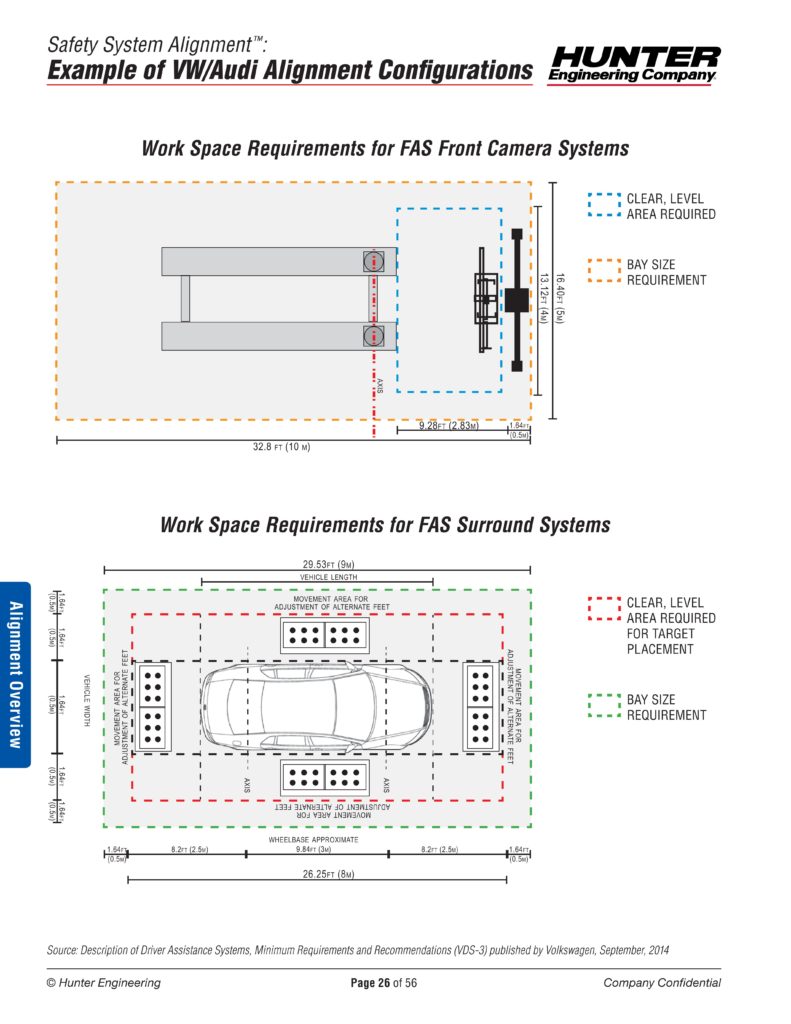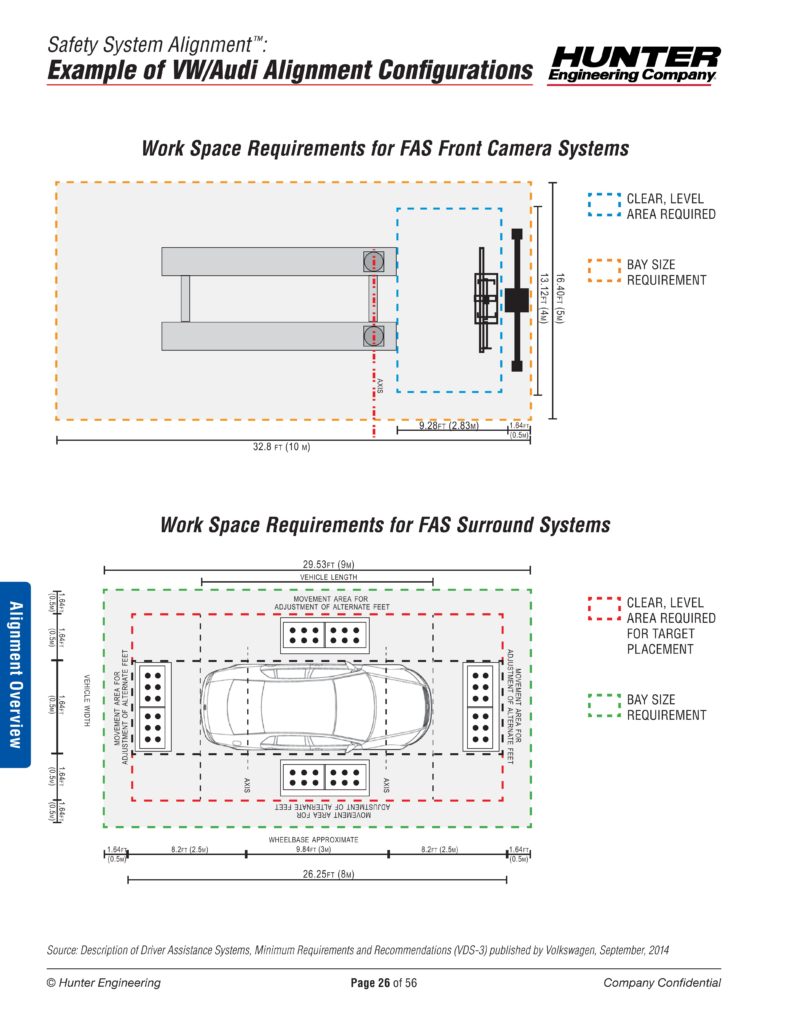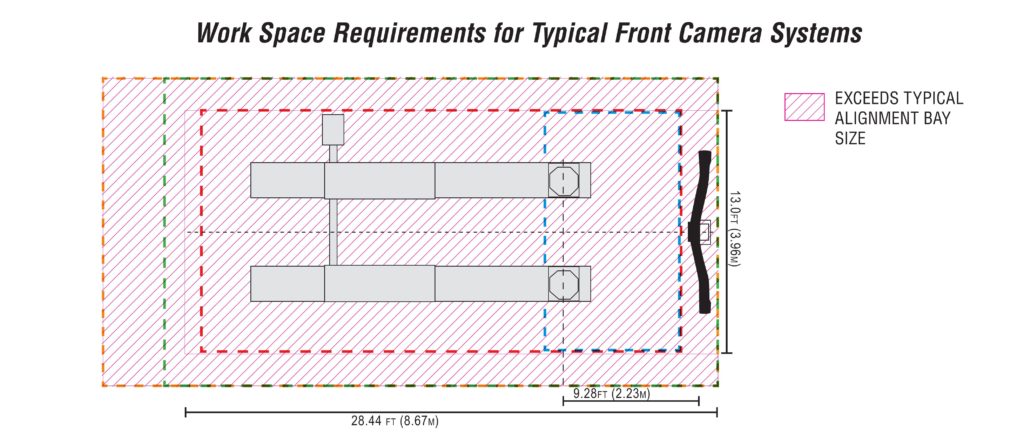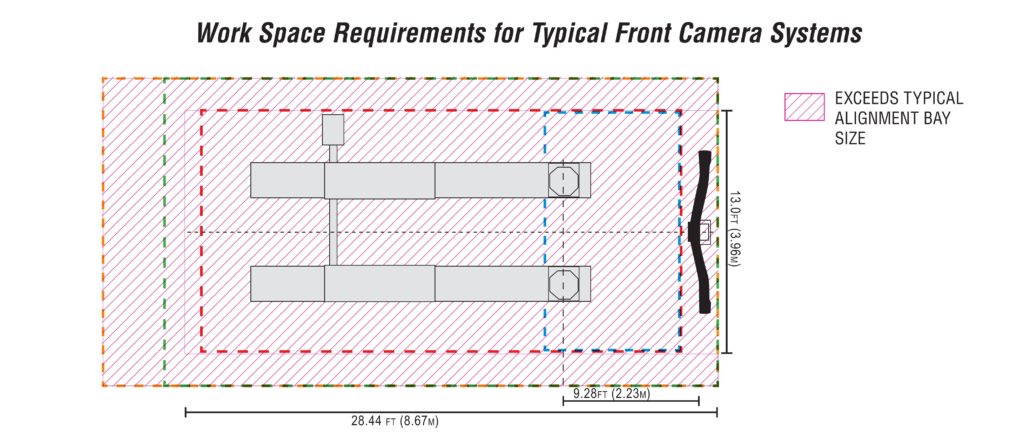 All of the OEMs seek solutions for their "own little world," with no consistency between manufacturers, Silver said. A few more examples: Nissan uses a different fixture (a term for a device that looks like an easel) than Volkswagen, and Chrysler requires a different driving procedure than Ford.
"There are so many different variances out there," he said.
Even if you take the plunge and buy $18,000 worth of Audi calibration equipment, there's no guarantee that at least some of it will work with other OEMs. (Though it would within the family of vehicles made by Volkswagen — VW, Audi, Porsche, etc., Silver said.)
Though the ADAS sensors and fixtures appear similar from manufacturer to manufacturer, "they're not the same enough to be interchangeable," Silver said.
For example, he said Chrysler and Nissan appear to use the same radar part as Volkswagen, but each calibrates it with a different fixture. Toyota and Honda appear to use similar radar devices from the same Tier 1 supplier, he said, but they use a reflective cone instead of a reflective plate for their calibration, and demand "completely different bay requirements" — some so complicated that the task is unlikely to be completed properly.
If that's the case for advanced driver's assistance systems (ADAS) in existence today, Silver wondered, what will happen with autonomous vehicles?
---
See Hunter ADAS calibration presentation at April SCRS Repairer Roundtable
Kaleb Silver, senior product manager for Hunter Engineering, will be one of the presenters at the Society of Collision Repair Specialists' April 19 Repairer Roundtable in Pittsburgh. He will present Hunter's research on how ADAS systems create complexity and cost for auto repairers by requiring calibration following routine procedures like wheel alignments. 
The event is free and open to everyone, though SCRS asks attendees to RSVP in advance so it can prepare an appropriate venue. RSVP as well for the free SCRS Corporate Member Recognition and Industry Awards luncheon afterwards.
Carnegie Mellon, GM, Hunter represented in SCRS Repairer Roundtable on ADAS, auto body work
---
Hunter is still awaiting a response from OEMs on the topic of consolidating calibration requirements, Silver said. However, he said most of Hunter's automaker contacts are in aftersales, in the service segments of the companies. The message needs to be heard from the engineers designing the ADAS systems.
Unfortunately, lengthy OEM product development times mean the employees who designed the reset procedures have moved on to other projects by the time the aftermarket learns of them, according to Silver. Even if the engineers were swayed by Hunter's argument, these time lags could mean that the aftermarket wouldn't see changes for a few more years.
It was just "one of those chicken and egg problems," he said.
Asked if OEMs were giving any thoughts to standardizing calibration, Alliance of Automobile Manufacturers spokesman Daniel Gage expressed automakers' general support for independent technicians.
"The (Massachusetts Right to Repair) bill and subsequent national R2R (Memorandum of Understanding) demonstrate automakers' commitment to the aftermarket repair community," he wrote in an email. "Seventy-five percent of all post-warranty auto repairs are done by independent technicians, and the average age of a vehicle on U.S. roads is 11 years old.  Automakers know that independents play an important role in maintaining customer satisfaction, which drives continued sales."
Asked as well about NTHSA guidance that seemed to support Hunter's position, Gage continued: "There was significant NHTSA guidance in Q4 2016; manufacturers are certainly taking all of it into careful consideration.  Legitimate and manageable access to systems for both repairers and owners is important, but recognize that cyber-security, data integrity, and customer privacy concerns present obvious challenges as systems become more complex and vehicle connectivity more prevalent."
He also referenced a joint letter by multiple trade groups — including the Auto Care Association, Automotive Service Association and Auto Alliance —  asking the Society of Automotive Engineers to explore the secure vehicle interface concept with an eye towards cybersecurity but also "the independent repair community to continue to have access to vehicle repair and service information."
As the various trade groups suggested, the SAE might be an ideal choice to develop a calibration standard. and Silver suggested they could put something on the table and push automakers to comply.
"At this moment, we don't have a standard," he said.
Images:
Wheel alignment giant Hunter Engineering warns that the demands and inconsistency of calibrating advanced vehicle safety technology might lead to mechanical and collision repairers performing the work incorrectly — or not at all. (Just_Super/iStock)
Wheel alignment giant Hunter Engineering warns that the demands and inconsistency of calibrating advanced vehicle safety technology might lead to mechanical and collision repairers performing the work incorrectly — or not at all. (Provided by Hunter)
The kind of equipment necessary to calibrate a vehicle like an Audi Q7 can cost thousands for a shop. (Provided by Hunter)
Not only does a shop need the right equipment to calibrate a vehicle, they might also need enough work space to calibrate the various systems. This could require additional space in front of the bay as large as 32.8 feet (10 meters) by 16.4 feet (5 meters) and demand various clear, level spaces within that rectangle. (Provided by Hunter)
Share This: