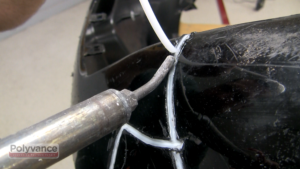 The SkillsUSA collision repair competition will next year challenge aspiring technicians to repair a tear with a plastic nitrogen welder, the organization and Polyvance announced this month.
The procedure will be demonstrated at this year's SkillsUSA and formally join the competition in 2018, according to Polyvance.
According to SkillsUSA, competitors next year must:
Complete a tear repair on a plastic vehicle part using a plastic nitrogen welder by demonstrating the proper safety procedures during the preparation and welding process, how to properly clean a plastic part before making any repairs, backside surface preparation of a plastic part prior to repair (roughing the surface with an abrasive), aligning the cosmetic side of the repair, selecting the proper welding rod, ribbon selection, and nitrogen welding technique on the backside of the plastic part, reinforce the plastic part to ensure the integrity of the repair,  V-groove a tear on a plastic part, and nitrogen plastic welding technique to the cosmetic side of the plastic part.
Polyvance President Kurt Lammon celebrated the change in a mass email March 14.
"Eleven years after we introduced nitrogen plastic welding to the collision repair industry, I'm happy to announce that the technology has finally 'arrived'!" Lammon wrote. "Yes, starting in 2017, nitrogen plastic welding will be demonstrated as part of the plastic repair segment at the SkillsUSA competition in Louisville. It will become a scored part of the competition in 2018." (Emphasis his.)
He directed students to an instructional video, and professional collision repairers might want to use it as a refresher as well.
"It's a very simple repair, but it requires attention to each step of the operation," Lammon wrote.
He also offered a $300 rebate to any shop donating an older welder to a technical shop. More details can be found in this January Polyvance letter to the industry.
"If you have gotten your money's worth out of your old Urethane Supply or Polyvance nitrogen plastic welder and you're ready for a new one, you can donate your old welder to a local tech school and we'll give you a $300 factory rebate on the purchase of a new one," Lammon wrote.
"… Let's help our local tech schools get ready for the competition, and help bring new technicians into the shops with some plastic repair skills you can use."
However, it's important to note that some fascias are going to be unrepairable, and the need for these skills might be limited given the kinds of technology appearing around bumpers.
Nissan, for example, in February issued a position statement stressing that it forbade any repairs "in the general area" of its blind spot warning radar on models dating back to 2011. (Asked by I-CAR to define precisely what it meant by "general areas," Nissan described this as a judgement call by the shop.)
And Collision Advice CEO Mike Anderson showed a Guild 21 call earlier this month (see slides) how Volkswagen's repair procedures don't allow plastic bumper repair in a 25-centimeter diameter (a pretty wide area) around the lane-change assist module of a 2012 Volkswagen Passat NMS.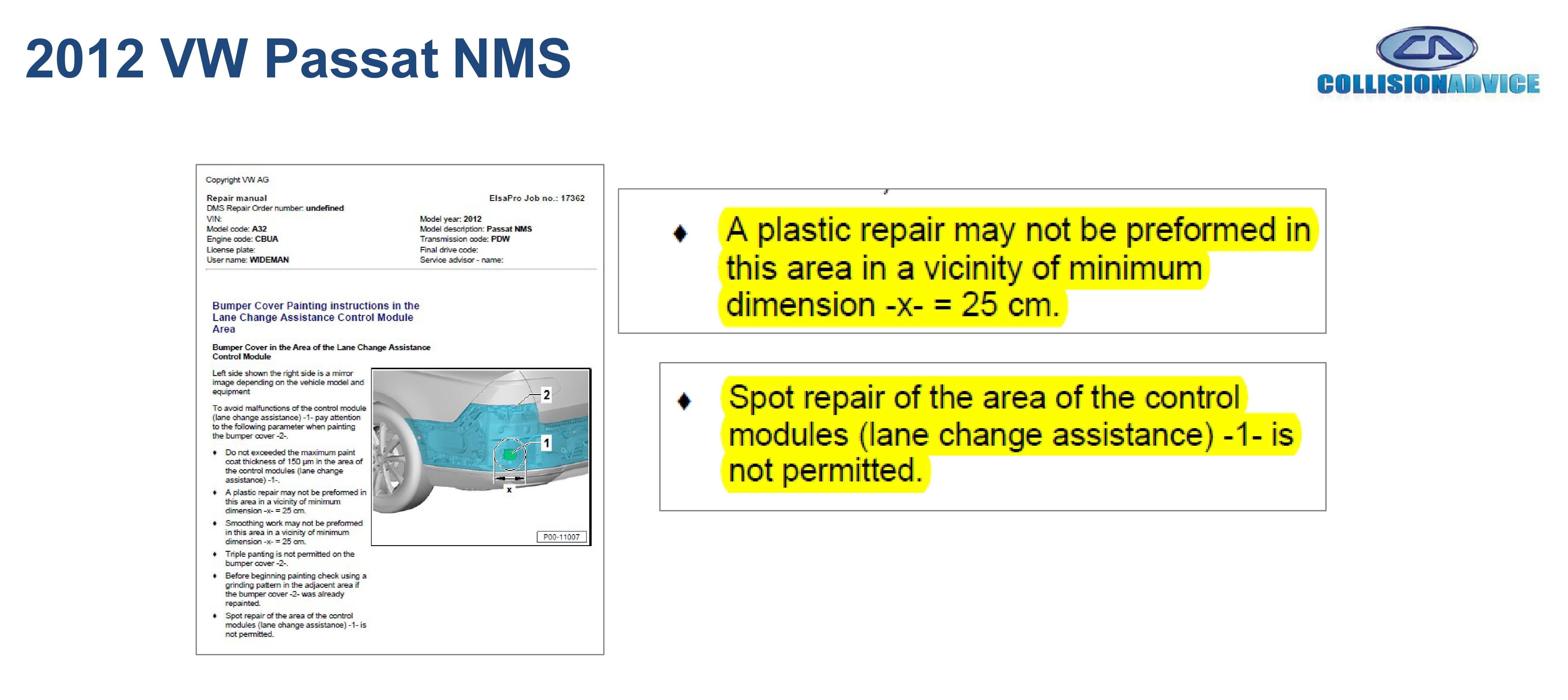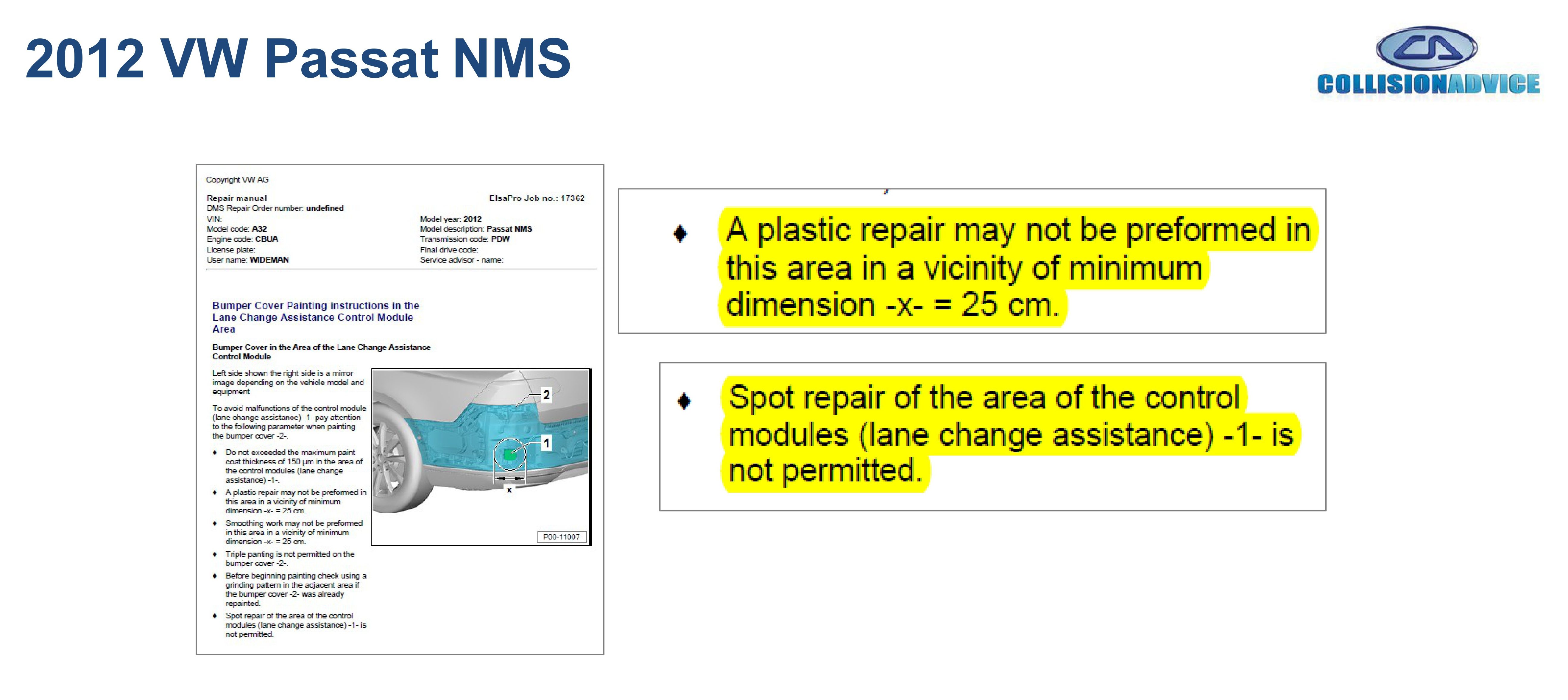 As for the other collision repair-focused competition: Documents for the 2017 auto refinishing competition, including a tinting PowerPoint, tinting worksheets and the feather, prime and block/spot repair technical data sheets, can be found here.
Joining changes
2017's SkillsUSA will be noteworthy for its radical overhaul of the welding portion of the collision repair competition. The changes should better reflect the kind of methods now necessary in the aftermarket (and factory) joining world.
Procedures necessary this year include aluminum joining, MIG brazing, squeeze-type resistance spot welding, and riveting.
2016 SkillsUSA auto refinishing, collision repair events under way; big changes for auto body welding next year
The fledgling repairers will also for the first time be "looking up information from a hand out, on sectioning of rails and Construction Material of the rail" during the computerized measuring portion of the competition, SkillsUSA wrote in 2016.
"As of the 2017 competition the Structural Analysis Segment Full Frame Analysis section will be changing from the Universal Mechanical Measuring system to the Car-O-Tronic measuring system (advanced mechanical) by Car-O-Liner," SkillsUSA wrote in a description available on its site for 2017. "Contestants will need to know the basics of reading structural damage with this system. The other two sections in Structural Analysis (Simulators with Gauges and Chief Computerized Measuring System) will remain the same.
The SkillsUSA competition guidelines help prepare a much-needed new generation of technicians to fix the kind of vehicles being sold to consumers today. They also should serve as a wake-up call to any shops not proficient in such repairs — or adjusters unfamiliar with these concepts — to catch up fast. If a high-school kid at SkillsUSA can MIG-braze, rivet-bond, aluminum-weld and computer-measure a vehicle, then there's no reason for these procedures to be a surprise for collision repair professionals.
More information:
"2018 SkillsUSA Nitrogen Plastic Welding Requirements"
Polyvance YouTube channel, March 9, 2017
Polyvance email on SkillsUSA changes
Polyvance, March 14, 2017
Collision Repair demo station details
SkillsUSA information about 2017 and 2018 competitions
Featured image: Nitrogen welding of plastic is shown in this image from Polyvance. (Provided by Polyvance)
Share This: